This is live editing during the Hackaday Berlin 2023 conference.
I got as far as being able to detect that I started dialling but not yet count the "ticks" when the dial returns. Challenge is the contact debounce.
The dial has been temporarily taken from my MasterDial (https://labitat.dk/wiki/MasterMind_Dial) which I had brought along just so I had something to show what I meddle with.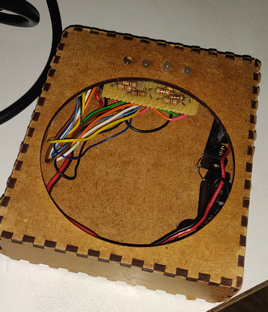 Best Maskingtape Engineering(tm) used in construction :-) (Look at the large pictures on project page for details)
Code development was impeeded by no assembler - only the buttons on the badge were used. The textfile is my code in "handassembly".
====
Stop press: It won best in the Hardware Category ! (There were only two entries, but nevertheless)
===
I am busy, even after having won the award to "Finish" it - at least to display the digit dialled  - I'll settle when it is visible as a register value in the default page-display
Now it is time to go home here (3AM, in new Summer time) - next log entry will be a video of it working .