Hi! So, about the ZeroPhone cases.
This is one of the most popular questions, on par with the "3G connectivity", "flat battery" and "touchscreen" ones. I'm not the kind of person that'd be good at 3D design, but, thankfully, plenty of people in this community are. During these 2 years, I had a task of making the 3D model of ZeroPhone PCBs - so that people could make a case around it. I kept putting it off, and when I did have time to work on it, it wasn't successful - one of the most important things delaying me was waiting for KiCad 5, with proper STEP support (since VRML support in CAD packages universally sucks, as I've come to understand).
Finally, we have a 3D model of the ZeroPhone, specifically, the Delta revision: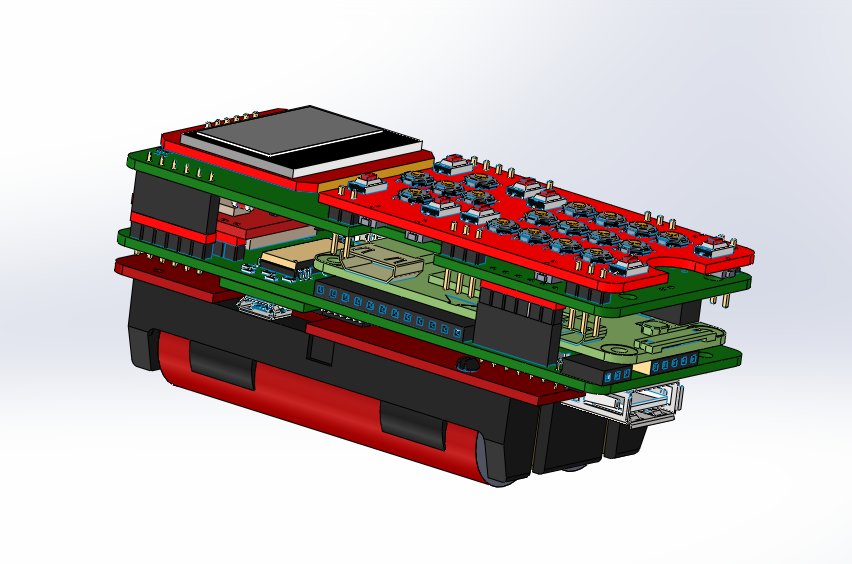 It's taken a lot of work - thankfully, early in the project's beginning phase, @Dillon has helped with a lot of 3D models, designing some from scratch and sourcing others from open sources, so I'm immensely thankful for that. Current 3D model also has a lot of Grabcad material - distribution rights of which is questionable, I admit, so here's a list of all the stuff we need to replace. You can download the STEP here, and the STL here.

Meanwhile. if you want some kind of reference design, here's a downloadable case design for ZeroPhone Gamma by @Ninjalicious  - albeit bulky, it's a viable way to make a case that actually works and holds up, one that's also snap-fit but provides all the vital openings for ZeroPhone hardware. Personally, I'm interested in some kind of lasercut design, but not for the practicality of it - I just like lasercut things =) Before the crowdfunding, if nobody steps up and designs an open-source case, I'll design one myself - to make sure we have something to offer during the crowdfunding.
Also, I've had multiple suggestions from people, about making a ZP version in a case for a bulky phone, like the Motorola DynaTAC or this one. I can't say I'd be interested in such a case, but if I were to add, say, a FreeCalypso modem board (a 90x50mm PCB), this is exactly what I'd be looking for! With all the ways that you can expand on your ZeroPhone, I'm sure there's a lot of interesting stuff you could ram into such a phone - i.e. an expanded battery pack or a bigger screen, or maybe a Geiger counter and a high-power WiFi antenna... Why not all of that? =D
---
Any information that's provided in this article may and will become outdated. Refer to the ZeroPhone Wiki page on 3D designs for the most up-to-date information.