PCB panelization is a nice way to get more bang for your buck, be able to do more projects at the same time and, in general, receive more boards at once. Say, you have two 10x4cm boards, and a seller offers you to either take . You could order them separately, as two 10x10cm PCBs (10x5 at best), or you could merge them into one panel.

Panelization means merging together PCB gerber files in one gerber. The main problem that needs to be solved is that you can't just put boards together - they usually need to be connected somehow. They also need to be easily splittable once you receive them - you won't want to split them using a cutting disk =) There are two main ways to panelize boards so that they can easily be split - V-grooving and tabs with mousebites. "Tabs&mousebites" means - connecting boards using tabs, they're added in between boards and are basically pieces of PCB material connected together (mousebites are holes drilled in tabs so that it's easier to break them off). V-grooves are cuts done with a machine with a cutting disk, that cuts lines through PCBs, leaving them connected but just barely, so that you can snap the boards apart.
V-grooving (failed) - picture from somewhere on here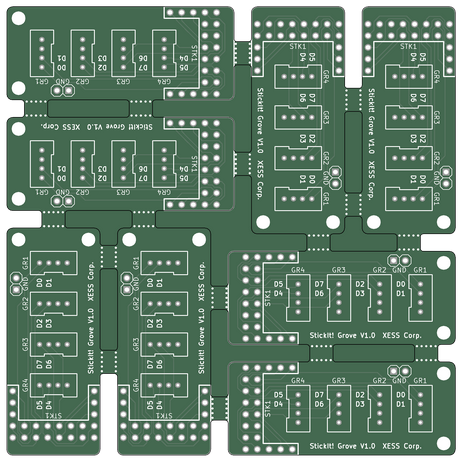 Tabs with mousebites (inner area is not actually filled) - picture from here
---
There's a problem, though - not all PCB houses support panelized boards. There are houses which are panelization-friendly, there are those who will ask you to pay extra per ech individual design on panel (and usually it's so much money it's not worth it), and there are those that flat out don't work with panels. Some only support V-grooving, too. Check your PCB house. I'm using DirtyPCBs since they're panelization-friendly, doing tab panelizing for free and V-groove for additional 5$ (as of 9 May 2017) (minumal V-groove length is 8cm), and also for the fact that, in my experience, they're actually maker-friendly and not just somebody doing business.