I felt bad about leaving you folks in a weird quasi-finished 98.4% done state. My motivation recently came back so I finally finished a framebuffer implementation for the Raspberry Pi 2 Model B. That's right - "startx" in all of its glory on this part we dreamed up a year ago.
(If that doesn't bring a tear to your eye, maybe that 1994-era color depth will!)
So, if you remember, the big doubt when starting the project was whether we could even fit all our logic on a CPLD. We did it - and we have like 30 macrocells to spare(!) on this 144 macrocell part.
Okay, fine, maybe I just wanted the challenge of the small part, but even though I had the project working well as a "Digital Picture Frame" 10 months ago... I had to see what we could do attached to real equipment.
I heard you guys like VGA, so here's VGATonic opening the VGA project VGATonic's project log page and running on a VGA monitor. At 25 frames per second: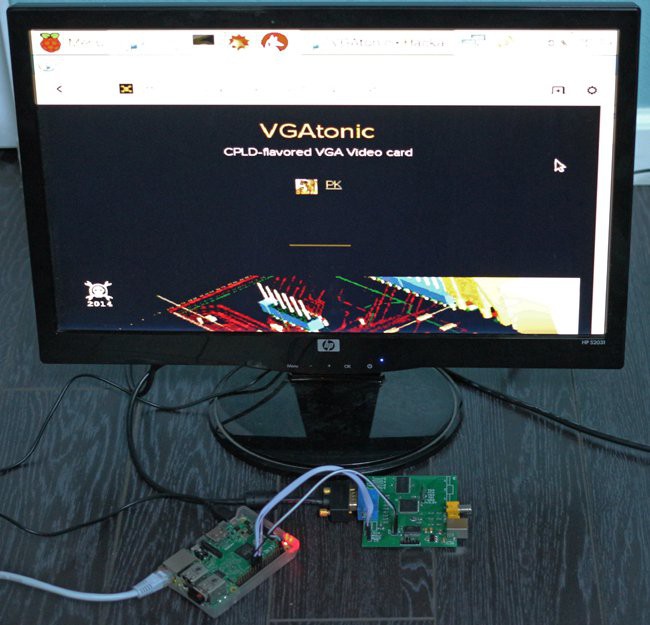 So, hurry over to GitHub and build yourself a copy: https://github.com/dqydj/VGAtonic
And what now? The motivation continues! Parsing the Hackaday Prize 2015 Rules, I see we can build on what we've got since we didn't make the Semifinals cut! Here are the caveats:
1. A new project page must be created
2. The project must show meaningful development during the course of the Contest.
So, let's move this party to the new page: VGATonic v2.0 promises to be a great time. I'll upload a video there soon so you can see it.
This time I'll try to add all the features this year, okay? No waiting until 2016.