Prototype v3.0 boards in the works at oshpark.com
Main change is the addition of a footprint for a Microchip SOT-23-5 I2C EEPROM
This will theoretically provide EEPROM storage to retain state on microcontrollers without internal EEPROM.
Other footprints unchanged so I can use the old stencil when this is not populated.
Other tweaks:
Fiducials for cnc pick and place
Filled in circles on the address silk screen
Rounded corners to make it less poky on the packaging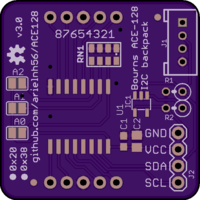 This is not checked in yet.