Aqara and Eurotronics hand in hand to save energy
and make life more convenient for users. In this home automation section, aqara window contact sensors are used to send a window open alert to the Eurotronic thermostat, once the alert is disabled, the thermostat resumes the previously set temperature.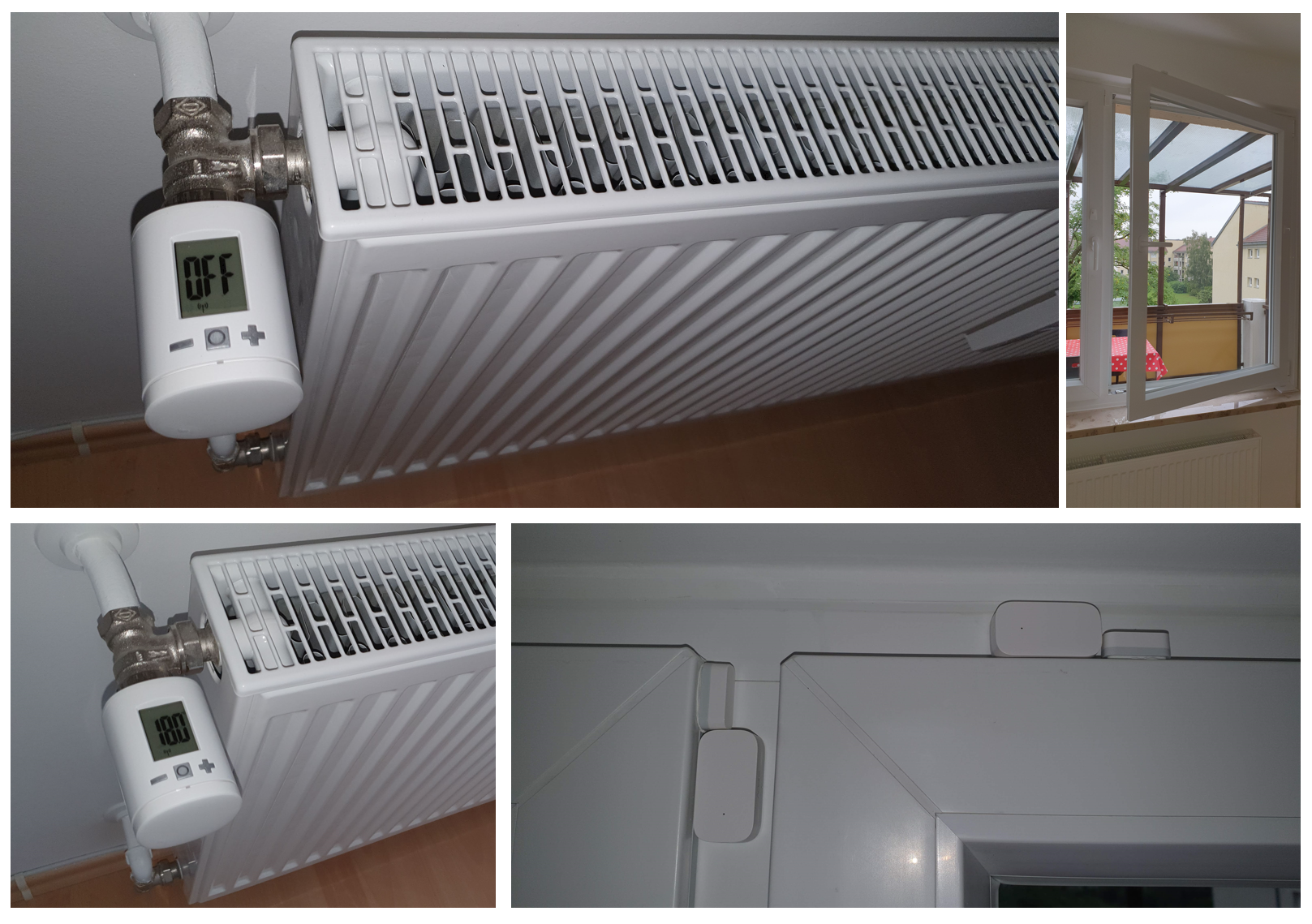 The Spriit (google "eurotronic thermostat zigbee" ) has the spirit of devices compatibility introducing a zigbee product, which support is added by the zigbee2mqtt community.
In this code section below, multiple windows contacts ("apertures") are aggregated and a notification is sent when the state changes, the full code is available here.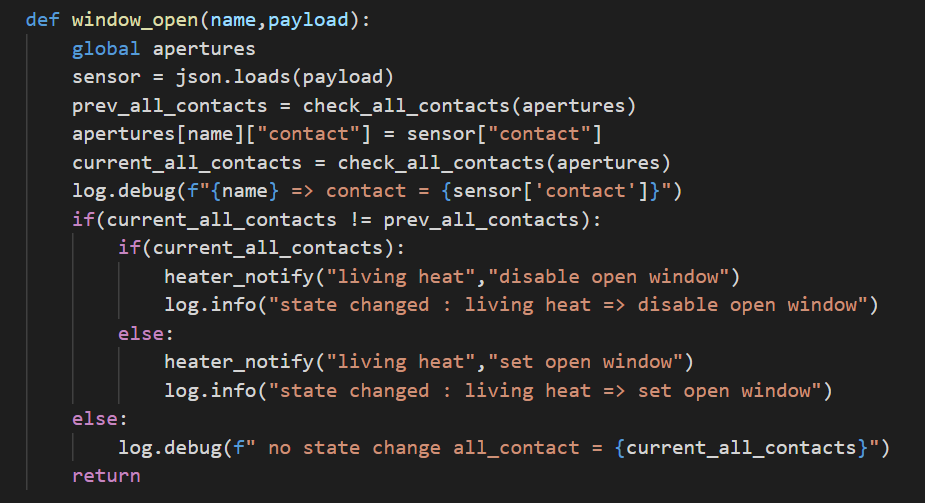 Python Client injects selected MQTT traffic to influxdb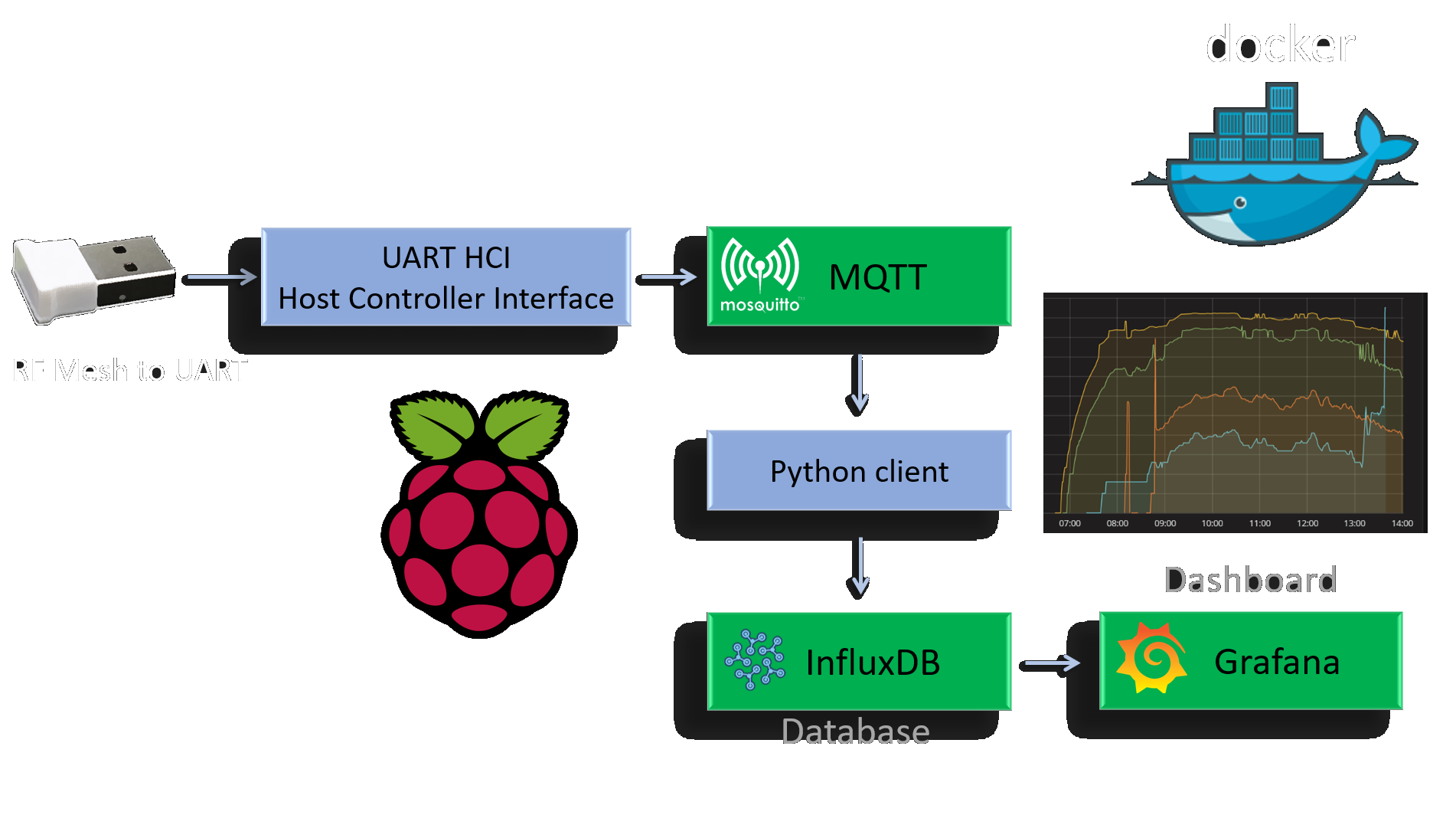 This project has been constatly evolving, from custom RF to zigbee sensors to DIY Thread as depicted below. It is a collection of ideas and sample code and not focusing on a single software or framework.
Thread, OpenThread, nRF52-dongle, firmware Coming soon
The evolution of WPAN (wireless private area network) has led to this moment where the 802.15.4 (already in use by zigbee) joins the ipv6 in the Thread standard managed by the threadgroup. Google, behind Nest provided an open source implementation : openthread.  Nordic has provided a very cheap and convenient nRF52840-dongle supporting all sorts of modern wireless protocols and with a direct usb connection (for bootloader sw update, logging, interfacing), sure you can get the nRF52 dev kit rather for development, but hacking the dongle is more fun and given the size and cost you can have many to test with real networks:
I prepared an OpenThread mind map here, have x5 of those dongle, managed to have the USB running to log the events of the MQTT-SN sample (to be shared soon in github)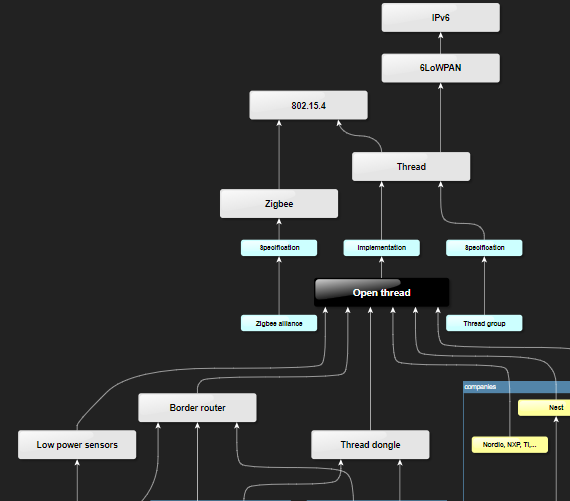 Given the beauty of the tools and the framework, released around a raspberry pi border router, I'm glad to lead the next generation of custom low power wireless sensors toward the Thread standard, and they're likely to easily get compatible with other off the shelf future smart home products !
(You can contact me in case you'd like to help in this direction)
zigbee2mqtt 2 influx 2 grafana
I hoped to replace my nRF52 low power sensors with off the shelf zigbee but that's not gonna happen any time soon as the ones I designed with the custom protocol are competitive in the logging use case. I have now an Aqara temperature sensor running over zigbee2mqtt logging side by side with my custom sensor on a grafana dashbaord (example snapshot here).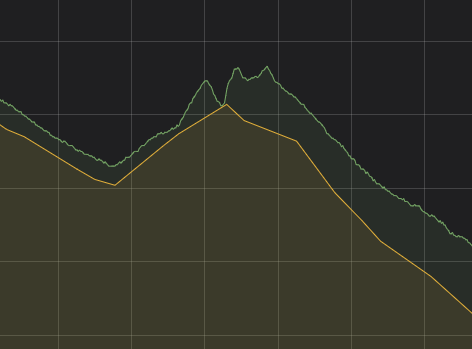 The high resolution of the nRF52 custom sensor comes from a stunning 30 sec period log (1 min per parameter), that's been running for alomst 6 months already on a CR2032 with a +4dB configuration, so no wonder how long the CR2477 version can last.
When it comes to buttons, all Aqara buttons and wireless wall switches are replacing the DIY buttons, as wireless button is becoming a less attractive topic of DIY project.
All the environemnt and latest Python scripts are under https://github.com/nRFMesh/nRF52_Mesh
The rest of this project description is not yet updated to the new zigbee generation.
Home Smart Mesh with comprehensible structure, menu for different boards, mesh concept,...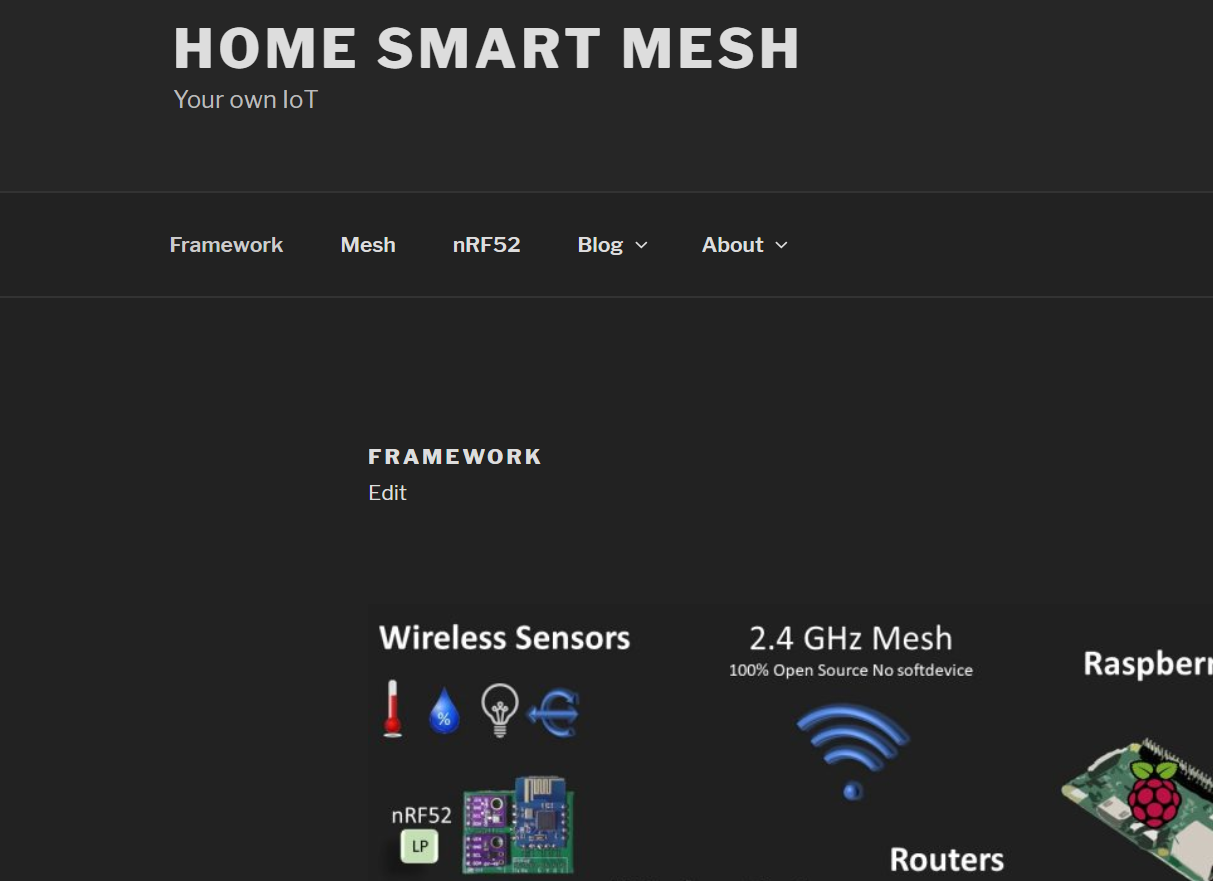 Node-red : from Aqara motion button to esp32 RGB Leds

Below, an esp32, like the one visble on the test board, is hidden in the white 3d printed tower. 7 WS2812B have been united for the purpose. An 18650 battery power module like the one visible on the right has been used inside the tower.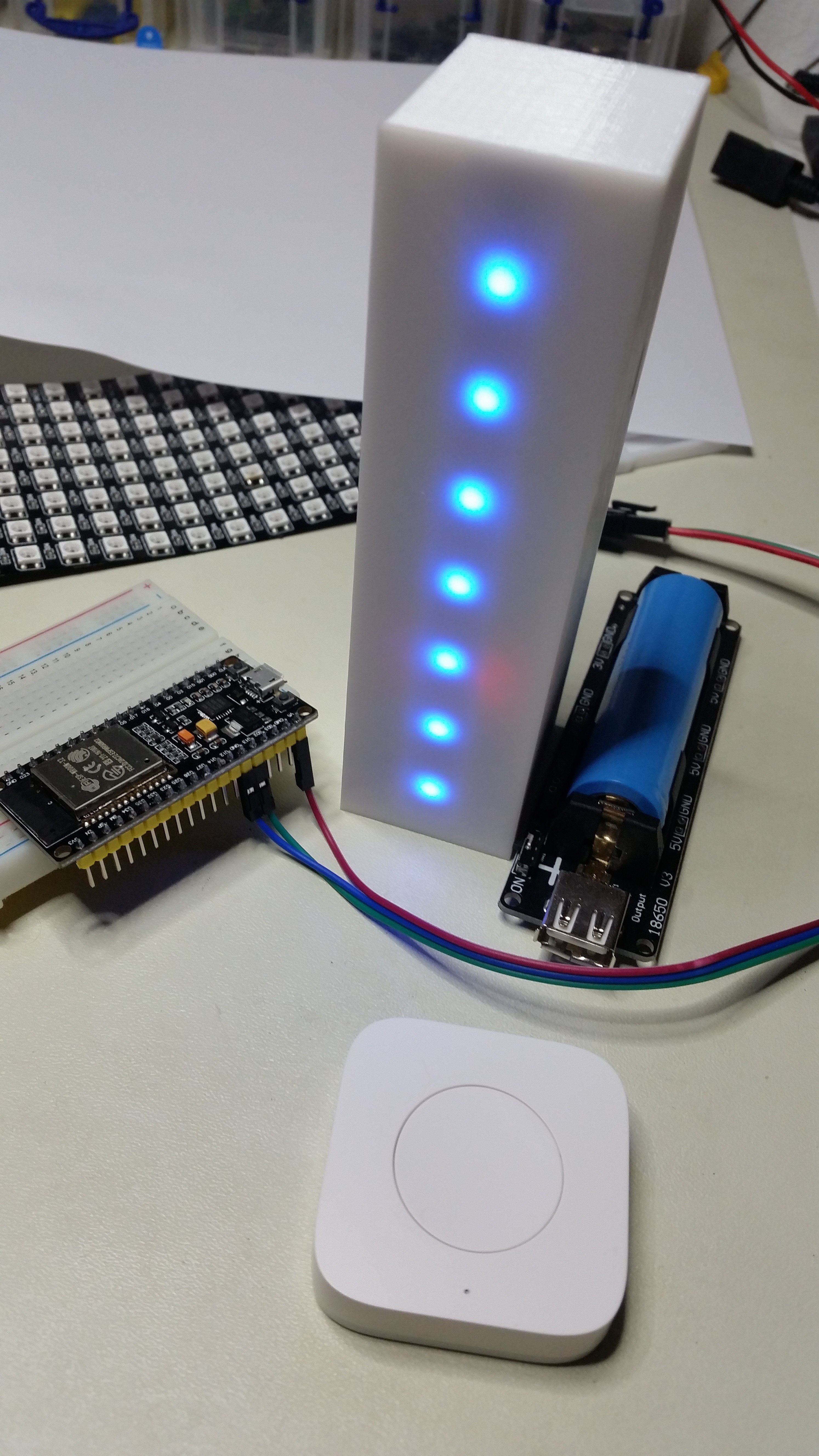 Everything becomes easy when iot...
Read more »