Introduction to the project
Moved to the end of section, more important stuff first, bla bla next.
Impressions and Inspirations
Also moved to the end of section. for those really curious how all this started.
Links to project Logs

The Logs consist of specific use cases based on this IoT_Framework going into some details of firmware and software :
IoT Framework, what do we have here ?
Below we see both boards contributed by this project the STM8L_RF_Sensors Node, and the STM8S_RF_Dongle that have two use cases, RPi dongle and stand alone repeater. Note that this setup is running field tests now for many months already. The mesh network is a very simple flood concept with a time to live. The rest of the HW is standard from the market, Raspberry pi, smart sockets, smart light,...
Hardware Overview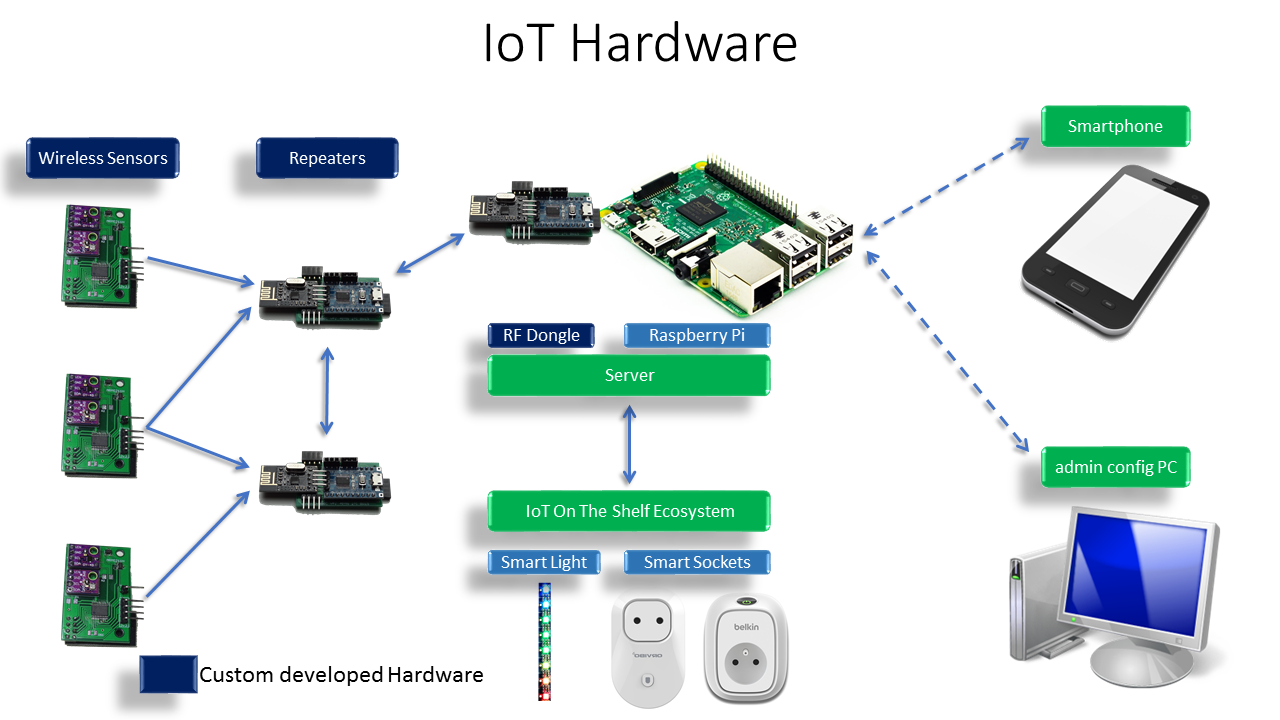 Software Overview
For the software, Standards are used where possible. A user can modify the node's firmware and use ready Raspberry pi software or vice versa, depending on every one's focus. As every thing is as open as possible, it should be easy to plug in any ready interface tool such as MQTT clients.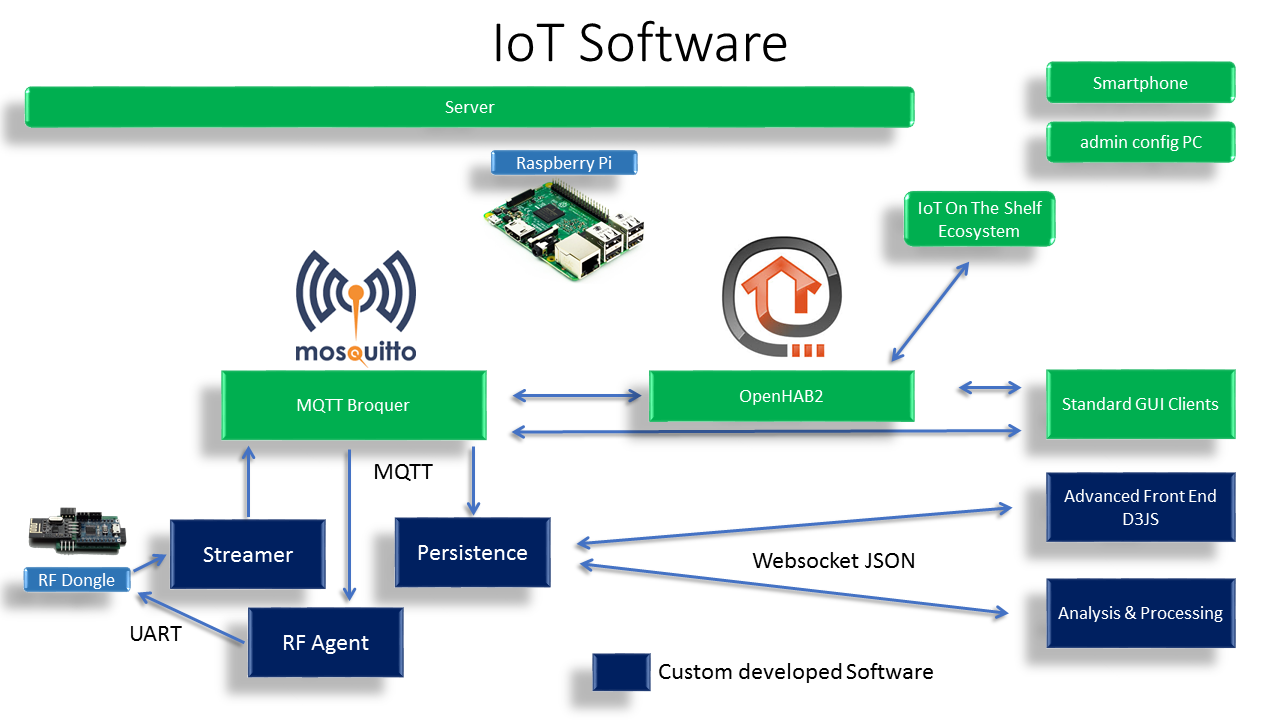 Is this a mesh ? Yes Madam
We can see two use cases here, a broadcast and a Peer to peer message that is made reliable with Acknowledge and retries. All the details in the nrf24l01 Flood Mesh Protocol log entry.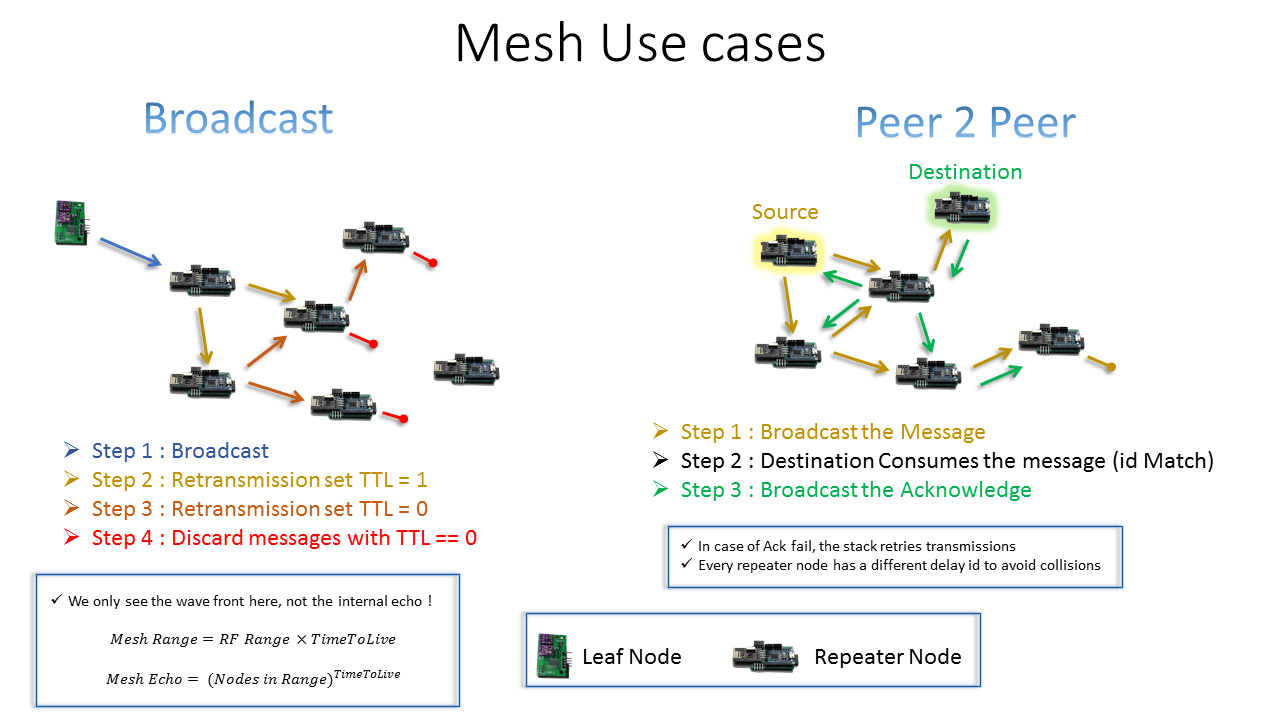 The STM8S_RF_Dongle PCB
pinout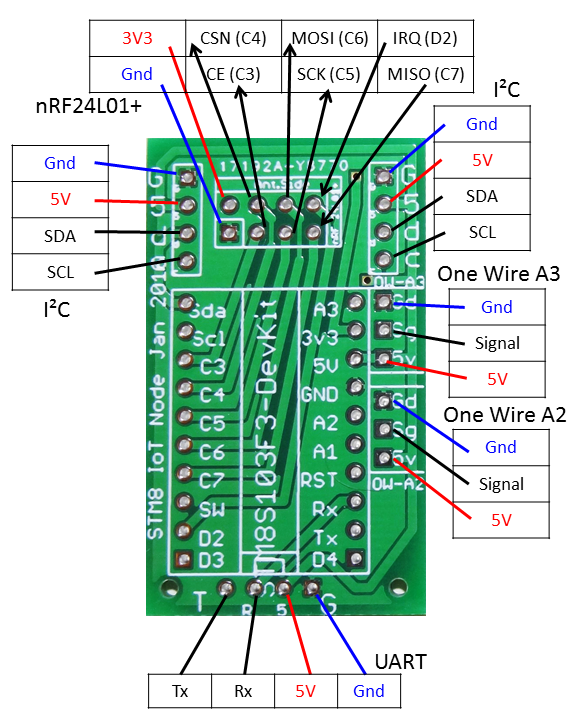 Ready Node to be used as dongle or as repeater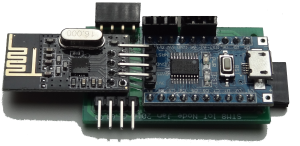 Below, the repeater in standalone mode can be directly plugged into a wall charger and act independently, it even has an RGB LED that can turn into a smart status indicator such as in the log entry about the bathroom use case.

The Raspberry Pi has dongle has an RF24L01p module with PA LNA for a wider reach but also a better sensitivity of other normal RF Nodes (note the importance of the metal case or at least aluminium foil).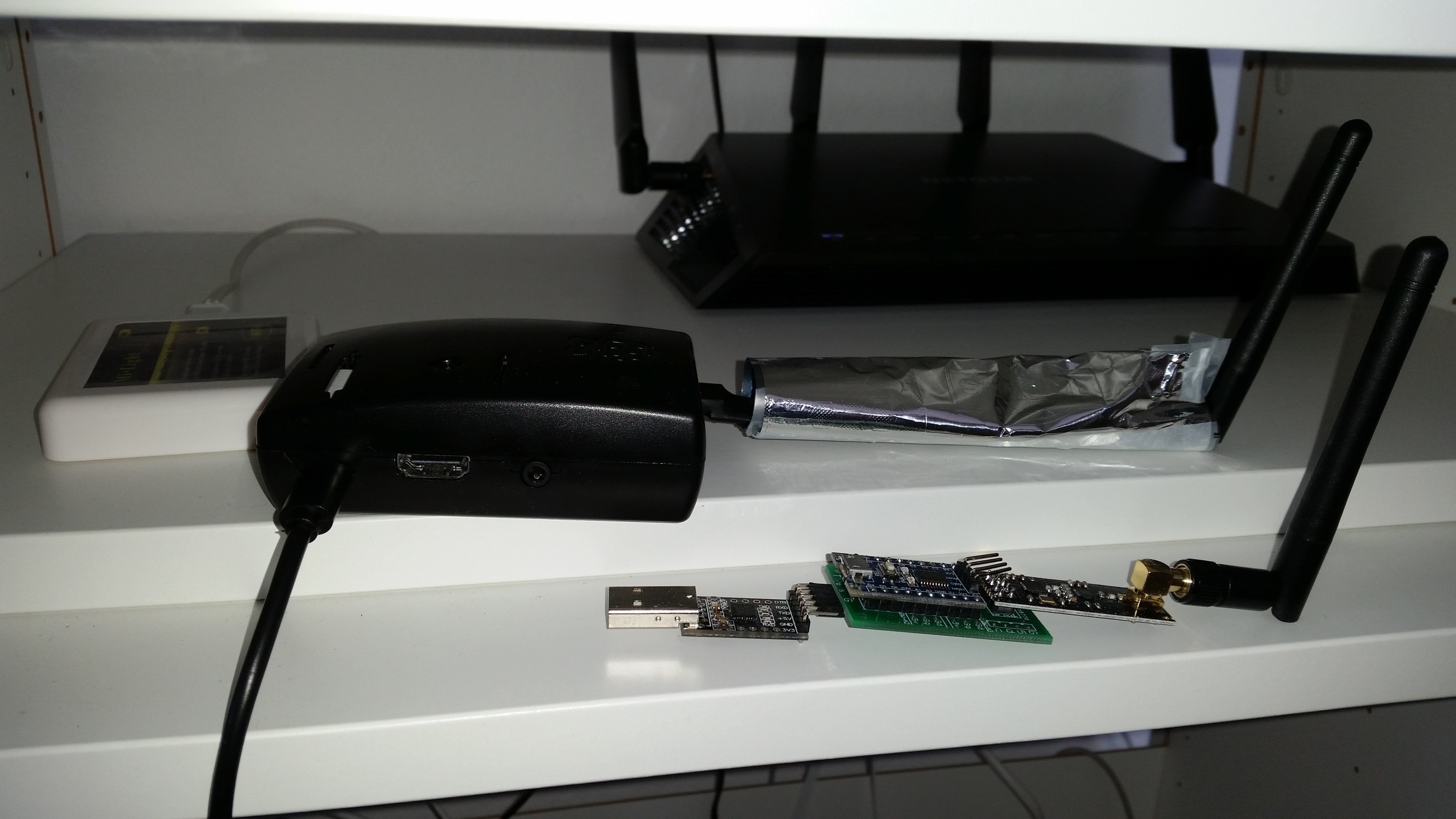 STM8L_RF_sensors node

Here we can see how a completed STM8L_RF_sensors node looks like, note that soldering the STM8L is the most critical step in this process which might be a blocker, actually it is not hard, it is a matter of process and practice, see details in build logs.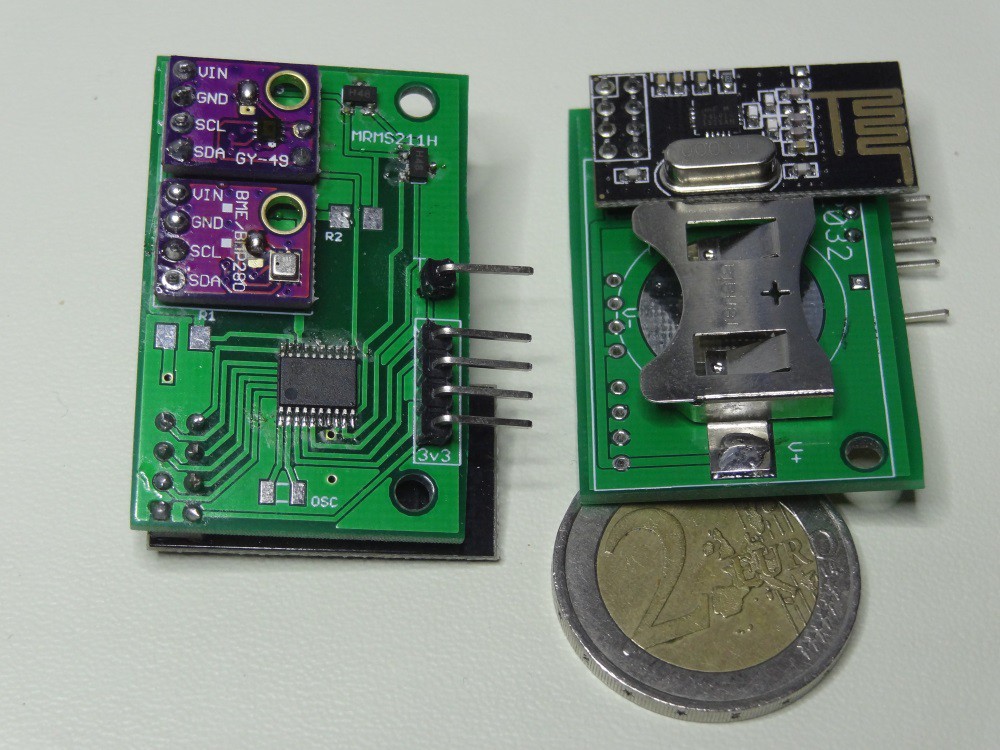 IoT Dashboard
Once every thing set up and configured, the dashboard could look like this, room for improvement right but also for customization !!!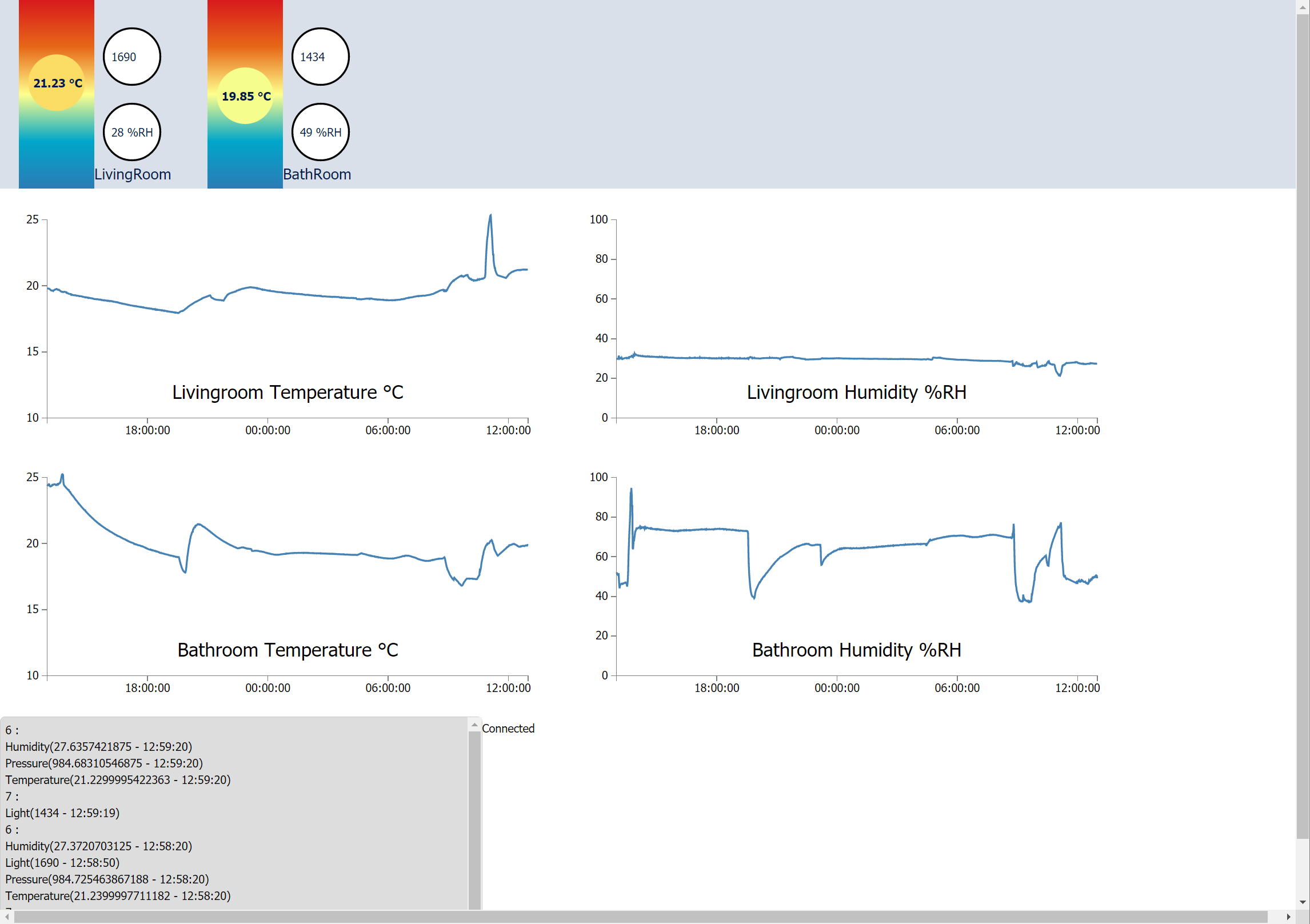 Introduction to the Project
Challenge

Internet access creates a social gap, now that things get connected, we see another gap because such devices are expensive and their development environment are expensive and complex. We also have the problem of users not owning their products due to registrations and fees.
Although we face many problems on what an IoT device can do, the challenge here is not only to create one more IoT device that can do something but also how to make it as much accessible as possible.

Solve the Problem

This project solves the cost problem by bringing the world's cheapest development environment for an IoT device. The STM8 components, the STM8 as breakout modules and the ST-Link_v2 programmer are all you need to have debug included for less than what your first coffee can cost.

Change the World

Even if a one time investment...
Read more »