The world gets darker as we know it. As more violence comes with 21st century criminals, justice needs a makeover. This can be used for anti-terrorism, keeping criminals in bound, military, and other protection ways. This uses state of the art tech to get rid of crime as quickly and efficiently as possible before something happens. This would be world changing, because governments on the verge of getting destroyed by crime and terrorist cells like Al-Queda and Isis will be controlled and eliminated. Crime will quickly get lower as those that see the suit get discouraged and those that don't or still want to fight faces it's wrath.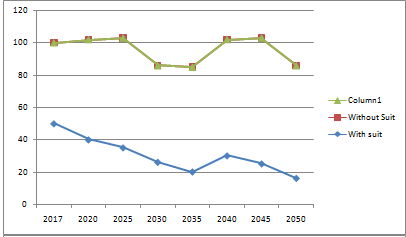 **Crime chart**
There can also be new forms of flight, weaponry, and an all new look at tech from this.
If not, this can also be used for science advancement. Also, I don't know if you realized this, but it's an Iron man suit. A frigging' iron man suit. C'mon guys.
It can even be used for medical purposes!
**Link to Github: https://github.com/thekidtonystark/Forearm-Launcher**
Questions asked:
What is it exactly? It is an Iron man suit.
What are the practical uses for it? It is used for crime. It can also be used for medical emergency and scientific advancement.
How does it stop crime? It uses data like criminal records, backgrounds and other things like that to predict crime.
Who will use it? I don't know. A general maybe?
You're a 13 year old trying to make something groups of scientists can't make. Why do you think this is possible? It all depends on how you look. Sometimes, the answer is so simple, it is hidden in plain sight.