For the last two years, we have explored how to create hands-on models to help people learn math and science. Our book 3D Printed Science Projects was published by Apress in 2016, with a second volume in late spring 2017.  Each chapter explains a scientific or mathematical principle, and then develops 3D printable models, many of which can be changed to demonstrate different cases. We found that creating these models was difficult and required both deep knowledge of the science and of the best ways to create a 3D printable model.
We now want to take this to the next level and figure out how to restructure learning a math subject completely, aiming at self-learning and at supporting learners who do much better at a subject if they can make and hold something. There are a lot of one-off projects to demonstrate a particular concept (and we have those in our books) but now we want to see how to think differently given the tools available to us.
Here is our video summarizing the project so far:
We talk to many self-taught hackers who are excellent intuitive engineers, but for whatever reason never took calculus. Calculus is a gateway to a deep understanding of physics and more advanced mathematics. There are online classes which can be taken, in some cases for free, but they are traditional algebra-heavy classes as far as we have seen. What is out there for learning advanced math and physics using 3D printing and open source electronics?
There are databases of 3D printable objects but these are not curated and the quality can be uneven. The science or math in free database models can be just plain wrong. Most commonly 3D printable math models are esoteric "math zoos" that look awesome but give no insight into how the model fits into a bigger picture. The lack of curated, rationally-organized 3D printable math and science models, and the difficulty of creating them, has held back use of 3D printing as an educational tool, even where it might be very effectively applied. Electronics projects are even more scattershot in this way.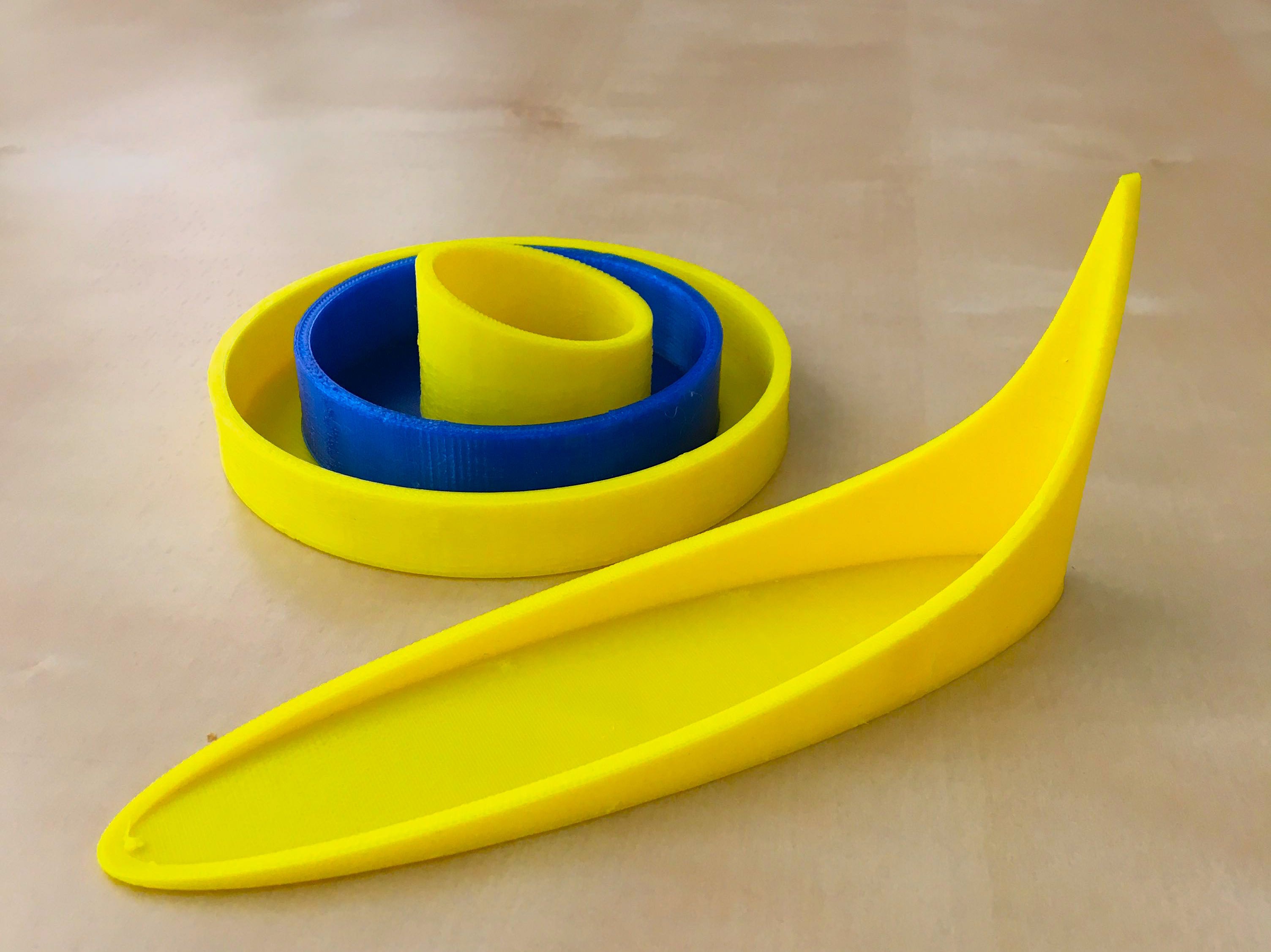 Kepler's laws in plastic- 3D printed orbits

As an example, our project image is "Kepler's Laws in Plastic." The models are available for download at our publisher's page (linked above) for the 2016 3D Printed Science Projects book. They depict orbits (Earth, Venus, Mercury in one set, Halley's Comet to a different scale in the other) with the height being the velocity of the body at that point in its orbit. Kepler developed his Laws about these relationships in about 1609, without benefit of computers, 3D printers (or calculus.) He had to rely on a purely geometrical approach. Although Joan was a JPL rocket scientist for 16 years, when we created this model both of us developed new insights. We want to bring many people those insights and make math as natural as using construction toys.  We have been surprised at the emotional response this project has generated in many people (see our narrative in our logs) and we are excited about where this might go.
What Will Our Project Do?
We have gone back and looked at the oldest roots of calculus as we know it - Isaac Newton's Philosophiae Naturalis Principia Mathematica, usually called Principia. Pages of Newton's copy with his notes on it (with his papers at Cambridge University in England) can be seen here. Kindle versions of English translations are available starting at 99 cents.
One thing that struck us was that the entire work has only geometry. The emphasis on algebraic forms came later on. There were good reasons for this, but our idea is this:If we go back to the source, knowing what we know now, can we create a mashup across three and a half centuries that Newton himself might have appreciated? We want to find good intuitive starting points to teach calculus-as-physics and then find hackerish ways to teach them in a hands-on way.
Initially we need to define a set of core concepts that best lend themselves to this...
Read more »