In order for a machine to harvest a crop it needs to be able to see and identify the crop. After putting together an algorithm to train a model, I found the raspberry Pi remote desk top I'm using doesn't seem to get along too well with the model. Actually, it crashes during training. I decided it would be better to train the model on my laptop and run the model on the Raspberry pi.
It was obvious python was not designed for a Windows machine and scipy turned out to be very difficult to load. I ended up loading WinPython 3.5.2 which had scipy preinstalled and it was easy to add tensor flow and tflearn after that.
Next, I wanted to be able to use my own dataset. I decided a strawberry would be a good target to start with. It would be very tedious to search and individually save the thousands of images needed to train a model. Luckily, I found a Google app called Fatkun batch download image and it worked great for saving the images. Next, I needed to resize them all to the same size. I started with a model based on cifar-10, with 32x32x3 size images. After testing, I had better luck with a larger image of 64x64x3. Below is a short program I wrote to resize the images for me. It not only resizes but also counts the images as it resizes them so I would know how many images I had. After the strawberry images, I also loaded additional images such as dogs, cats and birds and "non-strawberry" images.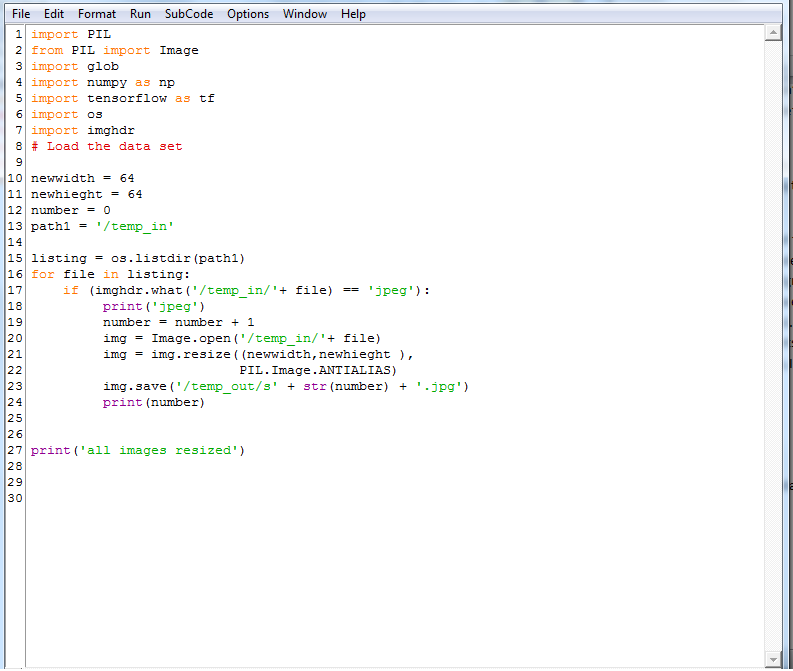 Below is the algorithm I'm using to train the model. It works but still needs some work. I loaded a few strawberry pictures in a test folder to test the model. It does identify most on the images as strawberries. It is a good start.

from __future__ import division, print_function, absolute_import
#from skimage import color, io
#from scipy.misc import imresize
import numpy as np
from sklearn.cross_validation import train_test_split
import os
import scipy
from glob import glob
import tflearn
from tflearn.data_utils import shuffle, to_categorical
from tflearn.layers.core import input_data, dropout, fully_connected
from tflearn.layers.conv import conv_2d, max_pool_2d
from tflearn.layers.estimator import regression
from tflearn.data_preprocessing import ImagePreprocessing
from tflearn.data_augmentation import ImageAugmentation
from tflearn.metrics import Accuracy
# Load the data set
strawberry_files = sorted(glob('/strawberry_64_sm/*.jpg'))
nonstrawberry_files = sorted(glob('/non_strawberry/*.jpg'))
n_files = len(strawberry_files) + len(nonstrawberry_files)
print(n_files)
size_image = 64

allX = np.zeros((n_files, size_image, size_image, 3), dtype='float64')
ally = np.zeros(n_files)
count = 0

for f in strawberry_files:
try:
img = io.imread(f)
new_img = imresize(img, (size_image, size_image, 3))
allX[count] = np.array(new_img)
ally[count] = 0
count += 1
except:
continue
for f in nonstrawberry_files:
try:
img = io.imread(f)
new_img = imresize(img, (size_image, size_image, 3))
allX[count] = np.array(new_img)
ally[count] = 1
count += 1
except:
continue


#######
# test-train split
X, X_test, Y, Y_test = train_test_split(allX, ally, test_size=0.1, random_state=42)
# encode the Ys
Y = to_categorical(Y, 2)
Y_test = to_categorical(Y_test, 2)

###################################
# Image transformations
###################################
# normalisation of images
img_prep = ImagePreprocessing()
img_prep.add_featurewise_zero_center()
img_prep.add_featurewise_stdnorm()
# Create extra synthetic training data by flipping & rotating images
img_aug = ImageAugmentation()
img_aug.add_random_flip_leftright()
img_aug.add_random_rotation(max_angle=25.)
###################################
#
###################################

# Define te network architecture:
# Input is a 64x64 image and 3 color channels
network = input_data(shape=[None, 64, 64, 3],
data_preprocessing=img_prep,
data_augmentation=img_aug)
print('step one start')
# Step 1: Convolution
network = conv_2d(network, 32, 3, activation='relu')
print('step 2 start')
# Step 2: Max pooling
network = max_pool_2d(network, 2)
print('step 3 start')
# Step 3: Convolution
network = conv_2d(network, 64, 3, activation='relu')
print('step 4 start')
# Step 4: Convolution
network = conv_2d(network, 64, 3, activation='relu')
print('step 5 start')
# Step 5: Max pooling
network = max_pool_2d(network, 2)
print('step 6 start')
# Step 6: Fully-connected 1024 node neural network
network = fully_connected(network, 1024, activation='relu')
print('step 7 start')
# Step 7: Dropout
network = dropout(network, 0.5)
print('step 8 start')
# Step 8: Fully-connected neural network with two outputs
network = fully_connected(network, 2, activation='softmax')

# Tell tflearn how to train the network
acc = Accuracy(name="Accuracy")
network = regression(network, optimizer='adam',
loss='categorical_crossentropy',
learning_rate=0.001, metric=acc)

# Training
model = tflearn.DNN(network, checkpoint_path='strawberry.tflearn',
max_checkpoints=3, tensorboard_verbose=0)
#Train for 100 epochs
model.fit(X, Y, validation_set=(X_test, Y_test), batch_size=100,
n_epoch=100, run_id='strawberry',snapshot_epoch=False, show_metric=True)

# Save the models weights
model.save('strawberry')
print("Network trained and saved")
#Reload the weights to test the model
model.load('./strawberry')
print('strawberry model reloaded')
####test model load and test agianst the test images
import glob
for image in glob.glob("/test_image/*.jpg"):
print(image)
img = scipy.ndimage.imread(image, mode="RGB")
img = scipy.misc.imresize(img, (64, 64),
interp="bicubic").astype(np.float32, casting='unsafe')
print(model.predict([img]))