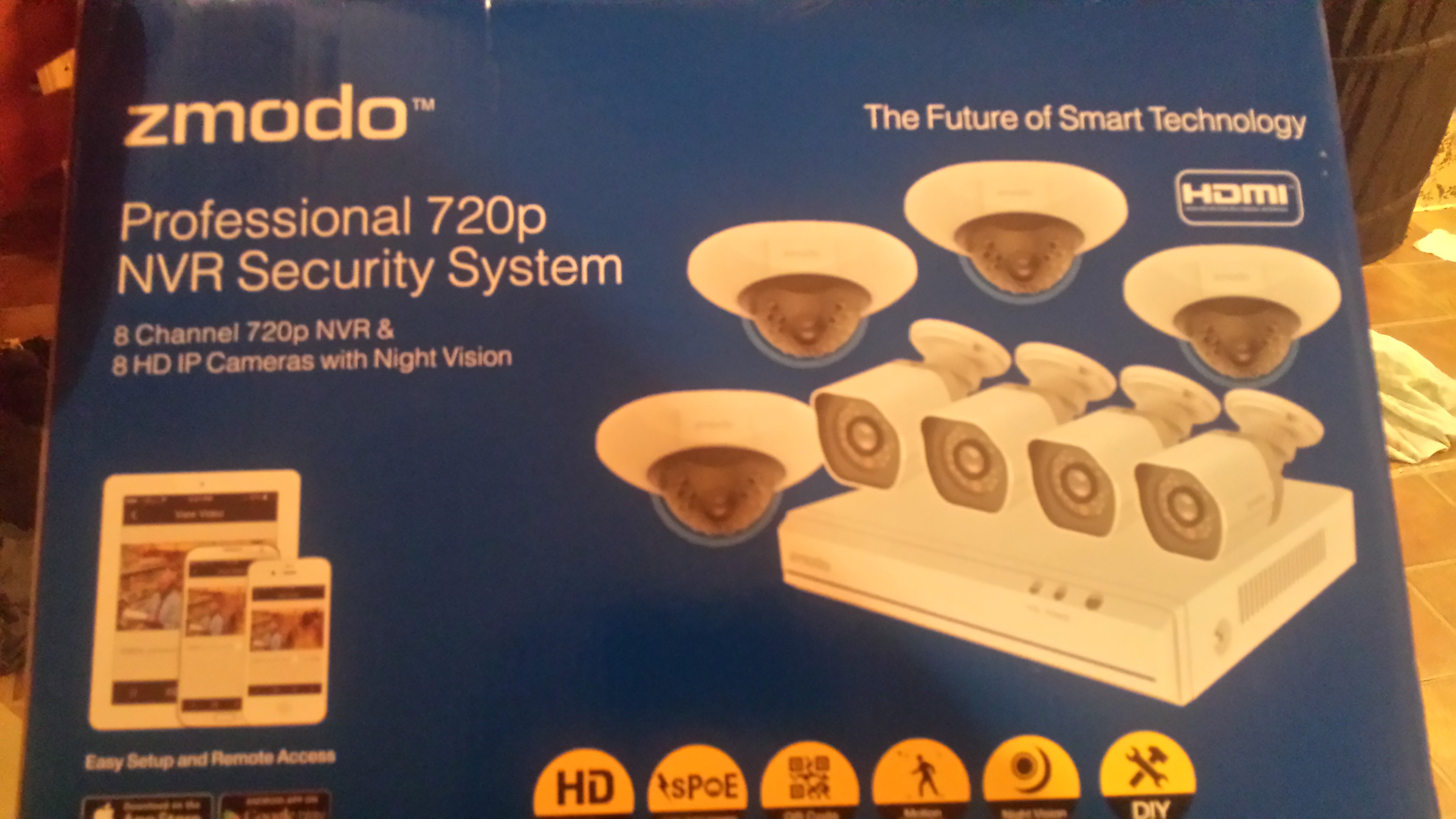 ZMODO Professional 720p NVR Security System
SKU: ZM-SS76D9D8-SC
UPC # ZNY010781150708B1045
UPC # 889490005180
Key Features
SET UP IN MINUTES
Connect your tablet or smartphone to your ip cameras or NVR with a quick scan of the QR code.
SIMPLIFIED POWER OVER THE ETHERNET
A single network cable each IP camera directly to NVR. Suppliying both power and video signal. (Does not support 3rd party PoE cameras)
INTELLIGENT RECORDING
Intelligent recording save up to 80% of your hard drive storage.
CONNECT VIA SMARTPHONE & PC
Stay connected wherever you go with the free Zsight app and Meshare web client.
VGA & HDMI OUTPUT
Easily display video through the HDMI port of your TV or moniter to take advantage of the security system's clarity. Standard VGA res is also available.
FREE ADVANCE ZSIGHT MOBILE APP
Zsight allows you to capture photos, record video clips, view playback, receive push notifications, share your device, and much more.
OKAY PEOPLE KNOW LET ME TELL YOU WHAT I REALLY HAD AFTER FEDEX DROPPED IT OFF AT MY HOUSE!!! AND I OPENED THE BOX. AND THE EXACT REASON I WANT TO TAKE THIS THING APART.
Lets start with main head unit. The call it a "NVR Network Video Recorder". Sticker on the bottom says it's a
ZMODO
Model: ZP-NJ18-S
SKU: ZM-SS7009D8-S
ID: XXXXXXXXXXXXXXX
User: admin
(Doesn't mention a password at all)
Lot No: YW015070015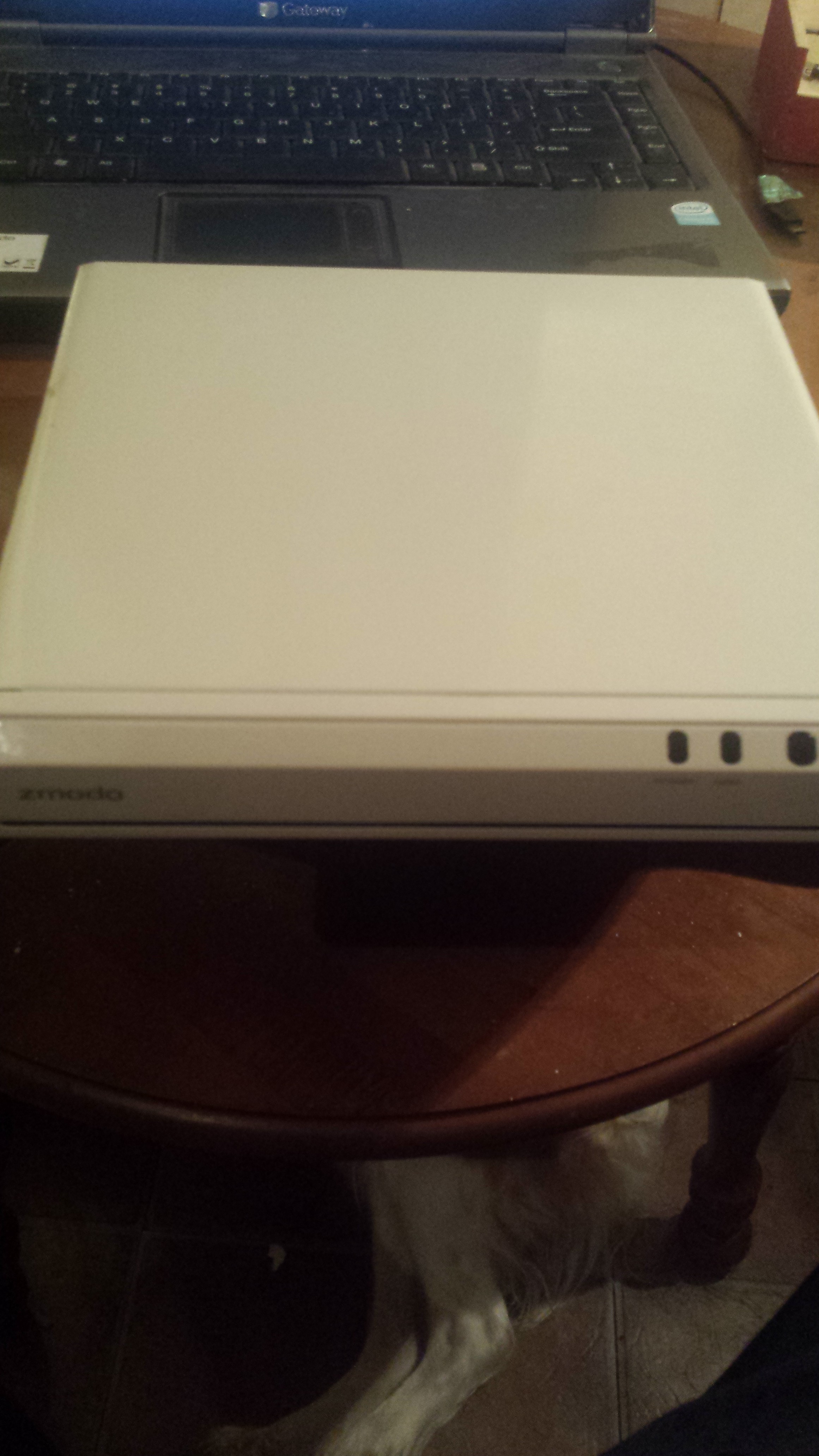 Nice white finish. A little plain looking. (I just noticed my dog Dama photo bombed me!!)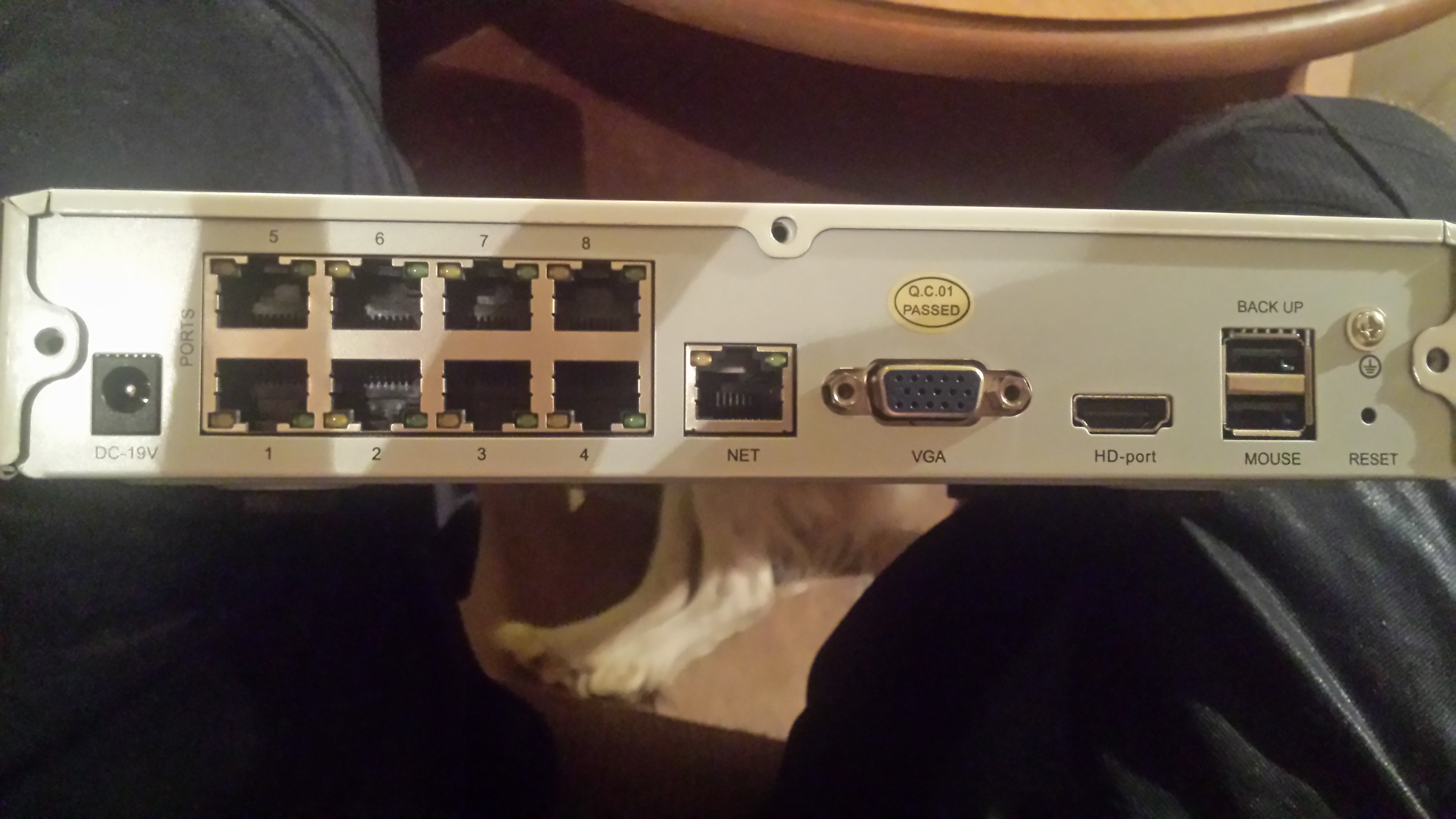 Okay we got DC-19V input, 8 ports, 1 ethernet port, VGA, HD port?, (Maybe they ment HDMI port) 2 USB ports, (backup and mouse) reset button hole, and a GND screw. OH LORD I SEE WHAT WE DON'T HAVE!! Do you? Okay I'll give you another try.....
Look hard catch it this time? There is No SCREWS. Why may you ask? This is why....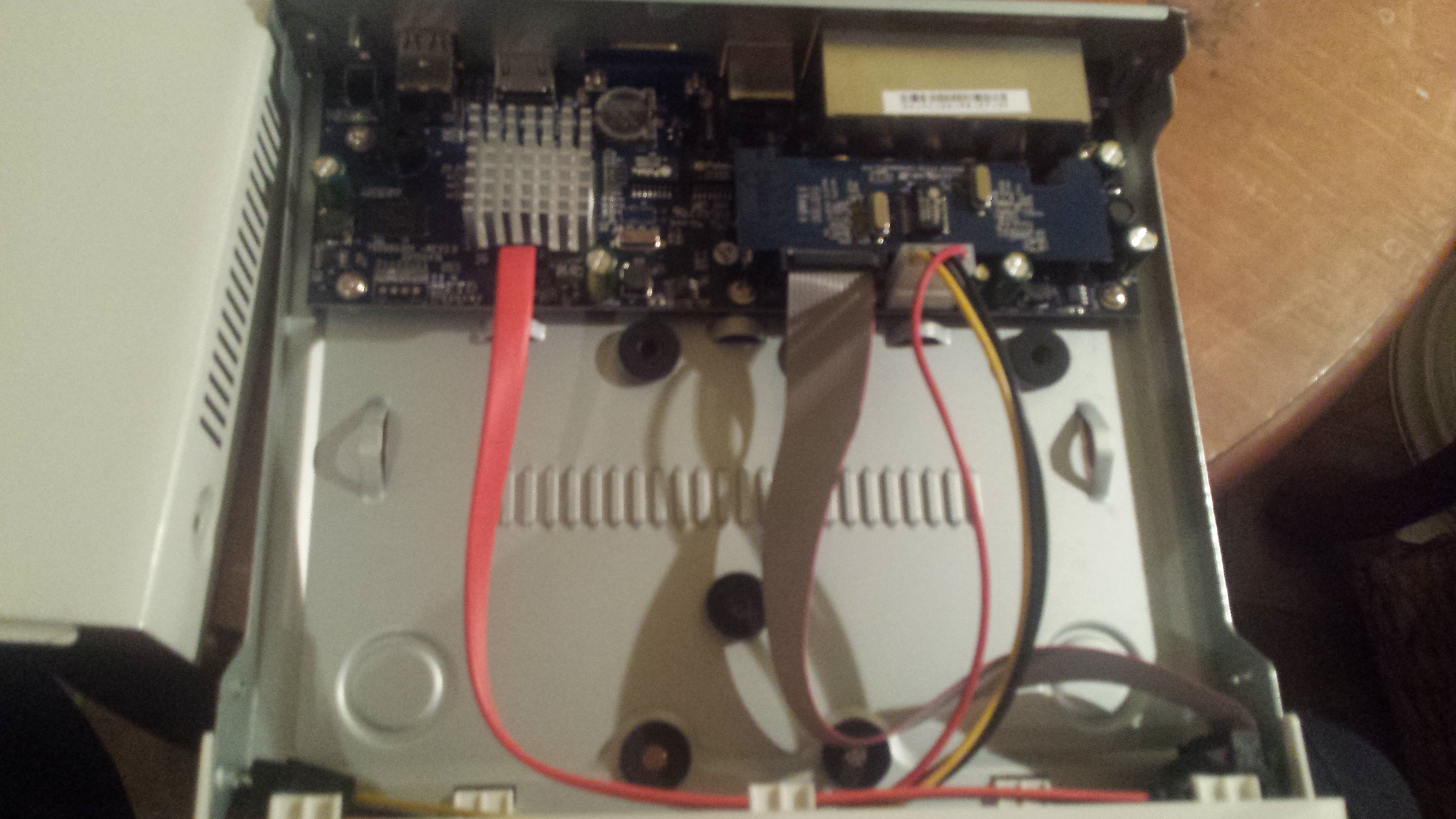 The China man won't even put a dang harddrive in it. Come on couldn't even get a 1 gig? lol Intelligent recording saves up to 80% of your hard drive storage. Unintelligent recording saved me a 100% of storage because it has no storage. And no where on the box does it say "Harddrive not included". Think they would had thought to mention that.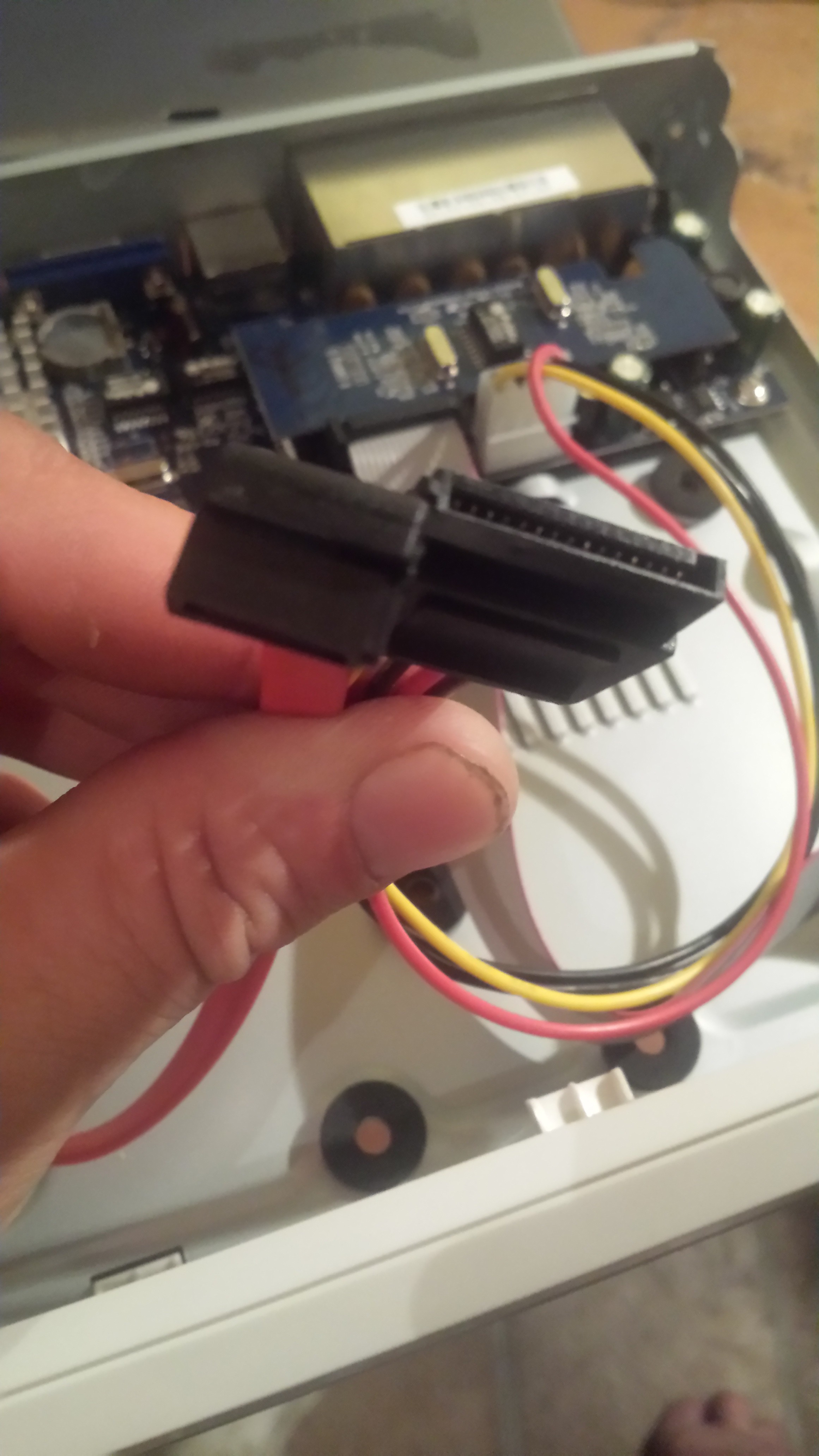 Looks like I need a SATA Harddrive.... Surprised it wasn't a IDE setup now I see this. I guess I got to have one shipped to me. While I wait for it to get here lets push on to the rest of the stuff.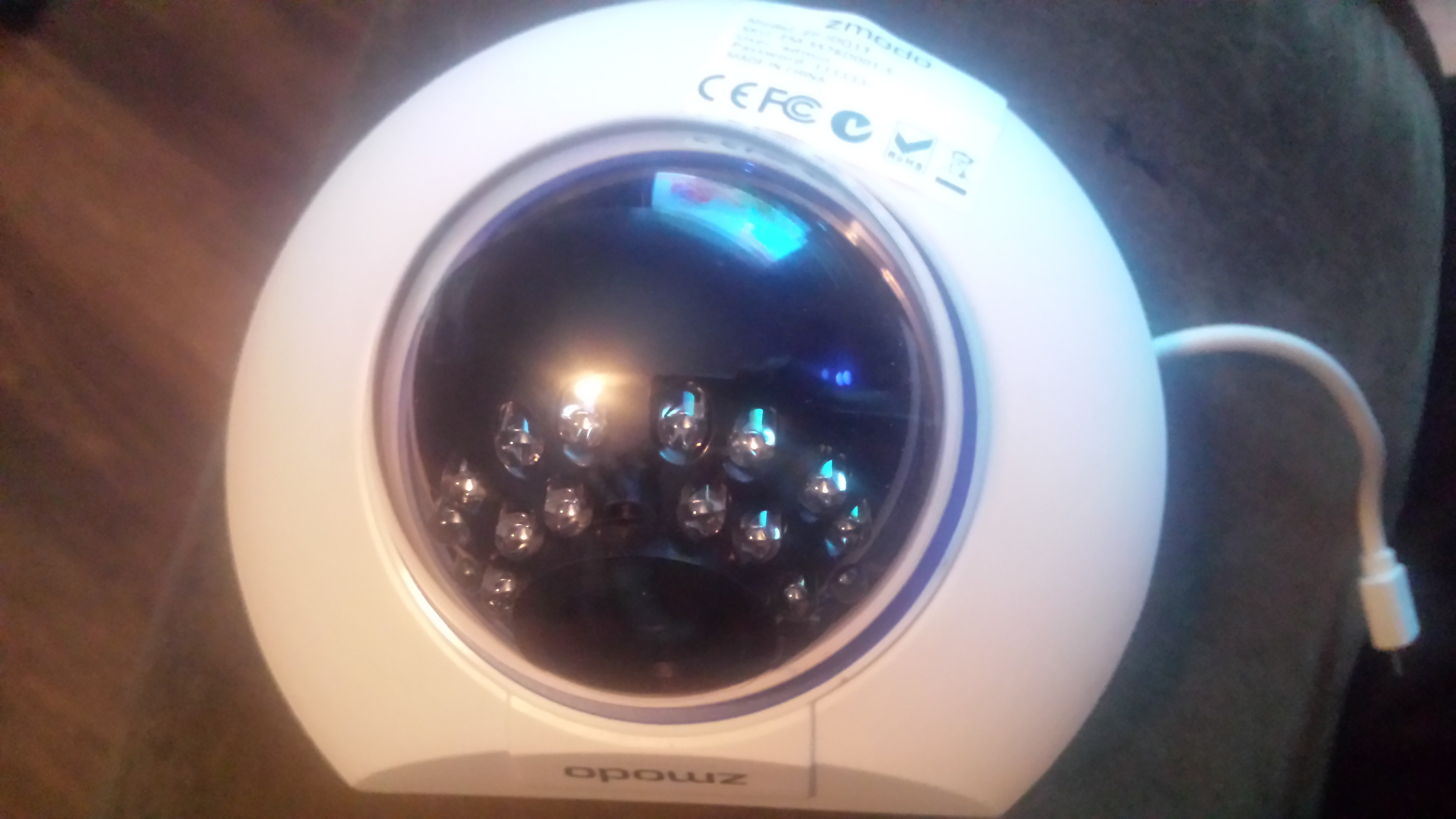 Bottom View If it was mounted. Ceiling mount interior wired IP camera. Very light weight. Notice the sticker and the funny plug. I'll get to that in a second.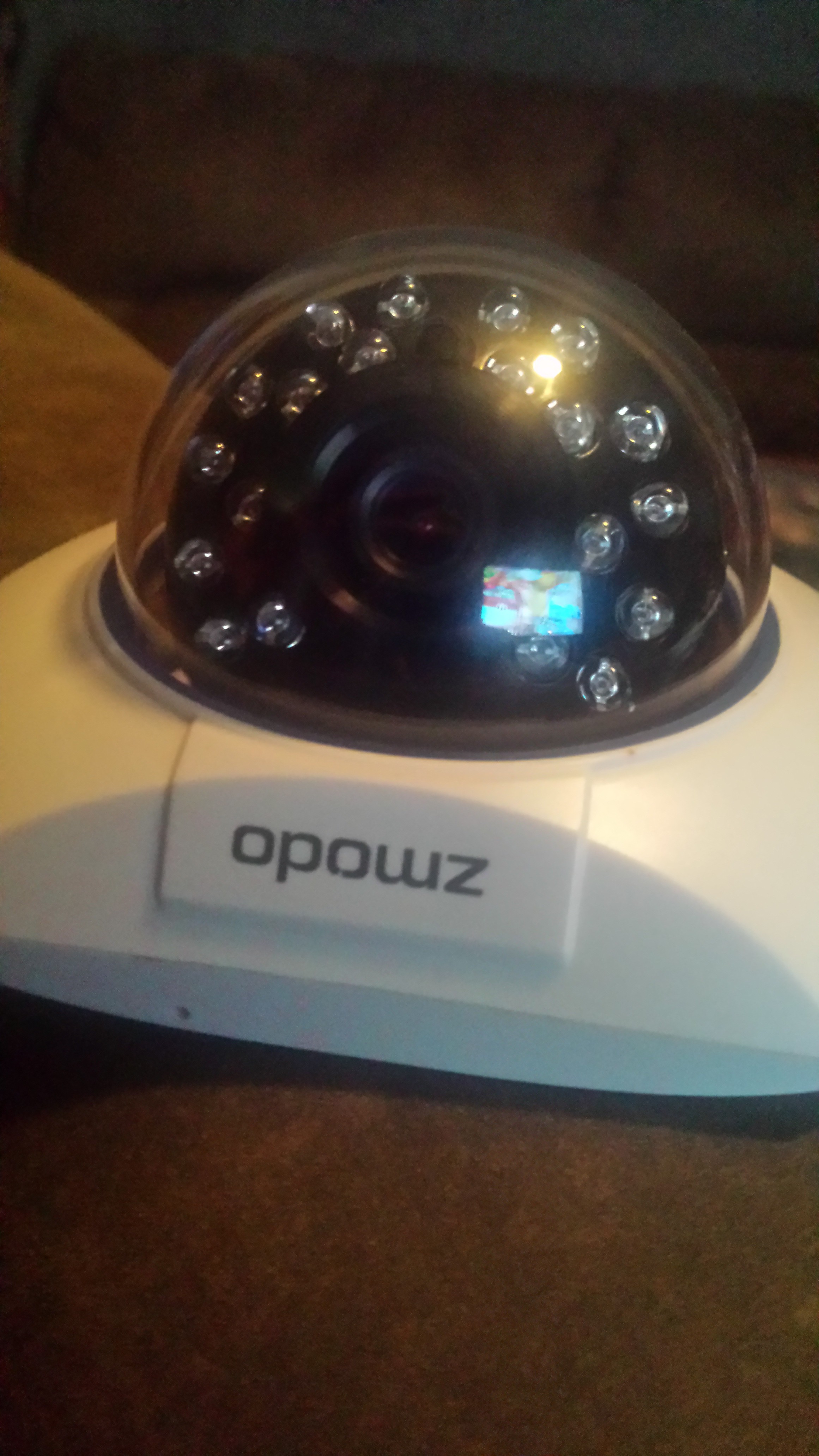 I guess you would call this a side view if it was mounted.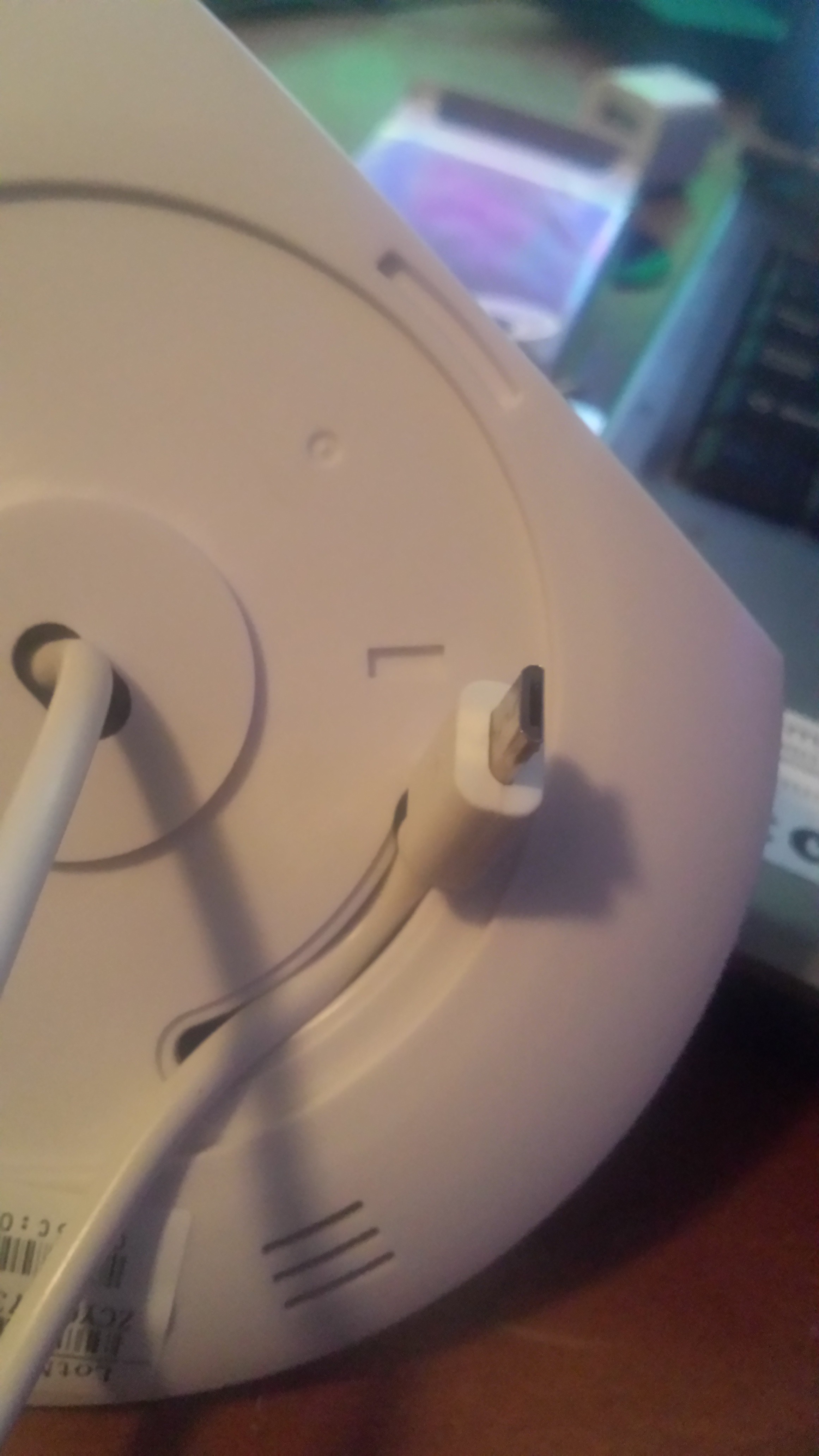 Top view if it was mounted. This thing uses a micro USB to plug into. And the sticker reads as follows.
ZMODO
Model: ZP-IDQ13
SKU: ZM-SS76D001-S
User: admin
Password: 111111
Made in china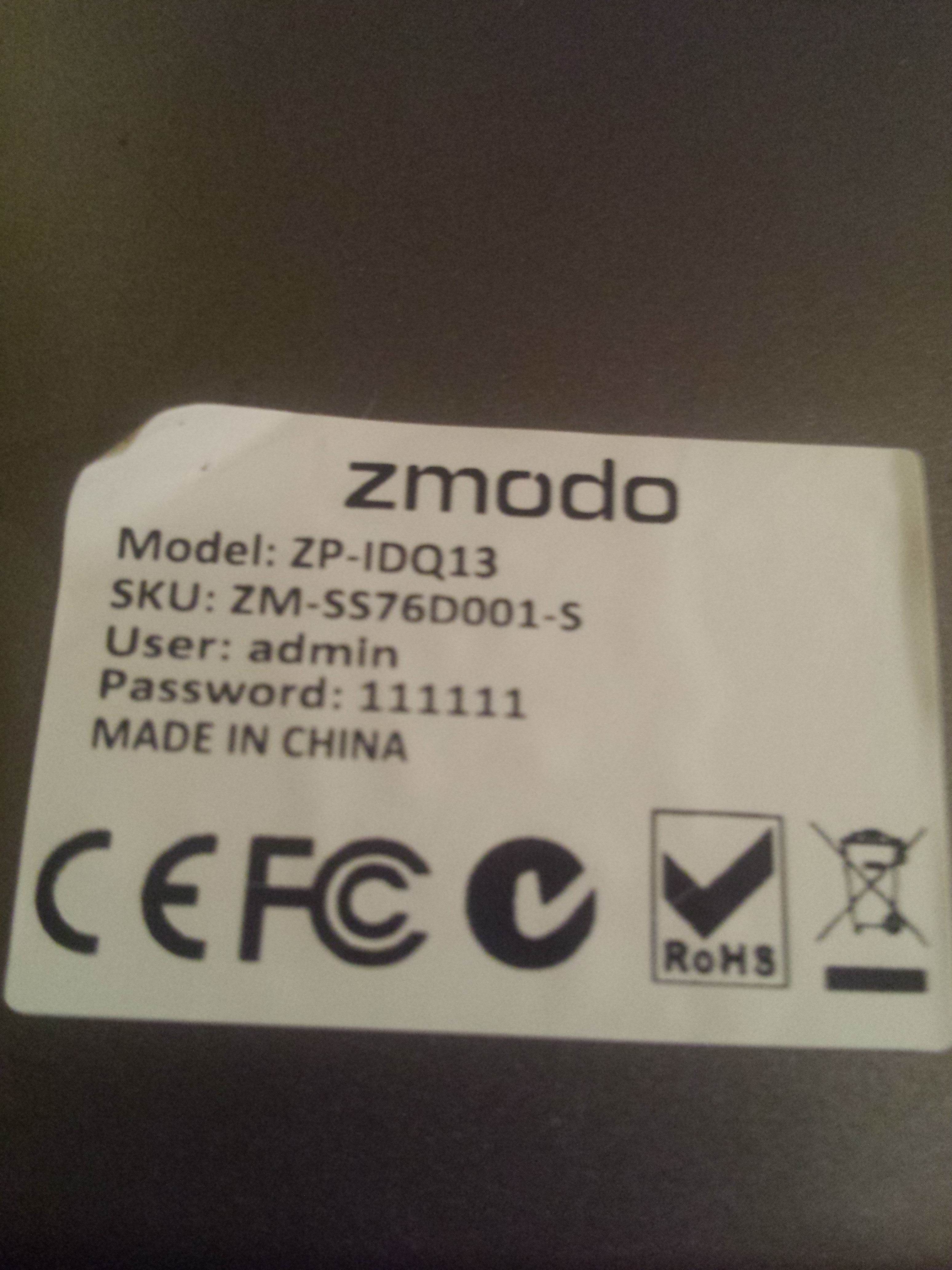 This is the sticker off the ceiling mount Camera.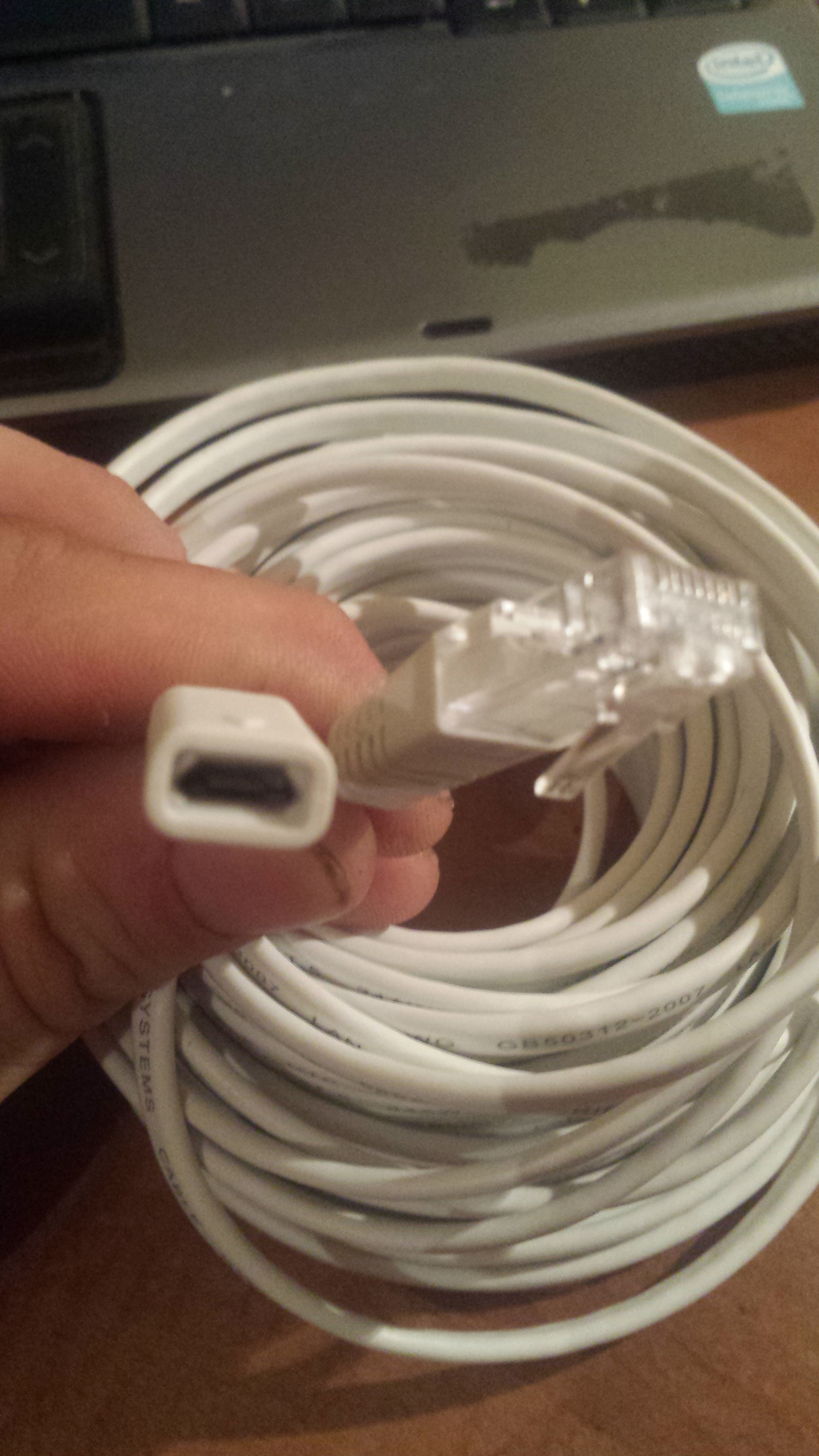 Here we got the cable that runs from the camera to the NVR unit. Female micro-USB to RJ45 ethernet. I didn't expect that combo. But anyways it got me to thinking. I got me a 100 ideas where this could be useful. maybe on the next project.
This is as far as I can go ATM here. So here's a recap. I got me a NVR with no harddrive so I got me a SATA drive coming in the mail. Also I got me a NVR with a sticker on the bottom that lists the USER: admin but NO PASSWORD. I guess I'm gonna explore the camera side of this get up. Until I can move on.