The original goal of this project was to document the modules used in my UPS project. As my collect grow due to the different requirement of the UPS peripheral, so does the type of module.
Most users simply pick the 7805 because they don't know the more efficient alternatives. This is surprising as there are a lot of affordable DC/DC supply modules or PCB. I am hoping that this project would bring a bit more awareness to the matter.
Buck Mode Power Supply
The traditional 78xx linear regulator are simple and convenient to use, but they are highly inefficient especially if you are powering it from a high voltage.
This power supply is pretty much straight from TI/National's LM3485 datasheet with what I have in my parts bin. Just a plug-in regulator module for one of my old projects. Just need to add a bulk electrolytic/tantalum etc. cap for the power input. You should already have that one in your project.
This was developed to be used 24/7 in my DC UPS since 2008 and has proven itself to be reliable.
http://www.ti.com/product/LM3485?keyMatch=lm3485&tisearch=Search-EN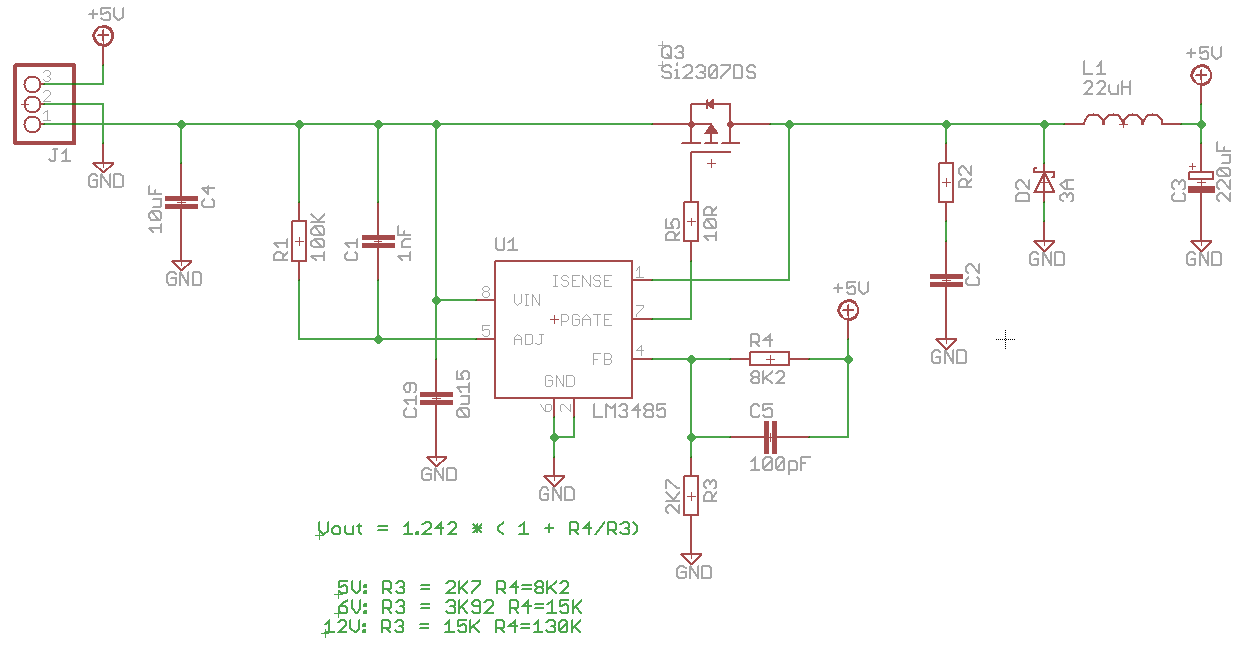 From the datasheet - Typical Performance Characteristic (i.e. your mileage may vary)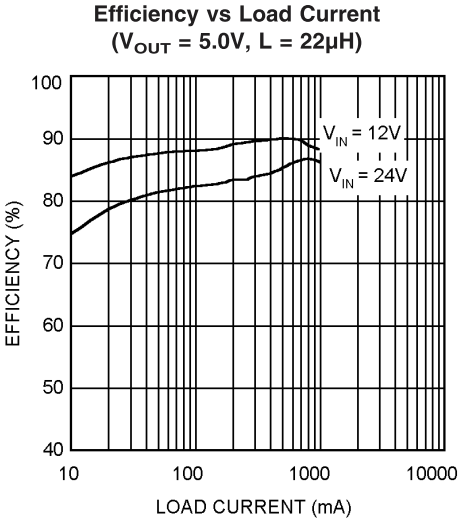 There are all kinds of designs out there. I happen to have samples for this part. This is designed as pluggable modules e.g. 5V or 12V module for my UPS project.
A number of power supply chips have an upper limit on the duty cycles at 90-95%. This basically means that your output voltage is at most 90-95% of the input. They are sort of like the older generation of linear regulator with a higher drop out. For battery operations, such as running a 5V module from 4 AA batteries, don't leave you with a lot of head room before the 5V output is outside of the +/- 10% range needed.

When the input voltage is below the set point for the output, the MOSFET in this design is allowed to run at 100% duty cycle. It connects the input to the output and acts like a straight pass through. This drop out mode makes this design behave like a LDO. My routers runs off a 12V module and when running off the backup battery, the drop out mode allows my router to run all the way down to the low battery cut off voltage of 9.5V.
Buck Module - KIS-3R33S

These are pulled modules that was popular from Chinese site a few years ago. There was some reverse engineering, but most of them require modifications inside the module to use them other than 3.3V modules. I did my homework and show you how to use these without modifications the way the original designer intended. Why else would they put a voltage adjustment pin?
See project log here:
https://hackaday.io/project/2145-smps-replacement-for-7805/log/17939-kis-3r33s-modules
Boost Module
These are modules that has a higher output than the input voltage. This particular module was used in my UPS as the DSL modem uses a 26V supply.
https://hackaday.io/project/2145-smps-replacement-for-7805/log/17938-26v-boost-module

Isolated Module
Both my VoIP (ATA) and cord less phone decided to cut cost and eliminated their isolation circuits as they assume that the other device would have it. The end result is that these devices cannot coexist from power supplies that shared a common ground. This isolated supply module allow these two devices to work together in my UPS.
https://hackaday.io/project/2145-smps-replacement-for-7805/log/17942-isolated-module

SEPIC Converter

Unlike the previous modules, SEPIC is a buck boost that can operate when its input voltage is lower or higher than its output voltage. This flexibility comes with a lower efficiency.
https://hackaday.io/project/2145-smps-replacement-for-7805/log/21303-sepic-converter

Negative rail Analog supply

I used a negative charge pump to generate the negative rail for an analog supply. I reduce the amount of switching noise by using filtering and reducing return path via layout improvement.
https://hackaday.io/project/12133-automatic-audio-source-switching/log/40684-analog-power-supply

Youtube Video
---

Licenses:
Schematic: Creative Commons 4.0 Attribution-ShareAlike...
Read more »