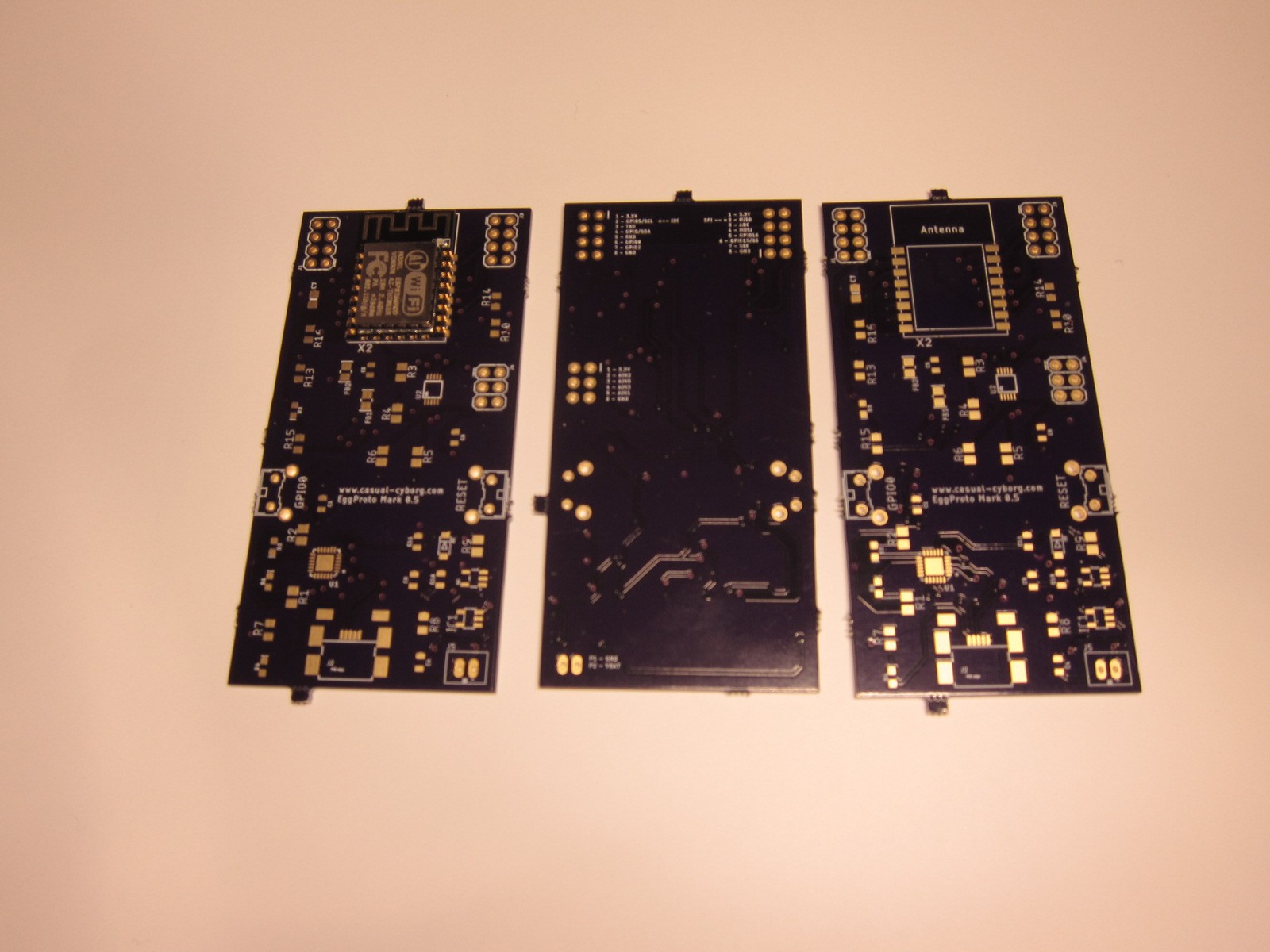 I got back this afternoon from a trip to see my folks to celebrate the Lunar/Chinese New Year, and guess what I found at my doorstep! The wonderful people at OshPark sent me my bright, new, and shiny printed circuit boards!

Next thing I'm going to do, is I'm going to follow this great "what to do after you get your PCB's," by Bhavesh Kakwani. 
While I was waiting for the PCB's to come in, I also went ahead and made the order at Mouser. And for a whole bunch of equipment from ebay. What I wanted to do was to put together a cheap, SMD/SMT soldering workstation for less than $180. To do that, you need the following.

An SMD rework station. I got one of these, an 898D+ SMD rework station for around $65. You can get them off of Ebay or Amazon. I've worked with the 898D+ and overall, they're effective units for the money. I did have a problem with a crappy iron that broke, but I found another one for around $15. The system is Hakko based, so you'll want to get Hakko tips for them. Overall, I've been pretty happy with it's performance, and I've done a lot of soldering. The 862 is another decent one as well. They may not be Hakko or Weller, but they're sufficient until you can afford the higher end models.
An anti-static ground mat. Last thing you want to happen is to put your component on, only to find out it doesn't work. Now, figuring out whether you fried it by static, or by overheating is another story. But, at least you can eliminate a variable by getting rid of static as a culprit. These can run for $13. I got one that's about 11.8" X 21.6".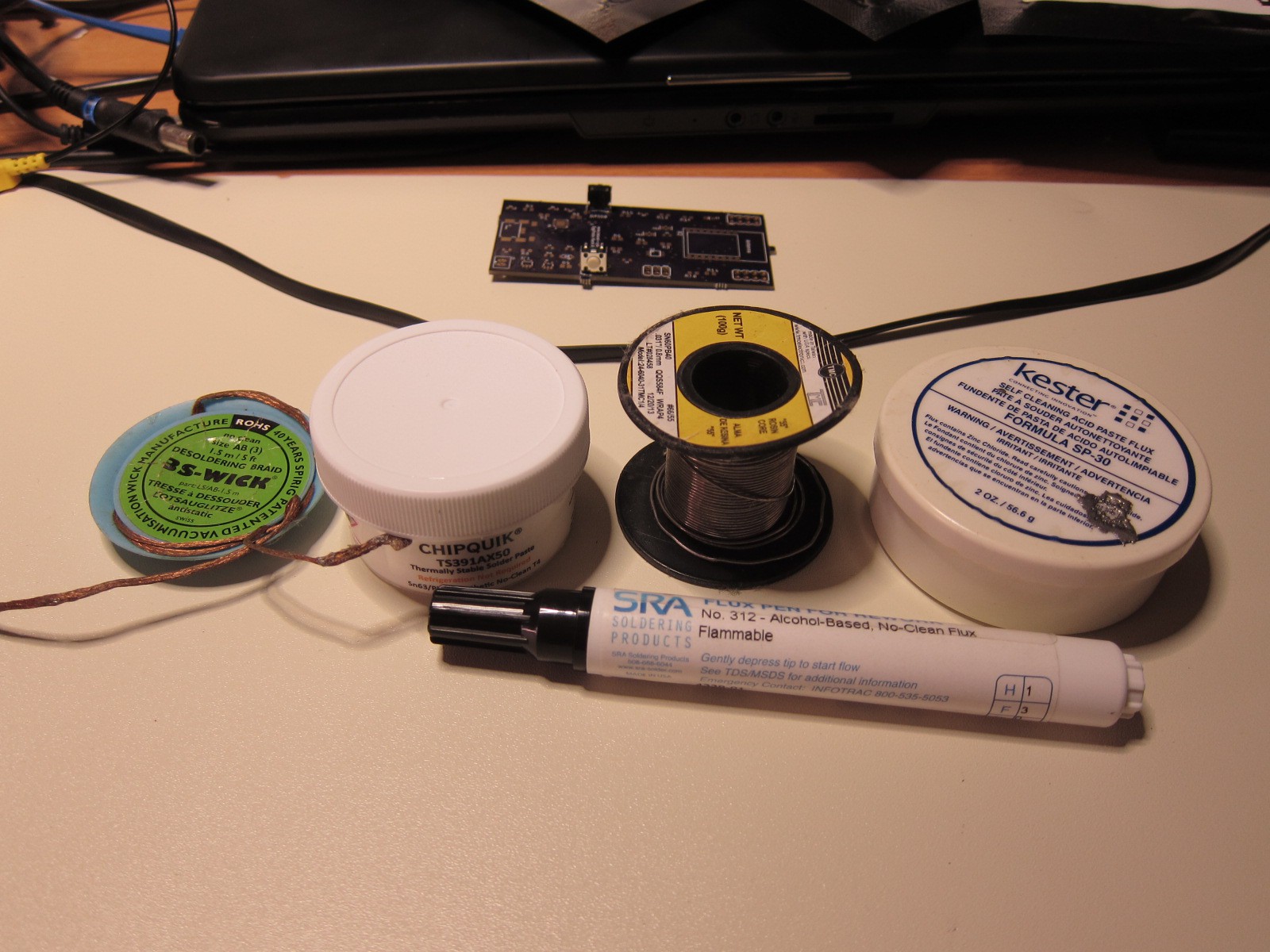 A third hand. Considering how crappy all, and I mean all of the third hands you can buy are out there, I made my own using some liquid coolant pipes, alligator clips, and a wooden base. I also wanted to use a flexible microscope that I can check the solder points after wards. But I don't use the microscope while I'm soldering. For that, I use a desk top magnifying glass arm with LED lights. Kind of like what a dentist office has.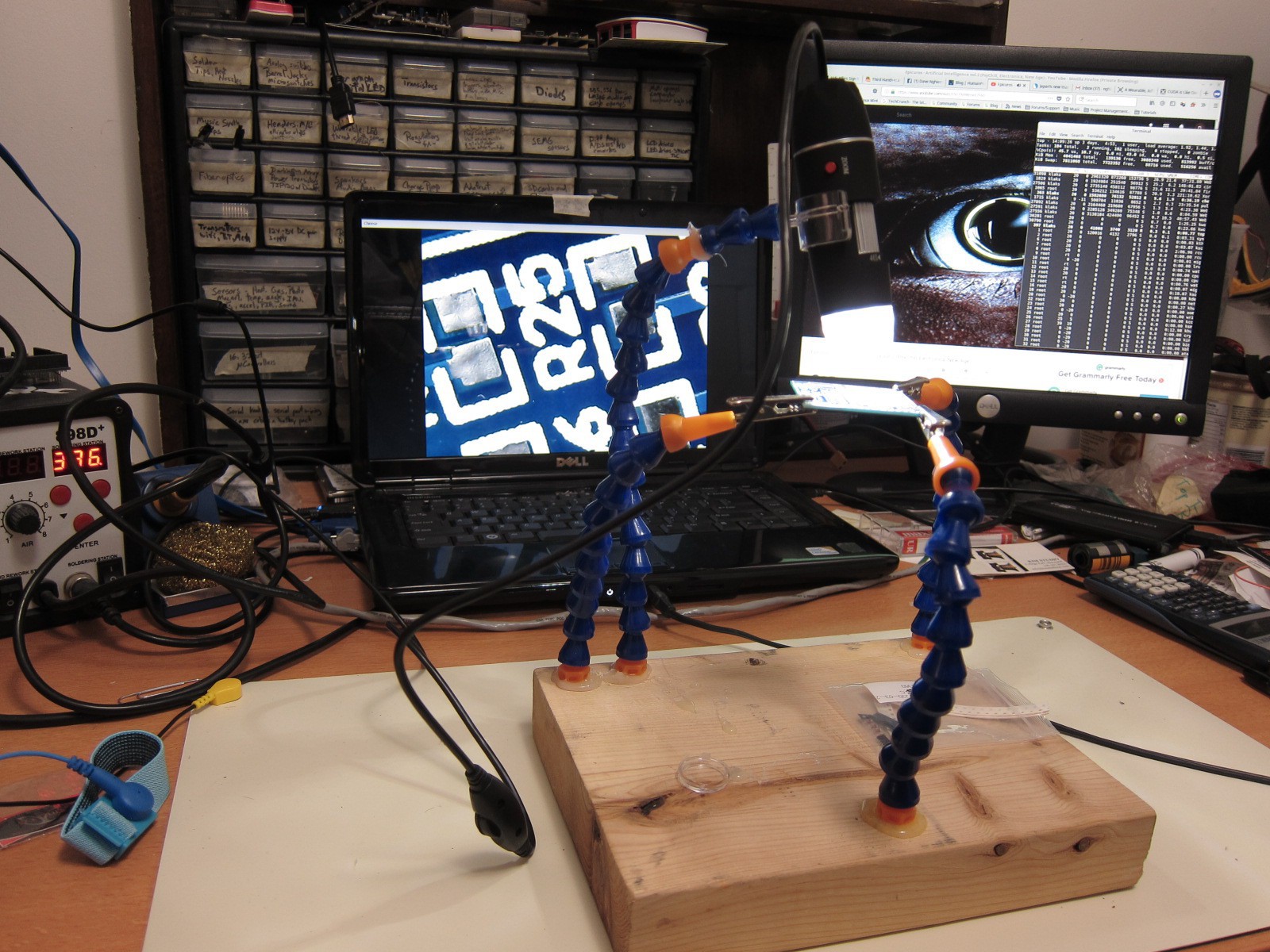 Liquid flux. I use both the resin flux paste, and the liquid stuff. The liquid stuff is preferred for SMD/SMT soldering because it doesn't leave as much of a mess behind. Usually you can get these for about $10.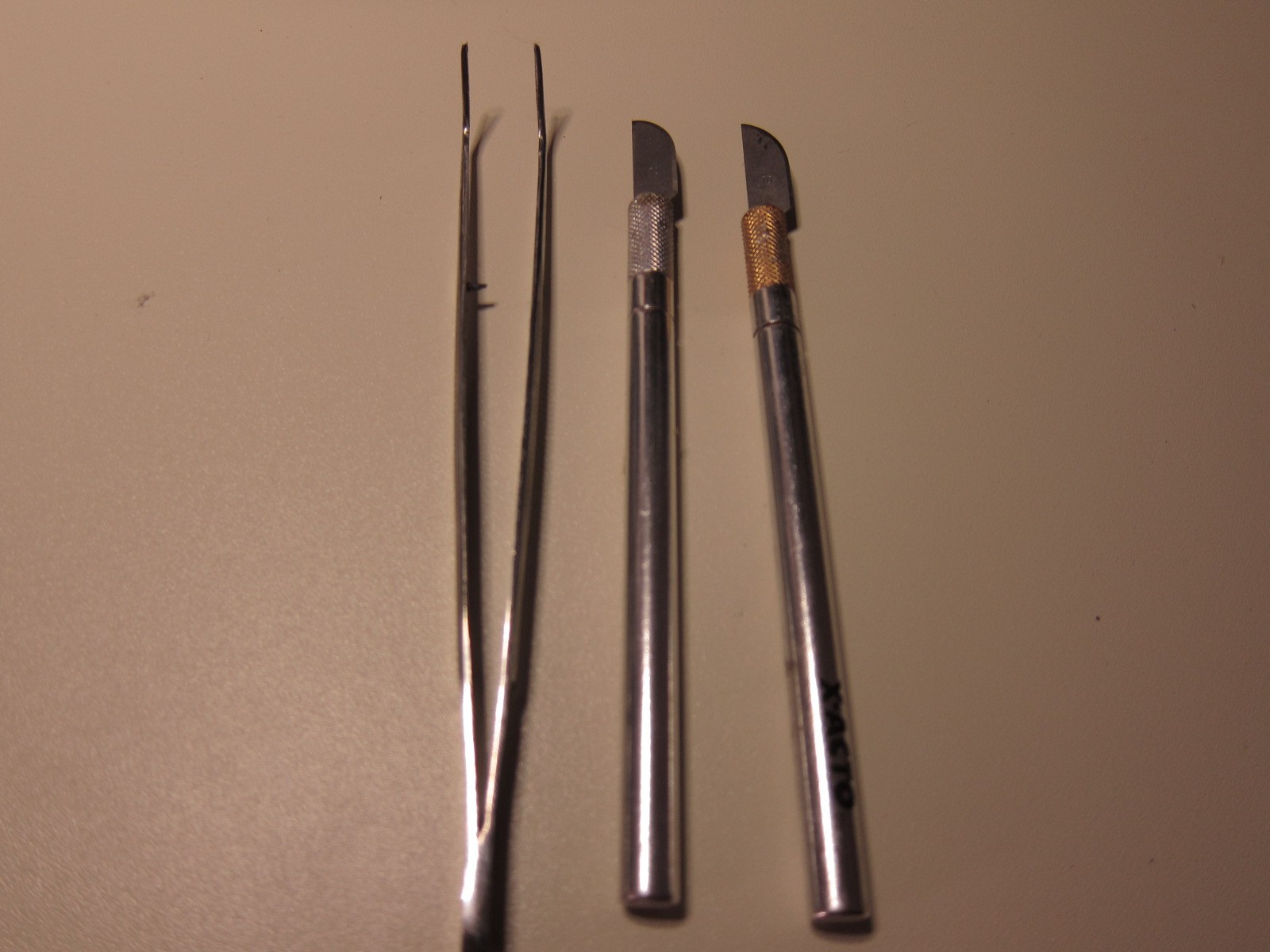 Long handle tweezers - the kind you pick up stuff with, not pick your nose with - and X-acto knives. For obvious reasons. Make sure they're non magnetic.
A grounding strap - Keep reducing the static variable! $10.
Solder. Now, I know the folks out in the crazy regulated countries like Europe are going to espouse non leaded solder. But given what I've experienced between leaded and non leaded, I'll take leaded, hands down. Last thing I need is busted joints and solder points going bad. I flows a lot better. Here's the thing about lead, humans evolved with it for practically forever. Lead is really an issue when it's been ground up into a very fine form and you ingest it. The chances of that are slim, as long as you wash your hands. Wash your hands! And you'll be just fine. $10. If you live in Europe or some other crazy over regulated place, you're stuck with non leaded solder, there's a bunch of how to guides that you can look up to make your life a little easier.
Solder wick. You can this for about $6-$10.
A stereo microscope. These things can cost over $200, so I created an easier solution. I got a a portable USB digital microscope off of ebay for $10, and I have my lab setup with the monitor right in front of my face. $10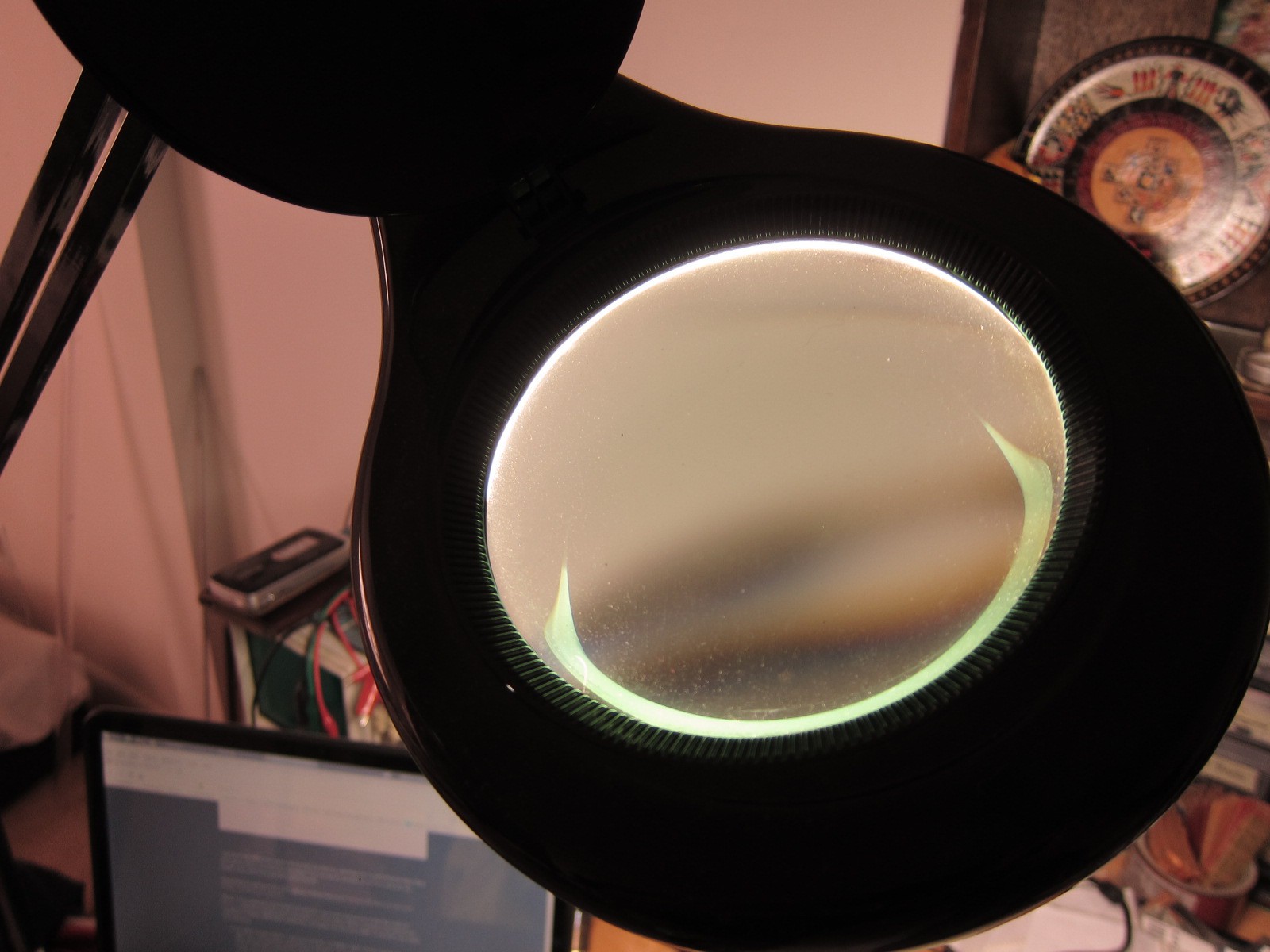 A swing arm magnifying glass with LED lights. I have one of these, and man, does it make for much easier viewing of the circuitry! $33
A third arm. I hated the ones that are out on the market, so I made my own out of a block of wood, 2X6, a bunch of water cooler pipe house with alligator clips. It works so much better! $10 for the wood, pipes, and alligator clips.
Good working music. I usually listen to the Suicide Sheep youtube channel while working.  No cost baby!
Total cost of everything off of Ebay? About $161. You can go more or less depending on what you've got already available and what you think you can get away with. Remember, at the core of SMD soldering, you need to have close up viewing, rock solid steady holding of the circuit board, the ability to precisely apply heat whether by air or by iron, a way to have the solder slow smoothly, a way to hold the components and not lose them, a non static work area, and most importantly, good tunes.

Well, I need good tunes.


While waiting for the parts and gear to come in, I've been speccing out machine learning frameworks for use in the back end part of the system. This part gets a little hairy. One of things that's anticipated with Internet of Things devices is a deluge of data. And a lot of times, sifting through that data can get really crazy, which is why you'd want good pattern recognition systems in place. Other wise, what you're looking for could end up being the proverbial needle in hay stack. Speaking of a needle in a hay stack, something that I always wondered about whenever I heard that statement is, well, why not just use a magnet?

Deep Learning and Pattern Recognition is that magnet.


Next up, assembly of the boards, and becoming a Born Again Technologist!