Today marks a couple important milestones for our kickstarter!
We achieved our second stretch goal today! Yeah... Going forward, now all supporters will receive THREE machine sets of STLs.
1. The 64c basic framework and 64 port opened frame STLs.
2. The VIC-20 basic frame STLs.
3. The 64 Breadbin basic frame STLs.
The remaining two stretch goals are for the Plus 4 and the Commodore 16.
The second important bit of news today is that [u]64c port open frame is complete![/u] My next effort will now be to begin development of the VIC-20 frame.
The prototype is a bit of a mish-mash of colors, but shows the framework deployed: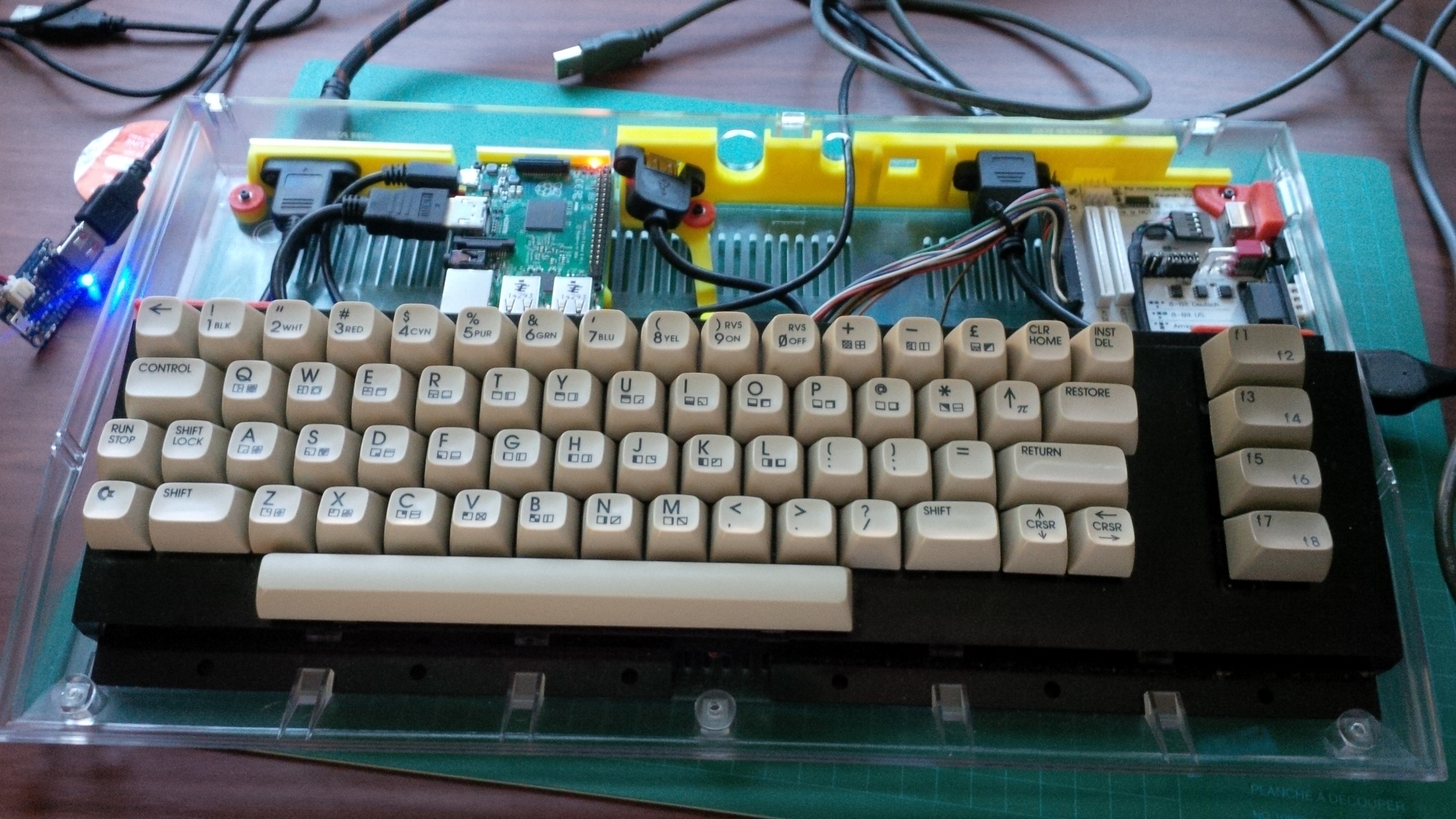 Here are some photos of the finished 64c port-open frame (forgot to put the USB plate in the photo, but that comes with too!), with and without the cables installed (remember cables aren't included), shown here in black. Take note that all attachment points for the Raspberry Pi and cables utilize heatsets embedded in the plastic frame. Screws will be included for those purchasing the printed frames!
64c Port Open Frame in Black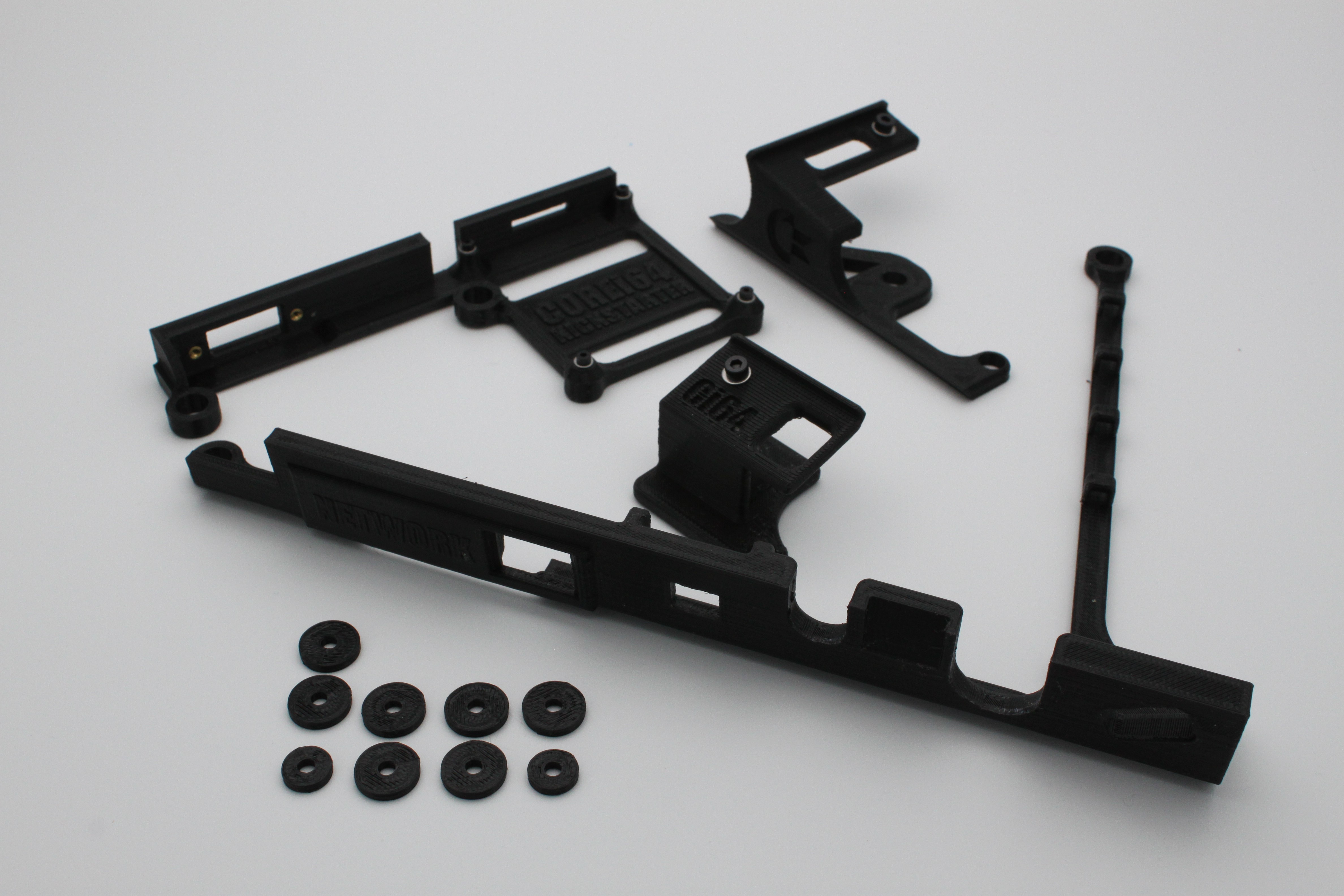 64c Port Open Frame with Heatsets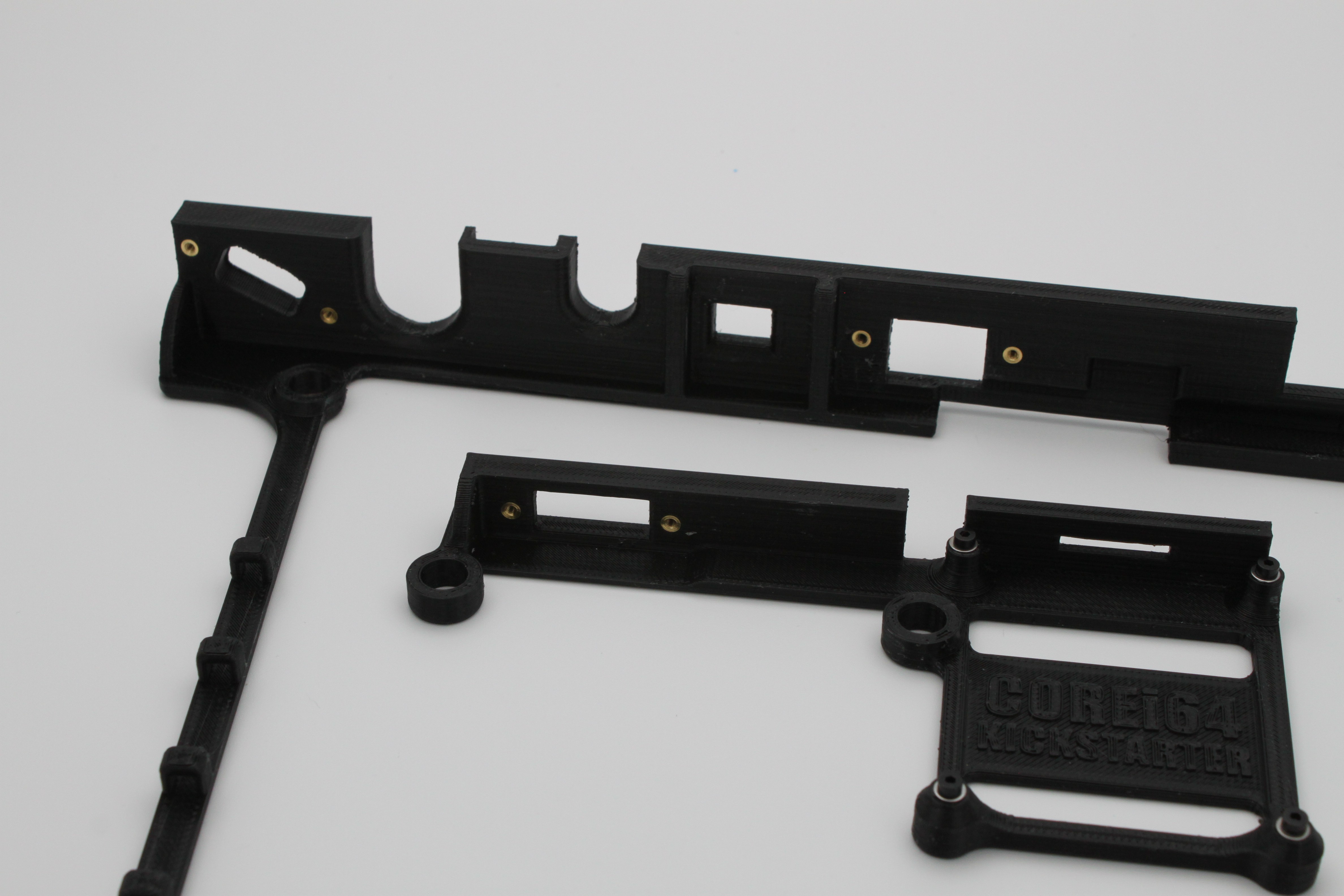 64c Port Open Frame with Cables Deployed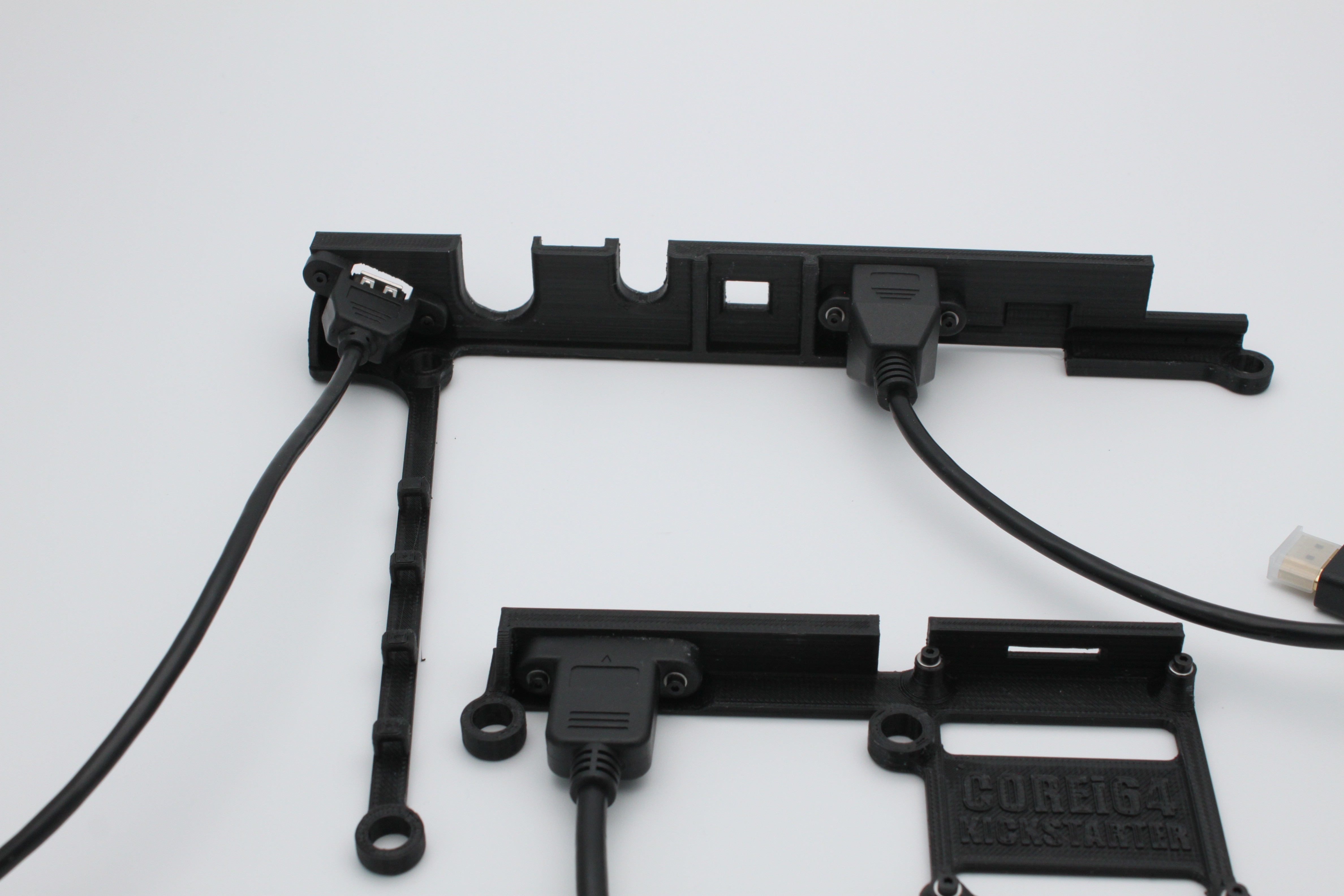 I tested some distributions over the weekend, and the one I found to be the easiest to deploy and most functional was the Chameleon Pi distribution. I was truly impressed. Not only does it have the 64 Vice deployed, but there's also a VIC-20, Commodore 128 and a whole raft of other machines. Here's a link to the distribution I was playing with this past weekend.
Further, I ran into a bit of trouble configuring the joystick (might be second nature to some of you Raspberry Pi experts out there). Found this site that explained exactly how to set up VICE for it to work nicely using the Keyrah V2:
https://stiggyblog.wordpress.com/2013/10/02/for-chris-commodore-pi-joystick-setup/
Here are some screens from my testing:
Chameleon Pi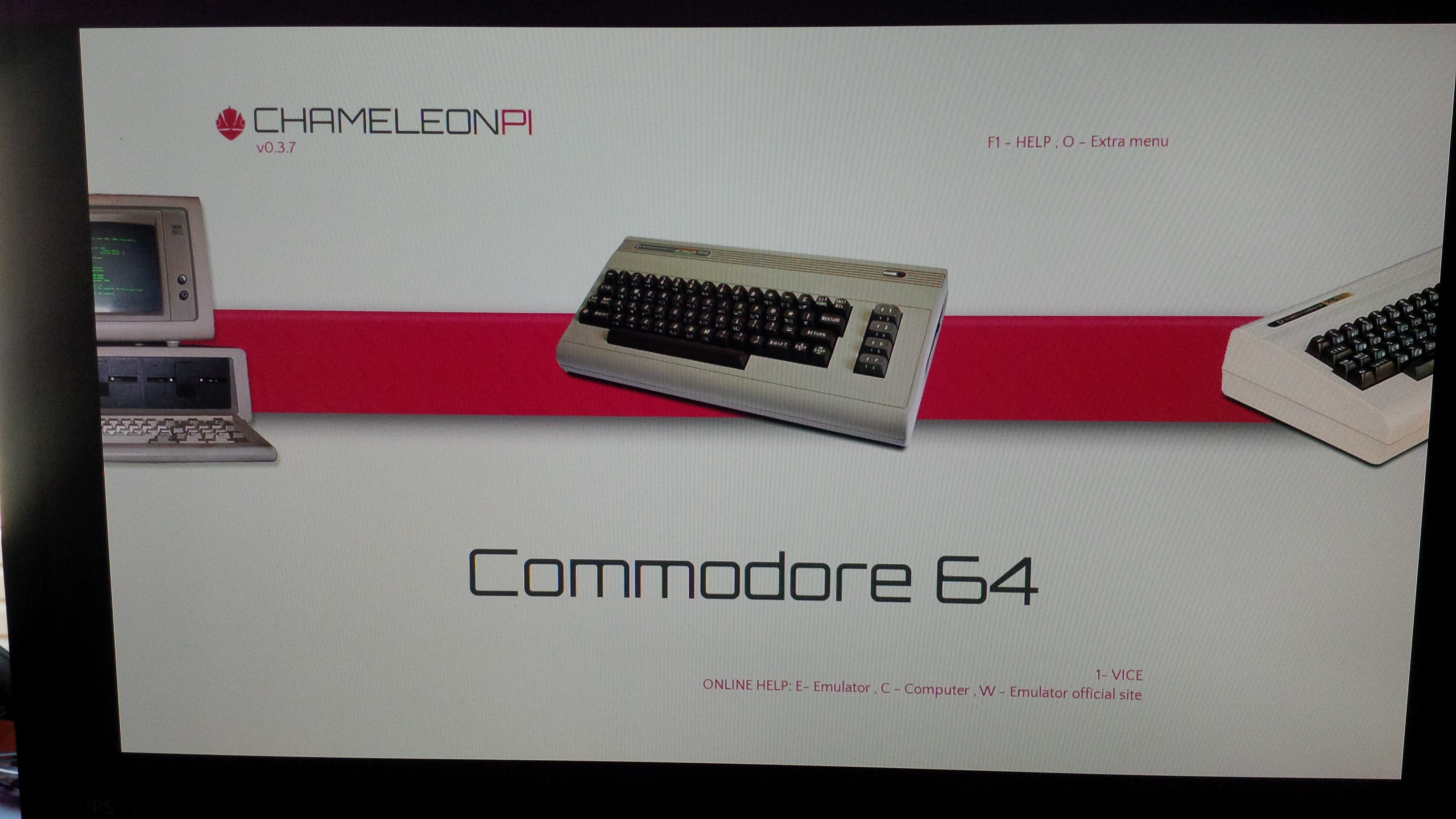 And finally, I was playing with some power options for the prototype. Came up with an interesting twist.
I was initially powering the machine with your typical 5V power supply. Then it came to me that maybe I could power this with some LiPo batteries running through an Adafruit Powerboost 1000c. Gave that a try and it worked great. Had it running on a 6600mah 3.7v LiPo battery running through the Powerboost 1000c that gave me the 5v I needed. I have no idea so far how long it will power the machine, as I ran it most of the day and never ran the battery down.
The next thing I want to try is that configuration coupled with an Adafruit USB / DC / Solar Lithium Ion/Polymer charger - v2. This would allow me to power it with an adapter, plug it into any USB power source or plug the computer into the sun via a solar panel.
I'm thinking that I might actually (after the kickstarter has completed) come up with an internal battery mount option, with additional mounts for the Powerboost 1000c and the LiPo solar charger. I think that would be fun.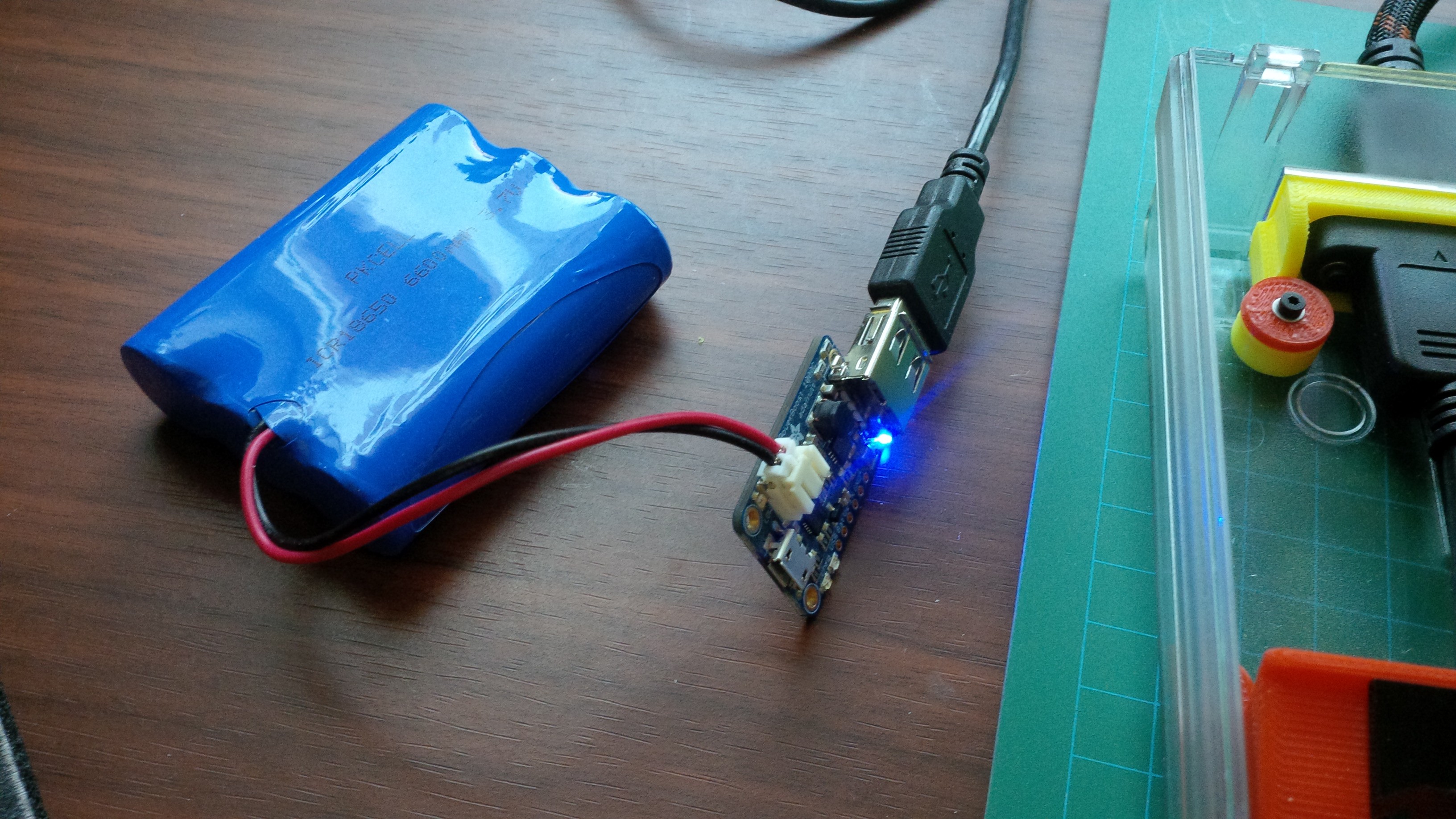 Thomas & Jesse
COREi64
P.S.
I had given a lot of thought as to what I was going to consider permanent port connections on the back of the frame, and what I was going to leave open. Because this concept works for so many deployments, I needed to ensure there was enough flexibility built into the design. As such, I chose some key ports that are permanent, and included three dynamic port openings that would allow anything to run through the back.
Not everyone will run audio out the back, or have the same power configuration. Some people might want to run a camera out, or plug a monitor directly into the board. Or connect some other board on top of the Raspberry pi to do something else.
Keeping the options dynamic was an important goal for me.