This schematic is unique in the thing that it is the first variation of the SGTC to work on such low voltage AC. Instead of a static gap, it uses the contacts of a relay to act as a spark gap.
1. Because the relay contacts are NC, the current flows through the relay and activates it.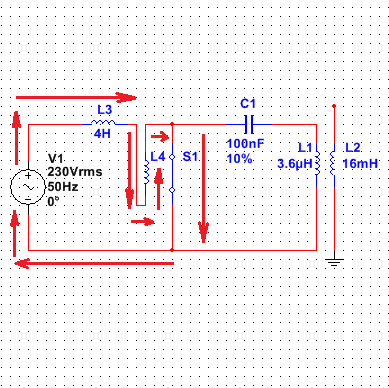 2. When the relay is on, the contacts open for a short moment. So, the current charges up the capacitor to a certain voltage. (Due to resonant charging through the ballast and the relay coil, the peak charging voltage across the MMC was measured at 640V)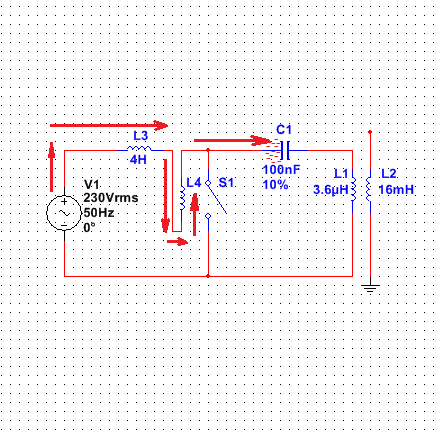 3. Because the contacts are open, and the MMC is charged, there is practically no current going through the relay coil, and it restores it's normal (closed) position of the contacts. So, the contacts are now closed, and the MMC is connected in parallel with the primary coil (L1), creating a resonant (Tank) circuit. The resonant circuit begins oscillating at a fixed resonant frequency (In this case- fres=1/(2*pi*sqrt(C1*L1)) ).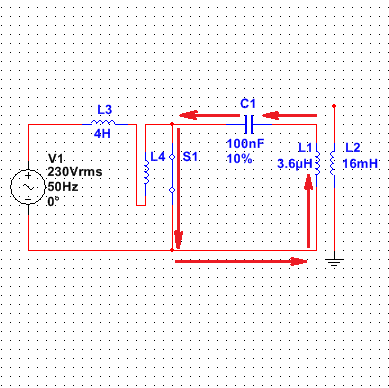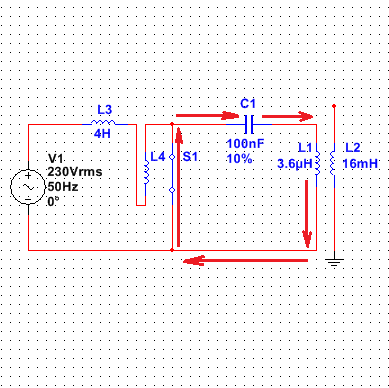 4. The resonant circuit oscillates, thus it creates a strong EM field, which induces a current in the secondary coil. The secondary coil and the sum of the coil's parasitics and the capacitance of the topload, create a resonant circuit that has a resonant frequency almost identical to that of the primary resonant circuit (C1 and L1). All of these factors provide significant voltage magnification through resonant action.
5. Because the contacts are closed, besides the current of the resonating primary circuit, there is also a current flowing through the ballast, relay coil and relay contacts. The current flowing through the relay coil creates a fast growing magnetic field that opens the contacts, thus breaking the parallel connection between C1 and L1 and stopping the oscillations.
6. Go back to step 1.
-THE BALLAST LIMITS THE CURRENT GOING THROUGH THIS WHOLE CIRCUIT, AND ALSO HAS A VOLTAGE MAGNIFICATION EFFECT ON THE CAPACITOR CHARGING VOLTAGE.
-IT SHOULD BE ONLY REMOVED IF THIS CIRCUIT OPERATING VOLTAGE IS BELOW 40V.
-YOU MUST NOT OPERATE THIS CIRCUIT ON MAINS POWER WITHOUT THE BALLAST AT ANY COST.
-I AM NOT RESPONSIBLE OF ANY OF YOUR ACTION(S) USING THIS SCHEMATIC.
-YOU SHOULD ALWAYS HAVE SOMEONE TO GIVE YOU FIRST AID JUST IN CASE SOMETHING BAD HAPPENS.
-YOU MUST NOT EVER ATTEMPT TO EXPERIMENT WITH TESLA COILS IF YOU HAVE ANY ELECTRONIC LIFE SUPPORT DEVICE IMPLANTED!