Thank you Hack A Day!! for featuring my project on the main page. I am still working on this, but life kind of slowed things down. Another good reason why I started so early.
I have been mainly working on the crochet mask and tentacles, this is the basic mask shape.
These are some of the tentacles... if you have been following, you will notice that these are already curled, after more testing I realized it was easier to make them curl more if already curled than doing al the curling with wires. There was just too much friction and they wouldn't straighten out again.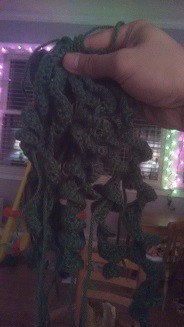 I am nearly done now with the crochet part of this, the tentacles should cover the arduino, servos and Bluetooth module. the arduino code is super simple and even the wiring should not be too hard. I will probably just move one servo at a time since I don't need super fast moving tentacles, and so a single 9V battery should power the whole thing long enough for trick-or-treating.
Then I "just" need to hook it all up and I should be done. Hopefully I will be posting again soon once the crochet part of this is done.