System Design
The design document below shows generically how the whole system will work: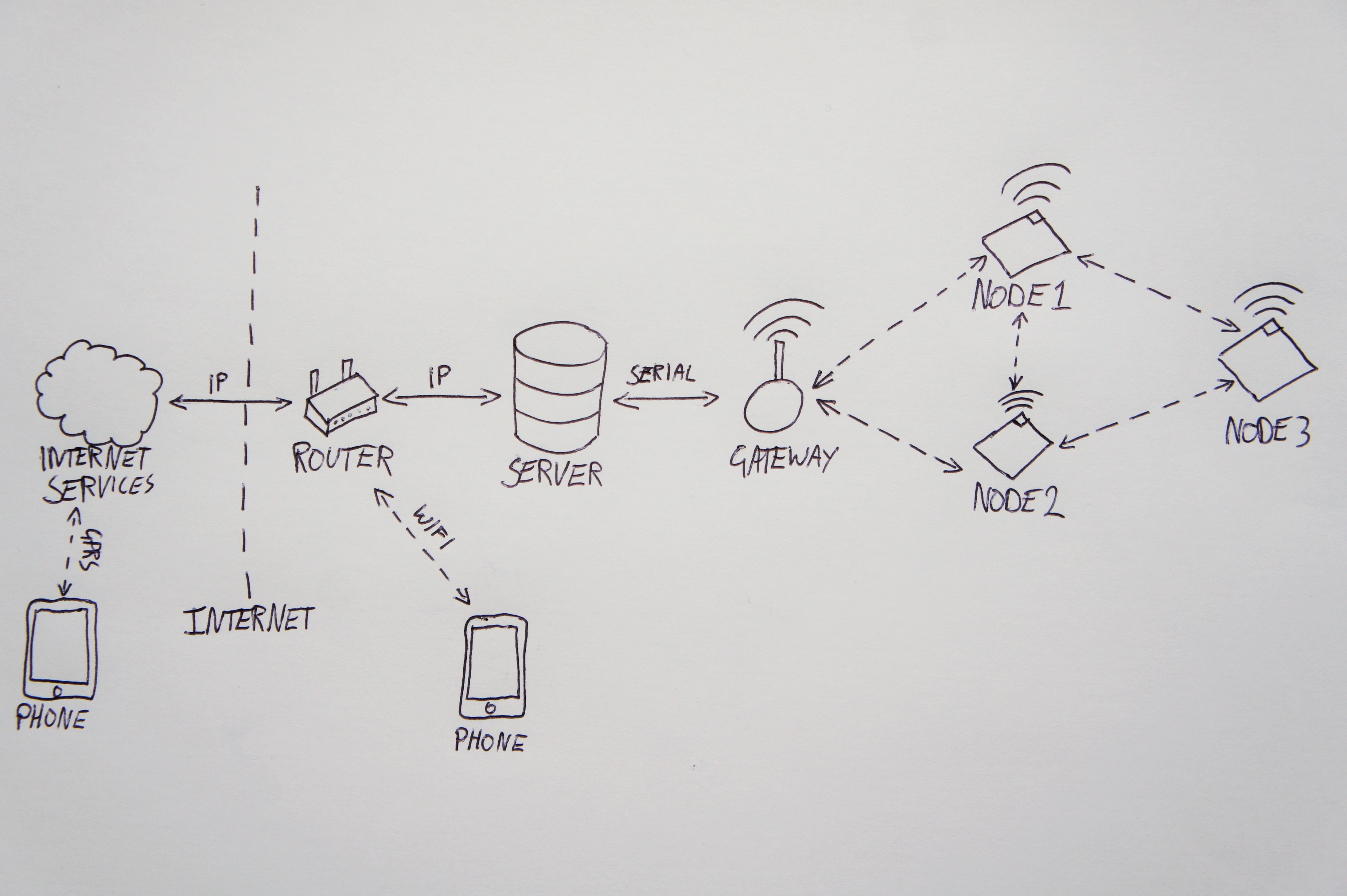 The idea is that there will be a new 'internal network' running on the nRF24L01 wireless chips that are connected to the outside world via a gateway node (converts nRF24L01 into Serial) which is connected to an internet enabled server (Raspberry Pi). This combination will allow for enhanced security and easier development of web based interfaces without requiring expensive and awkward to use Ethernet shields or WiFi modules for the Arduino platform.
Protocol
Should be simple but flexible enough to allow for a variable payload length
Multiple sequence of packets (will allow for large packets to be chunked)
Allow for encryption (payload encryption)
Packet failed to reach (resend count/delay)
Auto discovery (easy to join network)
Hardware
Node
All pins broken out (breadboard friendly)
Low power draw (sleep states)
On board charging (power monitoring and charging IC)
Battery monitoring (alert on low power)
LEDs (status)
Button (reset/join)
Gateway
USB serial integrated (will look like a USB stick)
On-board sensors (potentially temp sensor)
High gain antenna (to give this node the best possible chance of packet collection)
Server
Web enabled (https)
Database of interactions (historical graphing/logs/etc.)
Map of devices (similar to 'mesh diagrams' above)
Use Cases
Temperate monitoring (temp/humidity)
Plant/soil sensors
Repeaters (increase range)
Door opening/closing
Heating system
Lights/plugs
Local GPS tracking (e.g. dog in garden)
Position triangulation (limited by lack of RSSI on chip)
Proximity sensors
Alarms
Enabling internet content to embedded devices
Openness and Connectivity
Hardware and software are developed using open source and free tools. The project will be open source including schematics.
PCBs designed in Eagle CAD (not open source but is free for size of board)
Software for AVR developed using Arduino and Notepad++
Software for server developed using Eclipse (Java, C++)
All files will be uploaded to GitHub when complete
Connectivity is a very core part of this project:
All nodes are connected by a mesh network topology
Gateway node utilises an internet connect server for internet connectivity
Configuration of the network can be done via any https enabled device
Framework for web GUI will be open and allow for 'plugins'
External dependencies
The RF24 library is used as a starting point for wireless communication, the protocol will sit on top of the RF24 stack to sort and deliver messages to the correct nodes and handle encryption and allow for callback functions to make development simple and easy.