Thingspeak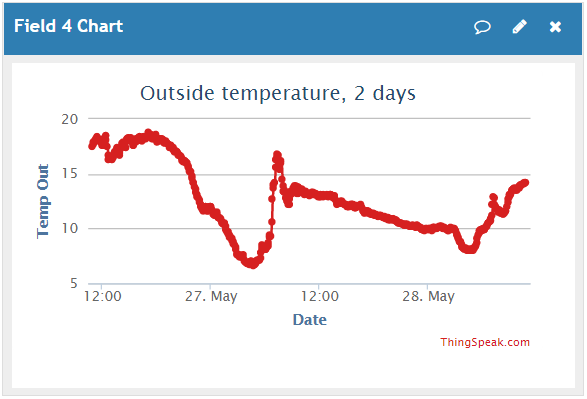 Values from all the sensors need to be sent somewhere to be visualized and processed. Thingspeak is a great free-for-hobbyists platform for that, you can store up to 3M measurements for one year, do all the possible processing with Matlab and easily visualize the stuff. Plus, you can any time easily export your data, should they change their hobbyist pricing policy or for long time storing.

These snippets require the networking ones from the previous section.
Initialization
#

define

 THINGSPEAK_URL "http:
#

define

 THINGSPEAK_KEY "YOURCHANNELKEYHERE"
Setup()

Nothing for Thingspeak - networking obviously needed, see previous section.
Use
// Helper function
int

 

sendHttpThingspeak

(

float

 v1=0,

float

 v2=0,

float

 v3=0,

float

 v4=0,

float

 v5=0,

float

 v6=0,

float

 v7=0,

float

 v8=0) {
    String url = (String)THINGSPEAK_URL+THINGSPEAK_KEY+

"&field1="

+v1+

"&field2="

+v2+
        

"&field3="

+v3+

"&field4="

+v4+

"&field5="

+v5+

"&field6="

+v6+

"&field7="

+v7+

"&field8="

+v8;


    return

 doHttpGet(url);
}



// To send the data (max 8 values):


sendHttpThingspeak(temp1,humi1,pressure,humidity,WiFi.RSSI());