The SMD Challenge had already spread misery to poor attendees of ToorCamp this year, and no good deed goes un-punished, so I was greatly disheartened when a request for more SMD Challenges for this year's ToorCon became a request to help with the official badge?  Four hundred kits.  Woe is me.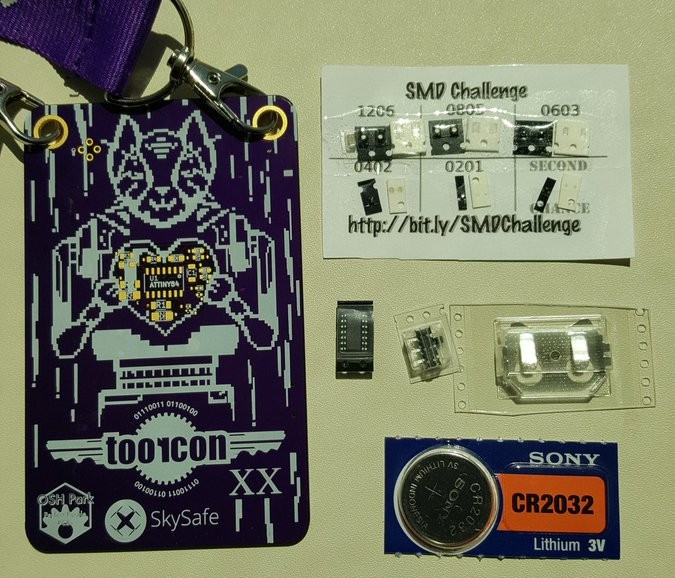 Luckily for attendees, the SMD Challenge is actually just a small part of this badge.  There are all sorts of codes in all sorts of places.  I'm not sure what they all mean, or what you get if you figure them out.  I was sworn to secrecy, had my eyes gouged out, and was forced to burn all my gerber files.  I'm not responsible for the beautiful 8-bit art (obviously, because it is not miserable), nor do I know what "Toor" and heart cats have in common.

This SMD Challenge is more miserable than other because it features eight, not six, SMD LEDs.  It is only by my distaste of handing the smaller parts (and their greater expense), that only one of the LEDs is of the 0201 variety.  Why eight?  Sworn to secrecy.

Ironically, the beautiful artwork made identify component placement a bit ugly.  I'm also not sure what bit of insanity made me switch LED orientation based on what side of the heart the part was.  I'm obviously not doing anyone any favors, but here is a clear PCB screenshot, sans artwork and secrets, showing size and orientation.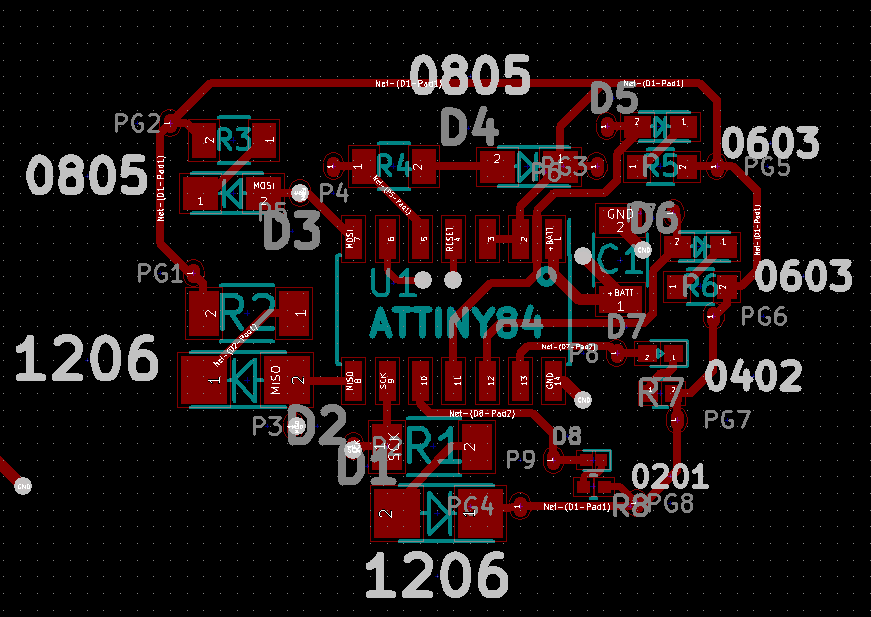 If you are struggling to even get started on this, Piotr Esden-Tempski has done an excellent video.  One hint for the initiated:  Get the Attiny in the right orientation, or it will go up in smoke.  Wait, that is the Attiny85.  This one used a more forgiving Attiny84, so it will be just a non-functioning piece of 8-bit art.
If you are heartless enough to want to include some misery in your next event, please don't contact me.  Because apparently I can't say no.