I just received the boards and did a thorough quality check.
Thank you to the sponsor @Fredrik Högberg !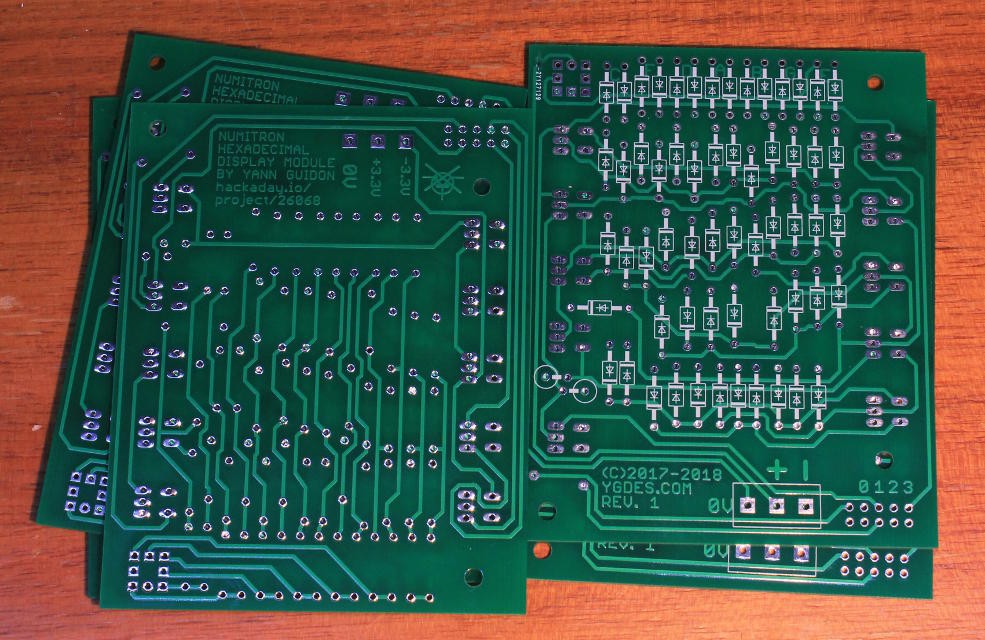 It seems that it could be made on bakelite :-)

Notes for later :
PCB trace widths : OK
Clearances for mounting holes : OK
Clearances for tracks and pads : OK
However the pads for the diodes are still too small. I can't even distinguish the round ones from the orthogonal ones. Fortunately there is a silkscreen that shows the diodes' polarity. But for a bakelite/FR2 run, this will be a problem. The 2×5 connector could also be modified, or even changed for a larger pitch.
Now let's solder one :-)
---
More notes :

The resistors' pads are too small
The diodes spacing is OK and could be tighter
I totally messed with the order of the pins of the IV9 when I tried to reverse the order of the segments on the schematic.
I think I tried to put the Numitron on the other side of the PCB but it didn't work as well as I planned :-(
After some pin bending, I was able to display 0, 1, 2, 4, 8 but I have to create a PCB to display the rest.
It's enough to validate the basic system but I must redesign the PCB :-(