As you may have seen, the project is ready to build -- it's quite stable, well documented, has a streamlined build process, and the parts cost has been optimized. Let's call this the standard version. I'd love it if lots of makers make the standard version and thus help lots of people with dementia. That's a key reason that I'm on Hackaday with this project. 
If the standard model does get traction, then I'll design a pro model. And if I'm lucky, maybe there will be a team to design the pro model (someone has already reached out, which is great). The pro model can have a higher parts cost, so that opens up some possibilities. I'd like your thoughts on that pro model. I'll take whatever thoughts you have. Here are my thoughts on possibilities:
More vintage look & feel. Make it even more recognizable / familiar to the recipient. Perhaps cathedral style: image of vintage radio below courtesy of Broken Sphere / Wikimedia Commons.  You can buy radios in this style today, so the project might even change from a laser cut from scratch to gut and rebuild. Although I would find it very tempting to laser cut it. Or perhaps a 1950s box radio: image of vintage radio below courtesy of Joe Haupt / Wikimedia Commons. These are just a few quick thoughts -- lots of vintage look & feel options.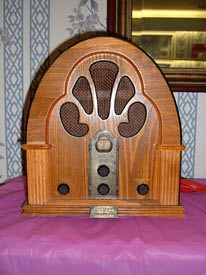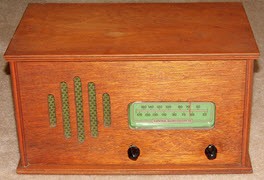 Add a speaker(s). There is an issue with the recipient really cranking the volume and annoying caregivers etc. But otherwise it's a natural addition.
Add graphic equalization that mimics a person's hearing aid profile. Someone with dementia probably also has a hearing aid, but the hearing aids can be a source of frustration as well. Perhaps this can be done in software.
Model in 3D. The existing laser cutting plans are hand optimized in 2D, which make the plans harder to adapt for different wood thicknesses etc.
Interference fit instead of glue fit. Such that the wood case can be assembled with a rubber mallet instead of wood glue. I experimented this, which was fun. But it increased the cost a bit, and I wanted to keep the parts cost down for the standard model.
3D printed case. I do like wood for familiarity / vintage reasons. But plastic might be OK. And someone just told me about 3D printing with wood composite filaments. I haven't looked into it yet.
Make it easier to add/remove music. Adding and removing music from a USB thumb drive is quite easy for you and I. Less so for the elderly spouses that might be the caregiver. The device could be Internet connected, but that creates complexity as well.
Give it appliance-like reliability. The standard model does quite a bit (read-only SD card etc.) to make a Pi-based solution reliable. For even greater reliability, maybe an Arduino approach (which, BTW, is harder than it sounds), or a custom circuit.
Make it manageable. If these are to be used in a senior care center, make the devices centrally manageable in some way. That might require network connectivity.
Add language options. Have laser cutting models or 3D printing models with translations of "volume" and "sound" labels.
I'd love to hear your thoughts. 
-- Ross