Yesterday Olaf Baeyens gave me some good advice about adding an emergency switch. "Something that may be important to your electronics.  In my situation I originally cut the power at the mains voltage. However I pretty fast discovered that the main power supply holds a lot of more energy so the stepper motors did not immediately cut their movement. Especially when you develop your software this can destroy your parts or even worse lose a finger."
So I have ordered one today. Below two photo's of my setup. I'am going to created an case for the Power supply and Step down converter. This case will also contain the emergency button to cut the 24V line so that all the stepper motors will stop immediately.
This case will provide power though a thick 3 core wire to the base (Ground/24V/5V). If necessary I could also cut the 5V line for the Nextion Display but I don't expect that to be necessary.
The Ultratronics can be powered by the 24V input, or by both USB ports. Is it safe to connect the computer to one or both USB ports and use the 24V input at the same time? Or do I have to change one of the 3 power input jumpers? Momentarily I'am using an USB isolator to be safe.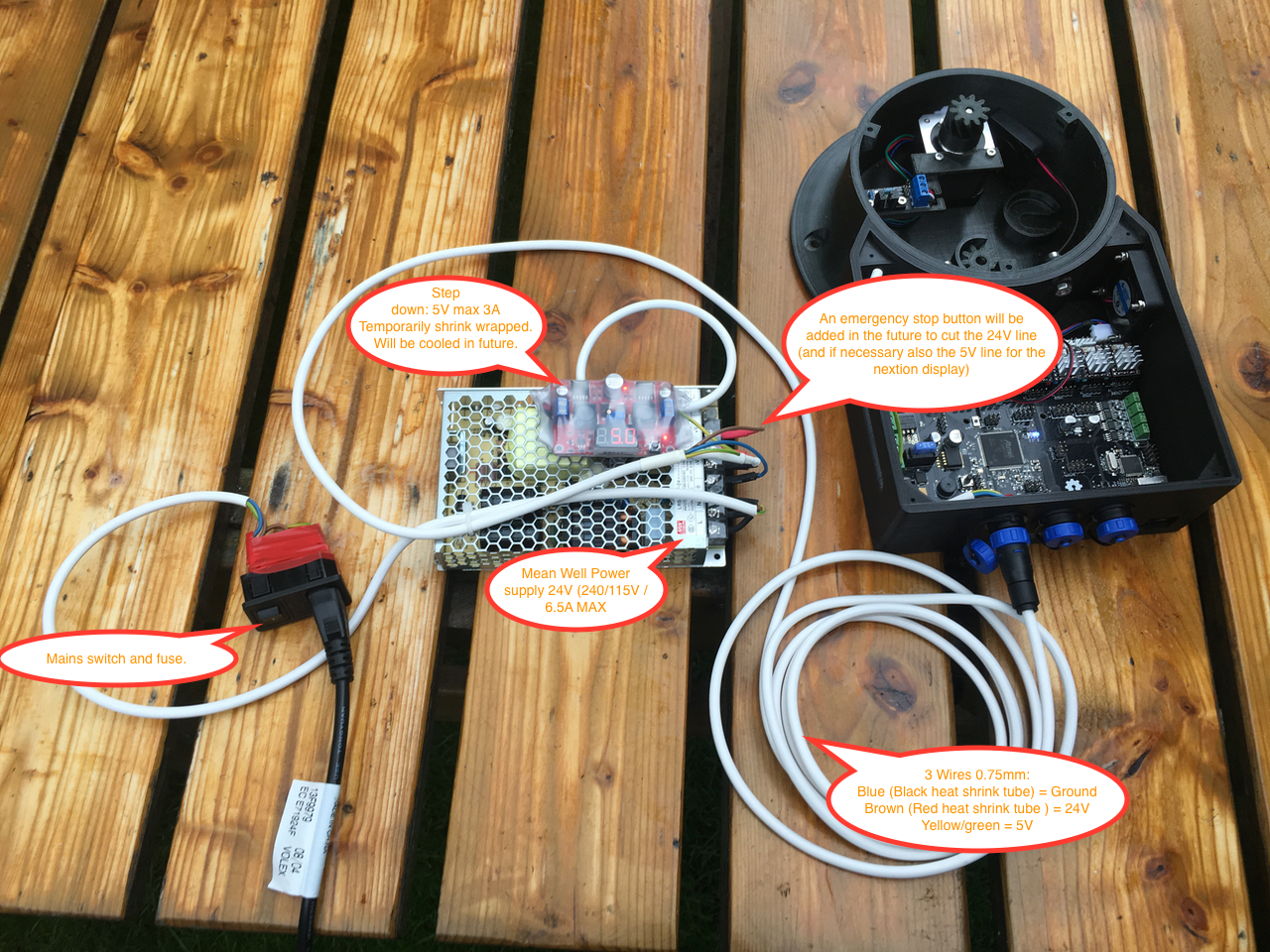 Danny gave some good advice about using shielded wires for the RX en TX to prevent electrical interference. "Your nextion serial connection between the serial port on the ultraboard needs to be shielded! That solved all my communication problem I had in the past." 
I have ordered 24 awg 2 and 3 core and 26 awg 4 core shielded (headphone) cables.
What is the best way to shield the cable? Some people say that you don't have to connect the shield. Some people use the shield as ground. And some people are connecting the shield on one side to ground.