(Apologies for the lack of updates; some family stuff has prevented me from working on NoteOn for the last few weeks.)
As of 2014-09-07, the IMU driver (which fetches data from the IMU and aux. accelerometer) has been completed, and prototype 2's defective aux. accelerometer has been replaced.
Auxiliary Accelerometer Replacement Process
I started out by removing the passive components surrounding the defective aux. accelerometer using a soldering iron, in order to give myself more room to work. (402-sized components can be easily removed by wiping them away with a large blob of solder.) I applied Kapton tape to the adjacent microcontroller to shield it from the hot air, and bundled the SPI debugging wires underneath the board to keep them from melting.
I used an Aoyue 850++ hot-air rework station to remove the defective device, then used an iron and solder wick to remove excess solder from the pads.
I decided to pre-tin the pads on the new device with solder balls, rather than using solder paste. The only solder paste I have is lead-free, which requires higher temperatures. I stuck the device upside-down on a piece of Kapton tape, applied copious liquid flux, and ran a molten solder blob over the pads.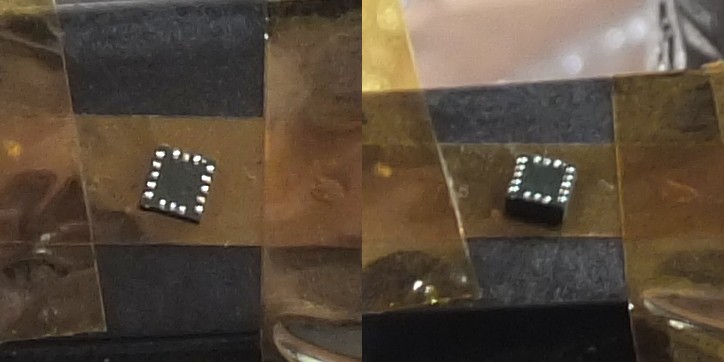 Before attaching the new device, I pre-heated the PCB for about ten seconds with a medium air flow. I then applied flux, aligned the device with tweezers, and heated it for 25 seconds with a low air flow. (A higher air flow is much more effective at heating, but it can also blow the chip right off the board.)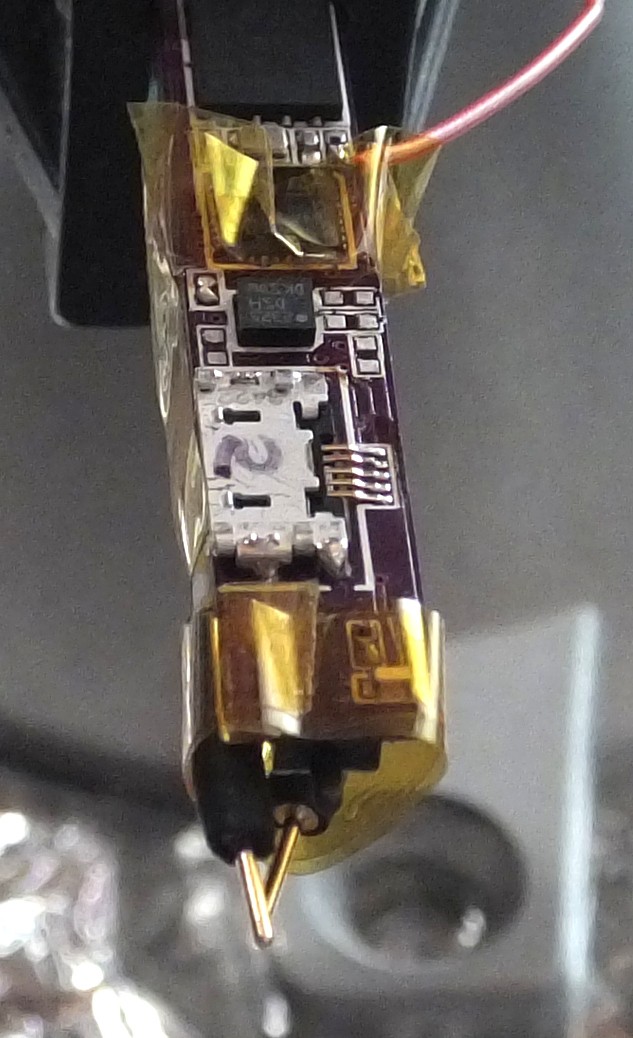 After replacing the passive components I removed earlier, the new aux. accelerometer responded over I2C and produced valid data.