[ Spolier - It basically comes down to money (or lack of..) ]
In order to do this justice it really requires a sleek waterproof housing moulded to the underside of the board, silicon lengths to put the LED strips inside and some pieces fitted to the trucks to hold the wheel sensor(s) and LEDs.
One thing to note here is that the board i am fitting these lights to is a drop-down board (the middle of the board is lower than the ends). As there is a curve just where i would like to place the main housing, i can't just use an off-the-shelf box, it needs to be custom made. This also has ramifications for replication. Longboards come in many different shapes and sizes. I have 2 boards available which are of very different lengths. So when i come to putting lights on the second board, firstly it is a flat board and secondly i will nearly double the amount of LEDs used. This will then require a different shape housing and a re-calculation of the power requirements.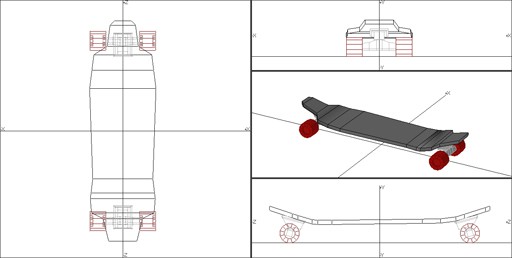 As previously discussed, the main case is to be mounted under the board, just in front of the rear truck, the wheel sensors on the rear wheels, and power for the headlights is fed up through one of the side strips. The keeps the added weight central.

So i opened up some 3D modelling software, made mock-ups of my board and the main components, and started to try out some sleek case designs i had in my head. The lowest profile possible, inset waterproof access ports, the works. Then i froze what i had and went for a quick look online to see what it would roughly cost to print one. ..well, that was a mistake, my bank balance laughed at me. [Edit: A friend of mine now has a CNC router which he has told me can mill a block of plastic the size i need, so i am going to attempt that sometime.]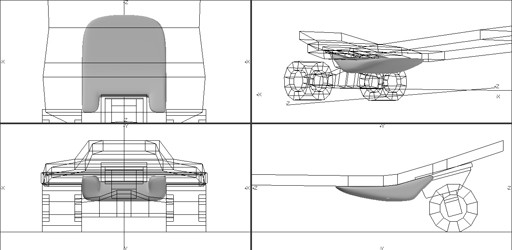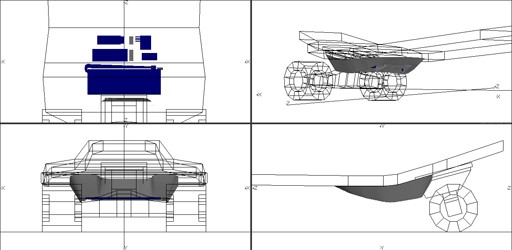 In order to waterproof the LED strips properly i would need to mold some silicon (or similar) low-profile pieces. This is starting to get quite expensive for a quick one-off idea. I like to skate in all weather so for me waterproofing is a must.
For the time being then, i will be going with the electronics in a box, LED strips in the silicon casing it came with, and a hot glue gun. If i don't get proper waterproof housing by the time testing is completed i will most likely take it all off the board and shelve the project for a future time. Pity, but i would much rather use the board than have it sat on a shelf for fear the electronics would get ruined by rain or crushed on the edge of a pavement.