Here are some statistics of the cache performance. The MCU is an Atmel SAMG55 Cortex M4 with FPU.
The test algorithm is the state of the art CODEC2 voice coder (http://www.rowetel.com/?page_id=452)
The test application uses the 700C coding setting. The chart below shows the average encoding +  decoding time in ms @ 120MHz with different cache size settings.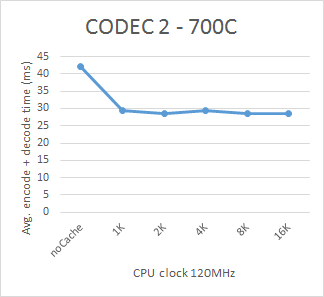 The dataset:
| | | | | | |
| --- | --- | --- | --- | --- | --- |
| noCache | 1K | 2K | 4K | 8K | 16K |
| 42 ms | 29,5 ms | 28,5 ms | 29,5 ms | 28,5 ms | 28,5 ms |