I give up on the idea of playing the Game of Life (the forte of #YGREC-РЭС15-bis) but I design a VHDL version because @llo sees the YGREC8 as a perfect replacement for PICs for his #SteamBot Willie !
---
A significant reduction of the register set's size is required so I/O must be managed differently, not through the register set (instruction or RAM-mapped, to be determined). The register map is expected to be:
D1  <= for NOP
A1
D2
A2
R1
R2
R3
PC  <= for INV
I shrunk the instruction word down to 16 bits. It is still reminiscent of the YGREC16 older brother but I had to make clear cuts... The YGREC8 is a 1R1W machine (like x86) instead of the RISCy YGREC16, to remove one field.
I have swapped the condition field and the ALU code field, which is now a more classical opcode.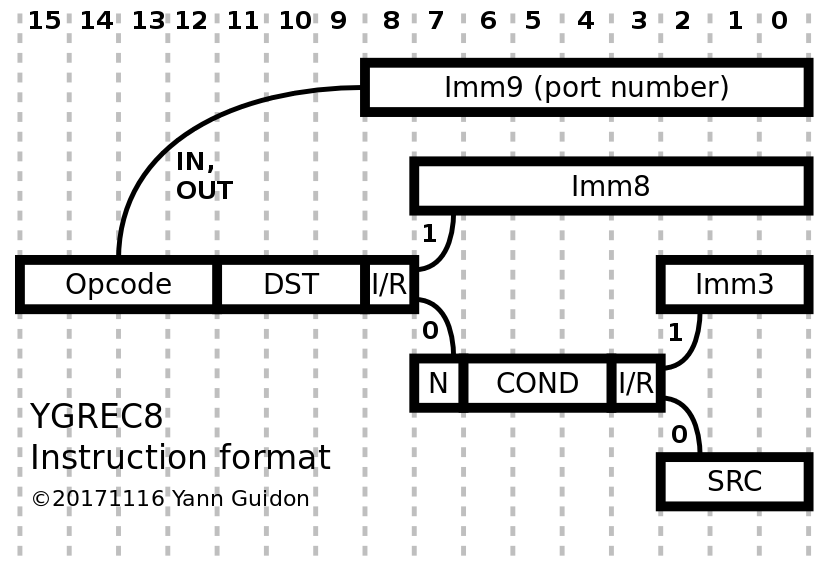 The latest evolution of the instruction format has added a 9-bits immediate field address for the I/O instructions.
There are two more classical instruction forms : either an IMM8 field, or a source & condition field, combined with the destination field and a small opcode. The source field can also become a short immediate field (3 bits only but essential for conditional short jumps or increments/decrements).

The opcode field has 4 bits and the following values:
Logic group :

OR  => Reg OR Reg does not change Reg
XOR
AND
ANDN
Arithmetic group:

Shift group (optional)

Control group:

The COND field has 4 bits, more than YGREC16, so we can add more direct binary input signals. CALL is moved to the opcodes so one more code is available.  All conditions can be negated so we have :
Always
Z (Zero, all bits cleared)
C (Carry)
S  (Sign, MSB)
B0, B1, B2, B3 (input signals)
Instruction code 0000h should map to NOP, and the NEVER condition.
Instruction code FFFFh should map to INV, which traps or reboots the CPU : condition is implicitly ALWAYS because it's a IMM8 format : MOV FFh PC (thus rebooting/alerting with some code placed there, if any, otherwise keep instruction at FFh equal to INV to make an endless loop)

Overall, it's still orthogonal and very simple to decode, despite the added complexity of dealing with 1R1W code.
---
Logs:
1. Honey, I forgot the MOV
2. Small progress
3. Breakpoints !
4. The YGREC debug system
5. YGREC in VHDL, ALU redesign
6. ALU in VHDL, day 2
7. Programming the YGREC8   
8. And a shifter, and a register set...
9. I/O registers
10. Timer(s)
11. Structure update
.
.