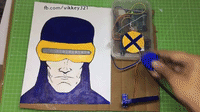 I love Cyclops and I made the coolest door lock ever. From past one month I was planning to make an RFID door lock system. But I wanted something cool. I am huge fan of Xmen. I love Wolverine and Cyclops. So created an RFID based door lock system, where if you swipe the right card, his known "eyes" will turn green and servo will open giving a beeping sound through a buzzer. If you swipe the wrong card, his eyes will turn red. So here is how I made.
This project contains : 
1. Full instructions of creating the project
2. Source Code of the project
3. Fritzing Fiiles of schematic
4. Instructions to paint cyclops in the video.