Below is an image illustrating the different phases involved in this project: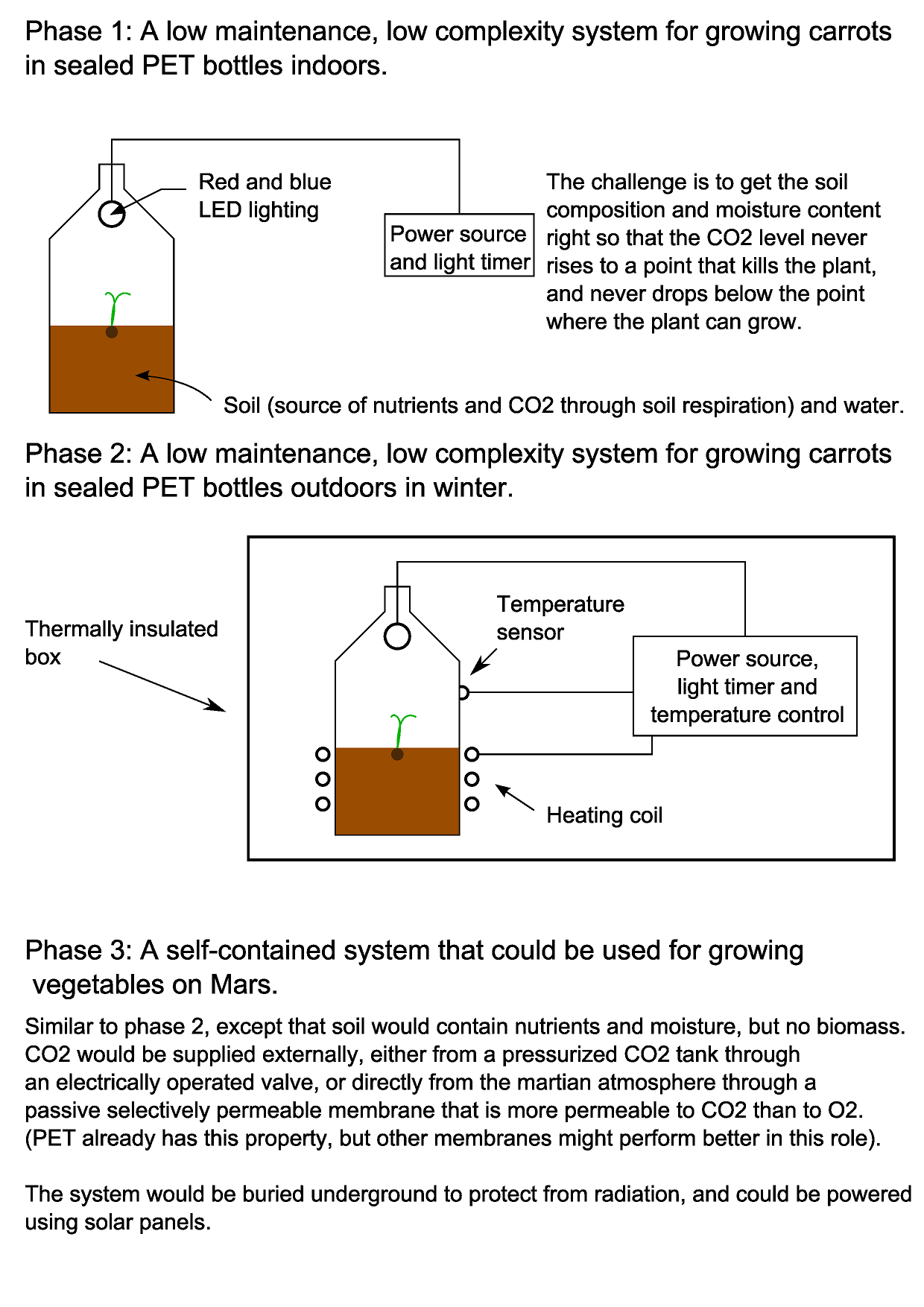 My initial experiments involve seeing whether carrot seeds will germinate in sealed PET bottles containing soil and enough water. Why carrots? There are several reasons: they are the right shape to be able to extract from a bottle once they have grown without having to cut the bottle. They have quite a high energy density (about 40 calories per 100g). Fibres from carrots and other similar root vegetables can also be used as the basis for making composite materials, so could potentially be used as a construction material on Mars as well as a food source.
I've chosen to use PET bottles because they are readily available, and because the screw-on cap makes it easy to attach a CO2 sensor. Once I've spent a bit of time figuring out whether carrots can be grown like this, I want to produce a set of instructions so that anybody can do it, using PET bottles that they have at home.
Everything that the carrot needs to live and grow must be contained within the bottle. An obvious question is where the carbon dioxide that the carrot needs to grow will come from, since the air in the bottle when it is sealed contains only a small amount of CO2. From reading around the subject, I believe that decomposing organic material in the soil will release CO2, which the carrot will make use of. Microorganisms in the soil will in turn consume the oxygen that the carrot produces during photosynthesis.
At what rate does soil produce CO2, and at what rate will the carrot consume it as it is growing? Since the carrot will consume less when it is smaller, there might be an overproduction of CO2 initially. Will this matter? These are some of the questions that I hope to answer during the course of this project. I purchased a CO2 sensor (MH Z14A) and mounted it in an enclosure that will screw onto a bottle in place of the cap to see what happens to the CO2 level in the bottle.
All software source code and hardware designs that are part of this project are covered by the GNU General Public Licence version 3: http://www.gnu.org/licenses/gpl-3.0.en.html. You are free to change and share this work, but in doing so you must make sure that others are free to do the same under the same terms as this license.