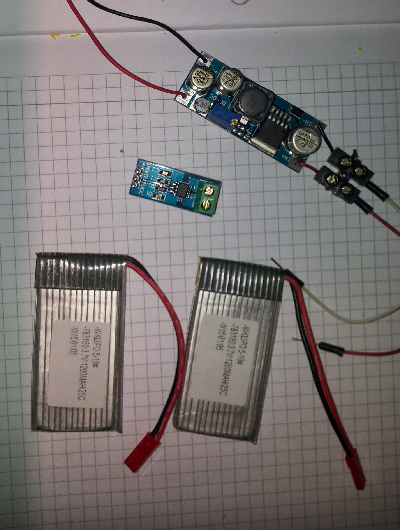 Components for the battery pack came in today. There's:
- 2 li-ion batteries, 3.7v 1200 mAh
- usb li-ion battery charger board (not pictured, TP4056)
- DC-DC converter board (LM2596S)
- current sensor board (ACS712)
I'll make a 7.4V battery and use the converter to step the voltage down to 5V to power the servos. The current sensor is going on the battery leads so I can track the power consumption. It outputs an analog voltage so I'll use an attiny to read that and put it on the I2C bus.
I'm not sure if the batteries have enough capacity to provide a decent amount of running time for the robot but we'll find out. At least the current sensor will give some insight into the actual power consumption of the robot.