Yaay 2018!
First some good news: we made our Kickstarter goal by a comfortable margin ($34k of a $25k target). Thank you to all of our supporters, especially those whom found us via the timely Hackaday blog post. We aren't immediately cutting a PO to manufacture the products (for reasons I cover below), but our plan is to do a ~$50k manufacturing run -- in other words, if you missed the KS campaign we'll have tons of inventory left to sell. And we're fortunate that we don't need Kickstarter money to pay our salaries or cover the costs of testing. We are lucky -- most don't have that luxury.

Earlier this month, Jarod and I spent the day at a local compliance testing facility. Our products -- the NID, the battery pack, and all the NeuroBytes boards -- don't have any intentional RF sources on board, so the radiated emissions testing under FCC 15.109(g):2018 and ICES-003:2016 is called 'unintentional radiator' testing. Before I discuss results, a few pictures from the 10m anechoic chamber: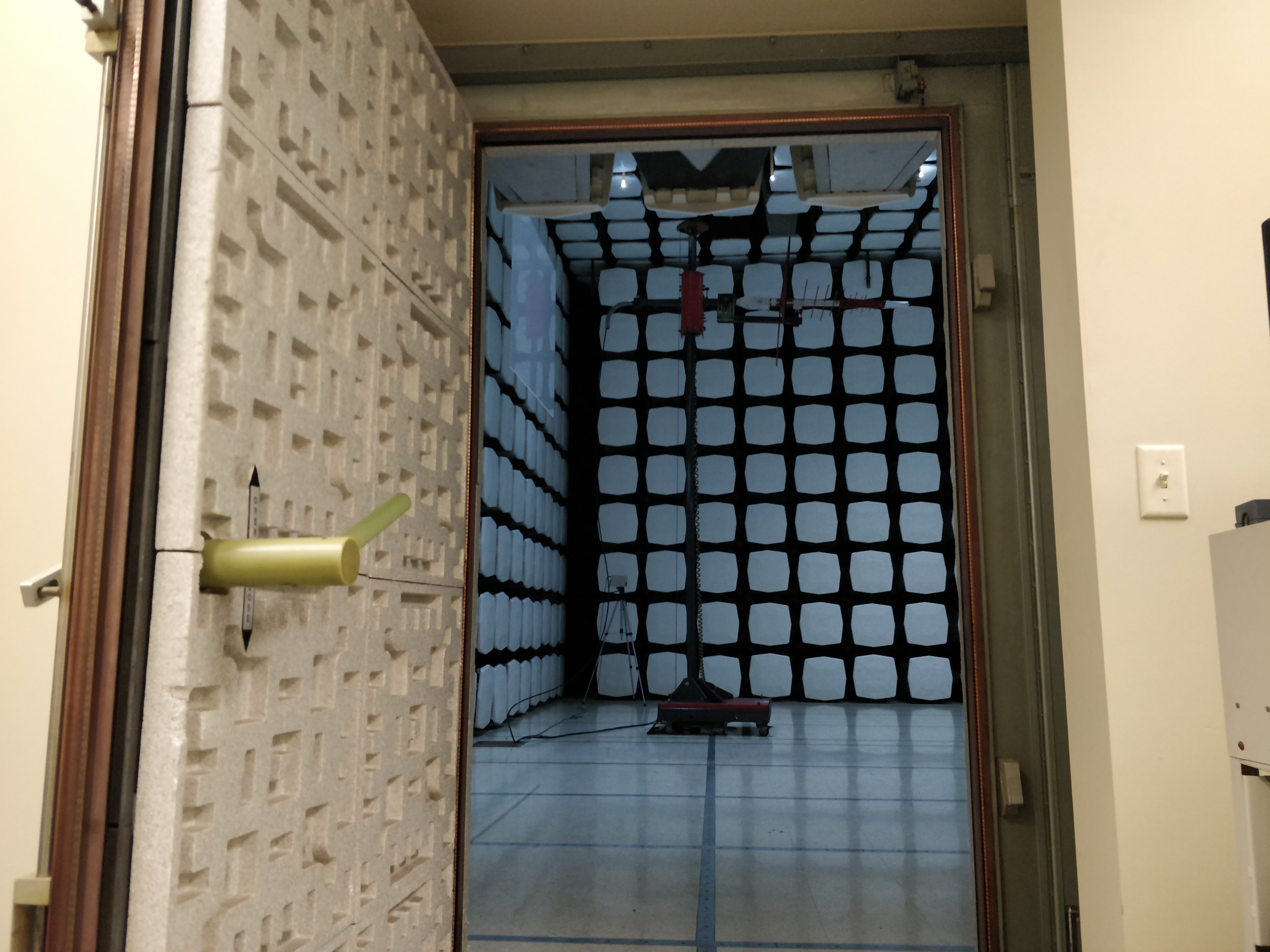 above, the 10m anechoic chamber entrance. Of note: the inner door handle is plastic. You can also see the low-frequency antenna mounted on its automated rising boom. This test is a farfield measurement, so the antenna is 10m from the target and measurements are taken with horizontal and vertical polarities from a variety of heights.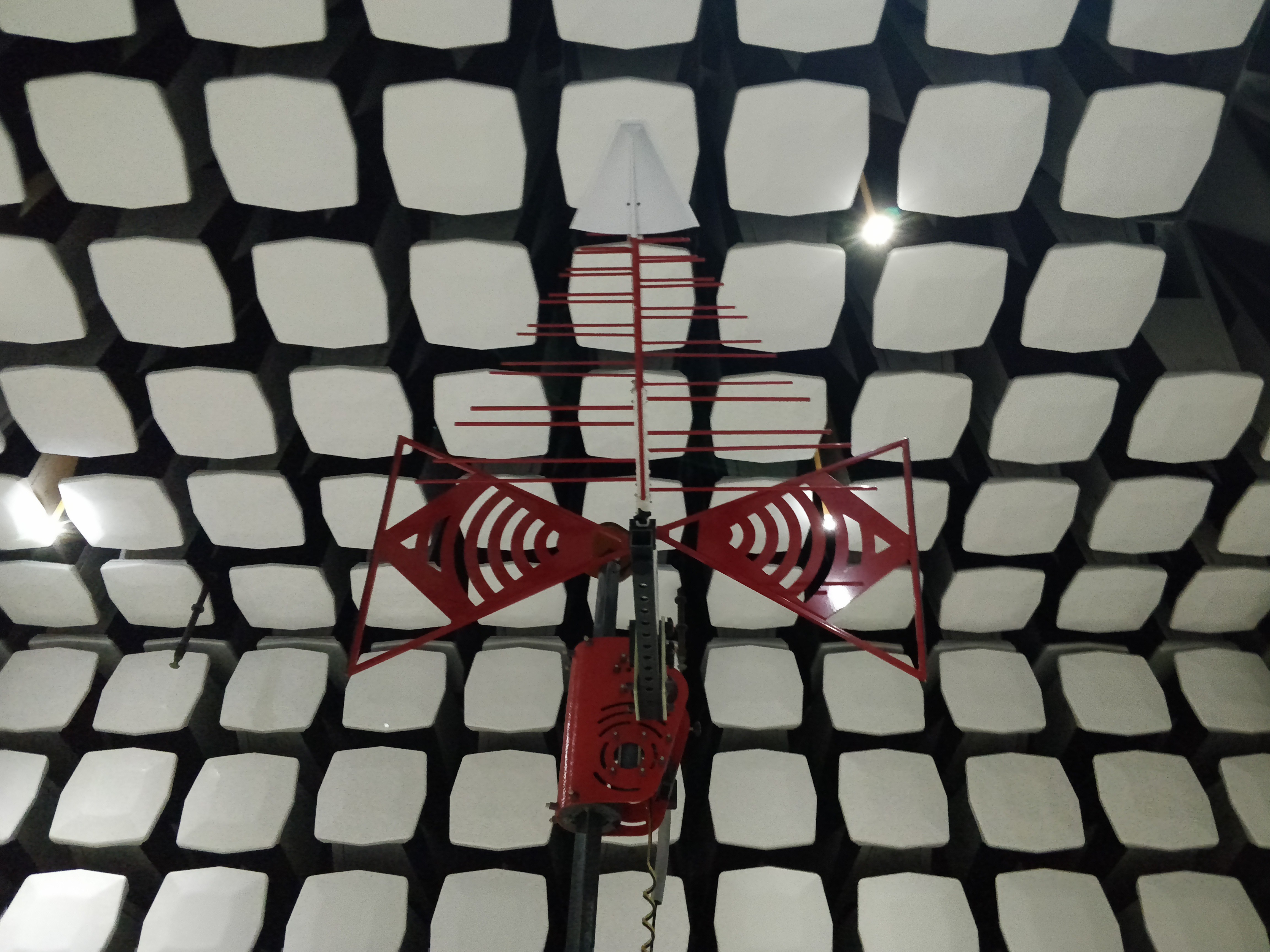 above, a close-up of the low-frequency antenna. Note the bizarre conductive foam anechoic panels (they are probably 600mm square and extend back into the wall 1m), and the expensive fiber-optic lights.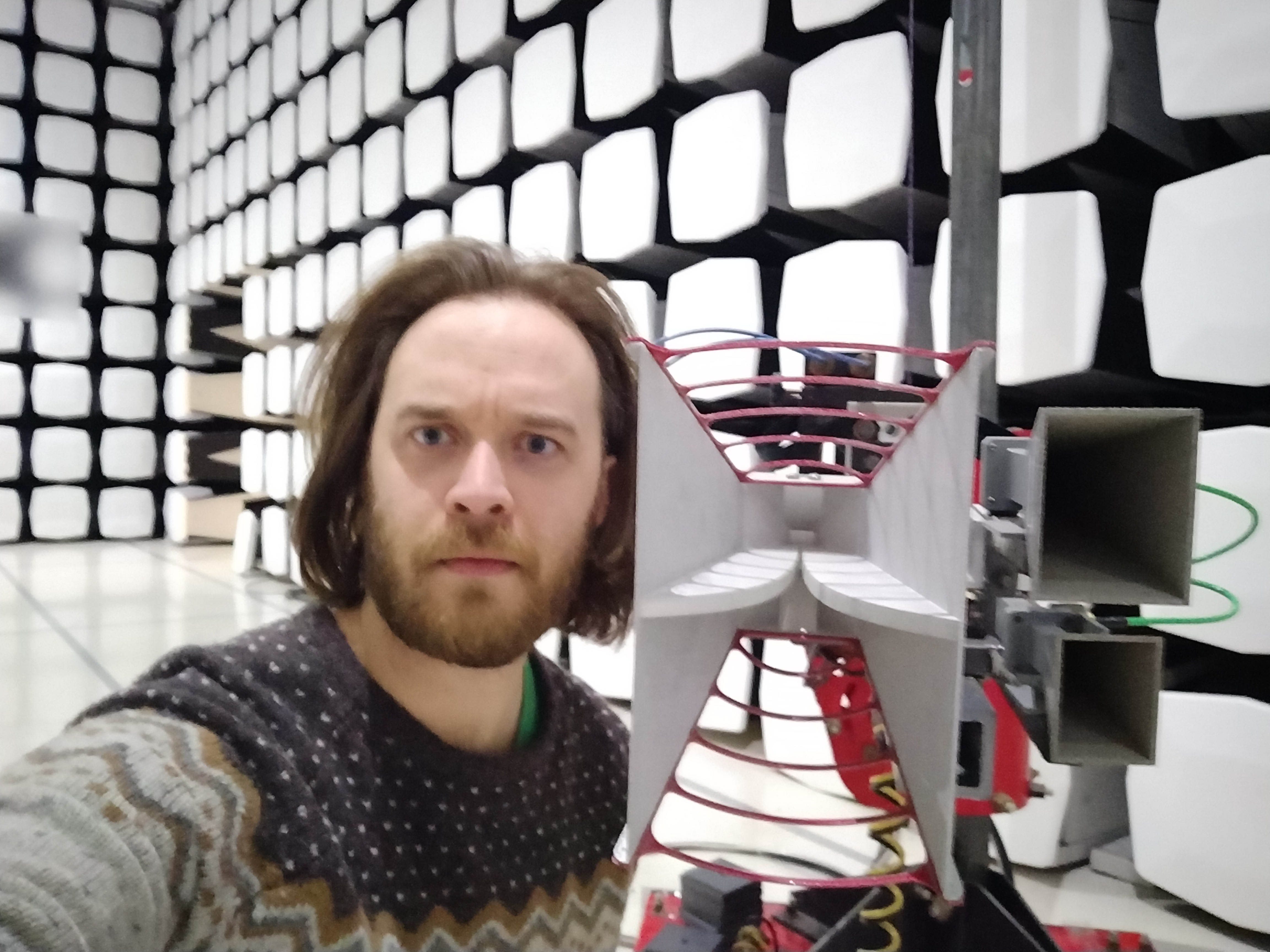 above, obligatory high-frequency antenna selfie. We didn't use this one since our equipment didn't have any active radiators (so we swept up to 1 GHz).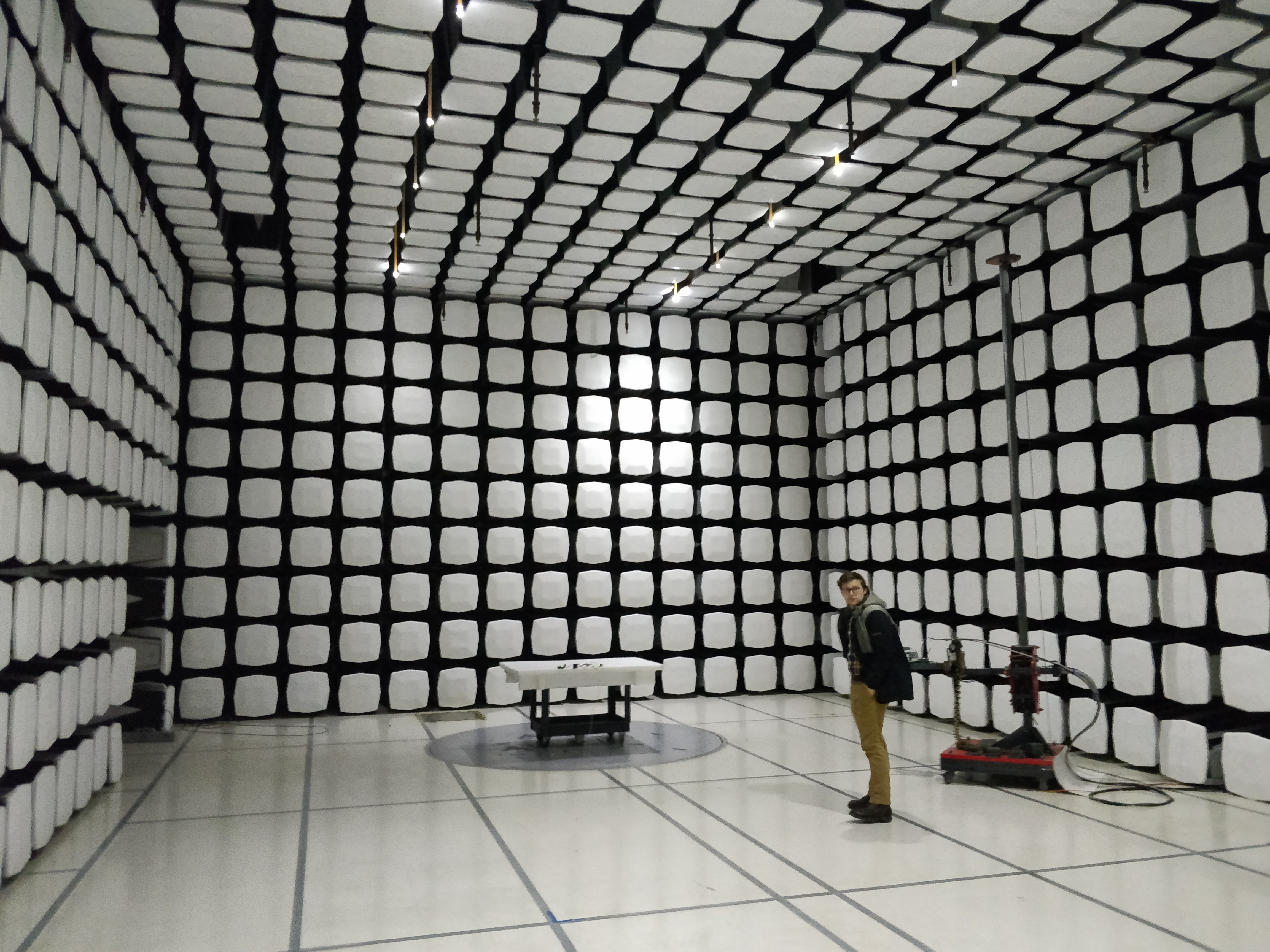 above, Jarod stands by the high frequency antenna. The table on the round floor piece holds the NeuroBytes network (barely visible) and rotates continuously during testing. We stashed the NID's tablet in the floor so it (hopefully) wouldn't interfere with results.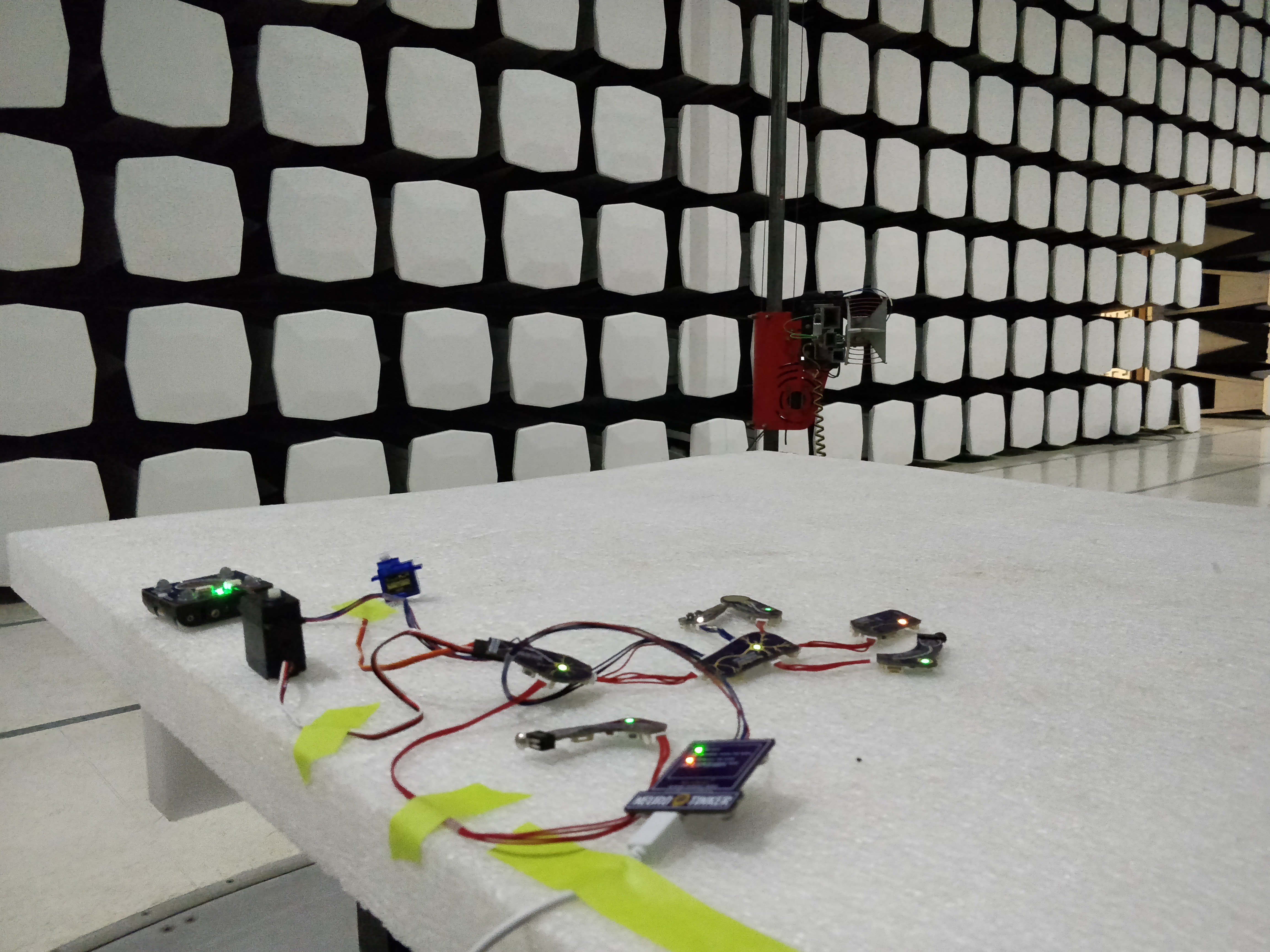 above, our chosen NeuroBytes network configuration for compliance testing. After consulting with the lab and a number of other sources we determined that a representative network with a 'typical' amount of traffic would suffice; testing boards individually would be cost prohibitive and, more importantly, not representative of how NeuroBytes are actually used.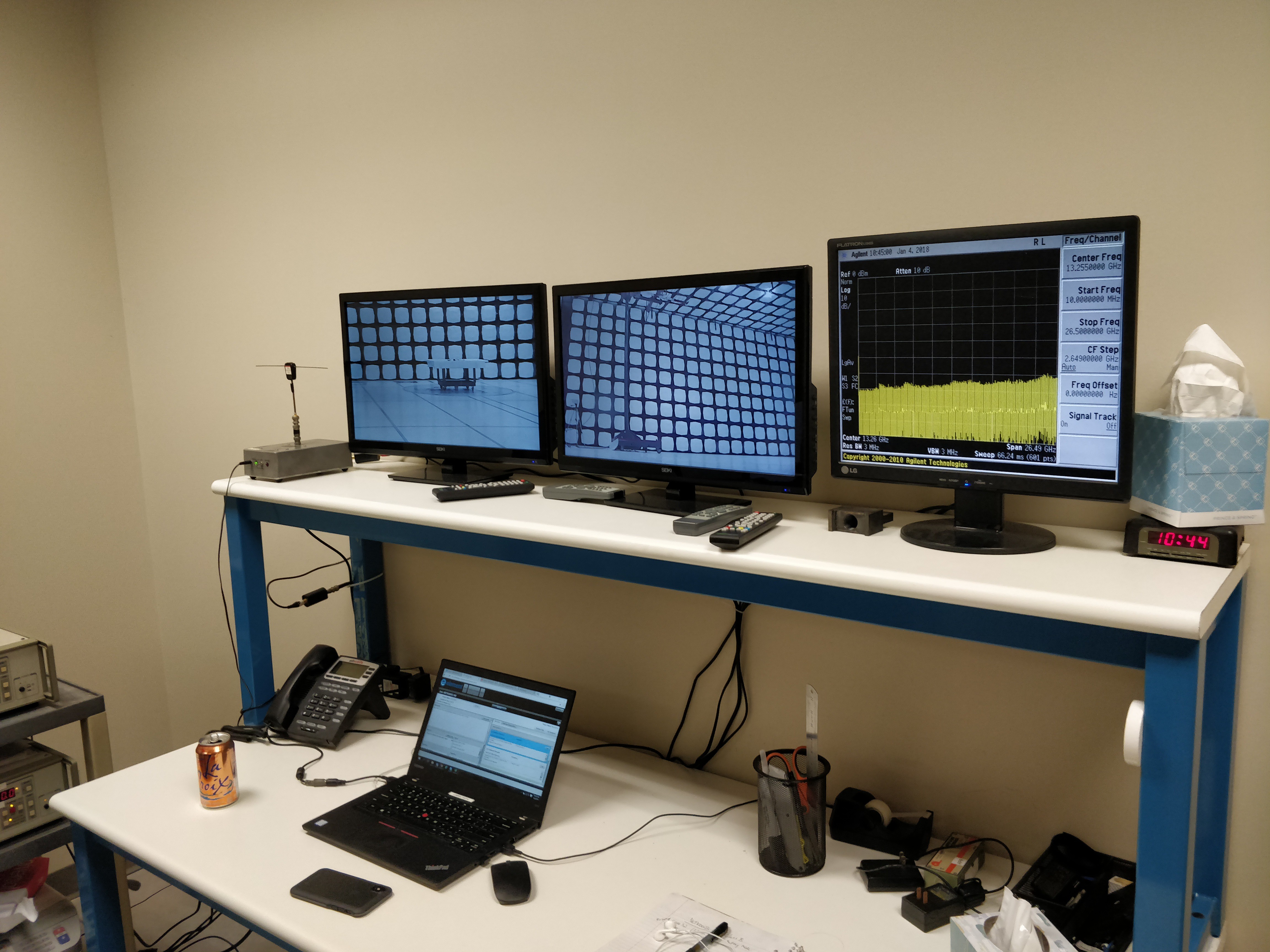 above, part of the analysis setup at the lab -- several shielded cameras recording the DUT (Device Under Test) along with a screen from their insanely fancy Agilent spectrum analyzer (whose model number I forgot to jot down). 

---
Yeah, it was a neat experience, and the tech who worked with us for the 2-hour radiated emissions test was helpful and well-informed. Then we failed the test! Results: