A picture is worth a thousand words. Admire the FM tuner of my AV receiver displaying the name of the famous HACKADAY FM Radio :D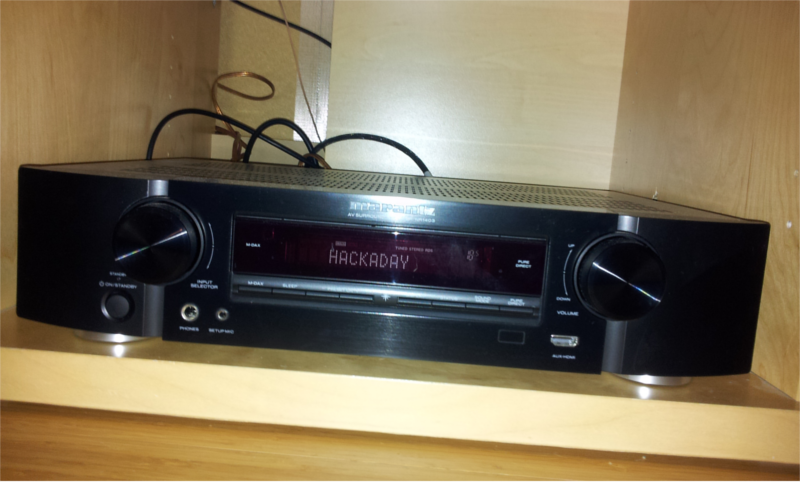 Basically, the RDS system is a way to send digital information to a FM RDS tuner. The RDS specification defines several types of messages called "groups". Each group type can transmit a given set of information. For example, the station name is transmitted in the "OA" type group.
I used the Trinket Pro to send a OA group containing the "HACKADAY" string to the MMR-70.
Well, it's a bit more complicated than that. A OA group can transmit only 2 characters. So I have to send 4 OA groups and keep track of the characters sent. But I cannot sent a OA group directly to the MMR-70. I have to split it in 4 blocks. Oh, and of course, the MMR-70 registers used to send the block varies and depends on the ID of the current block. Oh, and I cannot send the blocks when I want, I have to wait for the RDSINT signal to be LOW.
I will not use the full RDS protocol in this project. All I need is to transmit the station name, and the OA group is enough for that. Here is the code I wrote. It is fully commented, so I hope you can have a better understanding of the RDS group and the MMR-70 by reading it :-)
#include <Wire.h>





// The MMR-70 signals when it's ready to receive the next RDS block by setting 




// the RDSINT signal to low.




// Connect this signal to the following pin of the MCU




const

 uint8_t RDSINT_pin = 

8

;



// Dont forget to connect the I²C pins of the MCU to the MMR-70




// On the Trinket pro :




// - connect Analog 4/Digital 18 to the SDA point of MMR-70 




// - connect Analog 5/Digital 19 to the SCL point of MMR-70






// FM transmitter I²C address


#

define

 NS731_I2C_addr 0x66




// Recommended values for registers initialization


#

define

 NS731_init_data_size 23


const

 uint8_t NS731_init_data [NS731_init_data_size] = {

0x02

, 

0x81

, 

0x0A

, 

0x00

, 
      

0x00

, 

0x00

, 

0x00

, 

0x7E

, 

0x0E

, 

0x08

, 

0xAF

, 

0x2F

, 

0x0C

, 

0xE6

, 

0x3F

, 

0x70

, 
      

0xA0

, 

0xE4

, 

0x00

, 

0x42

, 

0xC0

, 

0x41

, 

0xF4

};




int

 RDSINT = 

0

;     

// Status of RDSINT signal from FM transmitter




int

 RDS_block = 

1

;  

// ID of RDS block inside the current RdS group




int

 RDS_group = 

1

;  

// ID of the curret RDS group





void

 

setup

()

 {

  pinMode(RDSINT_pin, INPUT); 
  
  

// Initialize the wire library


  Wire.begin();

  

// Send a reset command to the FM transmitter


  Wire.beginTransmission(NS731_I2C_addr);
  Wire.write((uint8_t)

0x7f

);
  Wire.write((uint8_t)

0xa0

);
  Wire.endTransmission();

  

// Initialize the registers of the FM transmitter with the recommanded values


  

for

 (uint8_t i; i<NS731_init_data_size; i++) {
    Wire.beginTransmission(NS731_I2C_addr);
    Wire.write(i);
    Wire.write(NS731_init_data[i]);
    Wire.endTransmission();    
  }

  delay(

700

);
  
  

//Set PE to ON


  Wire.beginTransmission(NS731_I2C_addr);
  Wire.write((uint8_t)

0x00

);
  Wire.write((uint8_t)

0x03

);
  Wire.endTransmission();    

  delay(

150

);
  
  

//Set ALC to ON


  Wire.beginTransmission(NS731_I2C_addr);
  Wire.write((uint8_t)

0x0d

);
  Wire.write((uint8_t)

0xe7

);
  Wire.endTransmission();   
 
  

// Set mute to ON


  Wire.beginTransmission(NS731_I2C_addr);
  Wire.write((uint8_t)

0x02

);
  Wire.write((uint8_t)

0x0b

);
  Wire.endTransmission(); 
  
  

// Set frequency


  Wire.beginTransmission(NS731_I2C_addr);
  Wire.write((uint8_t)

0x0a

);     
  Wire.write((uint8_t)

0xea

);    

// 0XEA 0X2A is 90.0 Mhz


  Wire.write((uint8_t)

0x2a

);    

// Change those values to change the frequency


  Wire.endTransmission(); 
  
  

// Set P2 to recommended value


  Wire.beginTransmission(NS731_I2C_addr);
  Wire.write((uint8_t)

0x07

);
  Wire.write((uint8_t)

0x7e

);
  Wire.write((uint8_t)

0x0e

);
  Wire.endTransmission();   

  

// Wait for CEX search time


  delay(

900

);
  
  
  

// Set MAA according to CEX value


  Wire.beginTransmission(NS731_I2C_addr);
  Wire.write((uint8_t)

0x15

);
  Wire.write((uint8_t)

0x21

);   

// You should first read the CEX value and set 


  Wire.endTransmission();      

// MAA accordingly. Here the 0x21 value is good


                               

// for the default 90.0 Mhz transmission 


                               

// frequency. You should change it if you use


                               

// another frequency (see the datasheet).


  
  

// Set mute to OFF


  Wire.beginTransmission(NS731_I2C_addr);
  Wire.write((uint8_t)

0x02

);
  Wire.write((uint8_t)

0x0a

);
  Wire.endTransmission(); 

  

// Activate RDS  


  Wire.beginTransmission(NS731_I2C_addr);
  Wire.write((uint8_t)

0x10

);
  Wire.write((uint8_t)

0xe0

);  
  Wire.endTransmission();    
  
  delay(

15

);
  
}




// In this loop we continuously send the RDS Station Name. 




//




// The Station Name is contained inside a "RDS Group" of type "OA". However, a 




// single OA group is not enough to contain the full 8 characters of the station




// name. So we must sent it in four times, each of the 4 RDS groups containing 




// 2 characters of the station name.




//




// But we cannot send all the 4 RDS OA groups at once. We cannot even send one




// full OA group at once, the RDS transmitter does not support it. Instead, a




// RDS group is divided in 4 RDS blocks. Each block is sent one at a time.




//




// We cannot send a RDS block when we want it. We must wait for the FM 




// transmitter. When the RDSINT signal is low, it means that its ready to




// receive the next block.




void

 

loop

()

 {

  

// Read the RDSINT status


  RDSINT = digitalRead(RDSINT_pin);
  
  

if

 (RDSINT == LOW) {  

// The FM transmitter is ready to receive the next


                        

// RDS block


    Wire.beginTransmission(NS731_I2C_addr);
    

switch

(RDS_block) {
      
      

// First block of a OA group. Contains the PI, i.e. the station ID


      

case

 

1

:
        Wire.write((uint8_t)

0x03

);  

// First group must be sent to 0X03 register


        Wire.write((uint8_t)

0xe0

);  

// but others must be sent to 0X05.


        Wire.write((uint8_t)

0x00

);      
        

break

;
        
      

// Second block of a OA group. Contains the type of group (OA),


      

// the PTY (program type), a Music/Speech flag...


      

// The DI information and the Station name need to be sent in multiple


      

// OA groups. So this block also contains the address of the current 


      

// group (1, 2, 3 or 4).


      

// We keep track of the groups sent through the RDS_group variable and


      

// transmit the correct DI and address accordingly.



      

case

 

2

:
        Wire.write((uint8_t)

0x05

);      
        Wire.write((uint8_t)

0x01

);
        

switch

(RDS_group) {
          

case

 

1

:
            Wire.write((uint8_t)

0x24

);
            

break

;
          

case

 

2

:
            Wire.write((uint8_t)

0x21

);          
            

break

;
          

case

 

3

:
            Wire.write((uint8_t)

0x22

);                    
            

break

;
          

case

 

4

:
            Wire.write((uint8_t)

0x27

);                    
            

break

;
        }
        

break

;

      

// Third block of a OA group. Contains the alternative frequency.


      

case

 

3

:
        Wire.write((uint8_t)

0x05

);
        Wire.write((uint8_t)

0xe0

);
        Wire.write((uint8_t)

0xcd

);      
        

break

;

      

// Fourth block of a OA group. Contains the radio station name (8 chars).


      

// Each OA group can be used to send 2 characters at a time. We thus need


      

// to send 4 OA groups in total to transmit the station name.


      

// We keep track of the groups sent through the RDS_group variable and


      

// transmit the correct set of two characters accordingly.


      

case

 

4

:
        Wire.write((uint8_t)

0x05

);   
        

switch

(RDS_group) {
          

case

 

1

:
            Wire.write((uint8_t)

0x48

); 

// Letter H


            Wire.write((uint8_t)

0x41

); 

// Letter A          


            

break

;
          

case

 

2

:
            Wire.write((uint8_t)

0x43

); 

// Letter C     


            Wire.write((uint8_t)

0x4b

); 

// Letter K            


            

break

;
          

case

 

3

:
            Wire.write((uint8_t)

0x41

); 

// Letter A                  


            Wire.write((uint8_t)

0x44

); 

// Letter D                              


            

break

;
          

case

 

4

:
            Wire.write((uint8_t)

0x41

); 

// Letter A                  


            Wire.write((uint8_t)

0x59

); 

// Letter Y                           


            

break

;
        }    
    }
    Wire.endTransmission();    
 
    

// Keep track of RDS block sent inside a RDS group


    RDS_block++;
    

if

 (RDS_block > 

4

) {
      RDS_block = 

1

;
      

// Keep track of RDS groups sent


      RDS_group++;
      

if

 (RDS_group > 

4

) RDS_group = 

1

;    
    }
  }
}