Ideas and Passion
The very first thing is the idea. However, aside form idea, we believe passion is the most important thing that drive us through the whole process.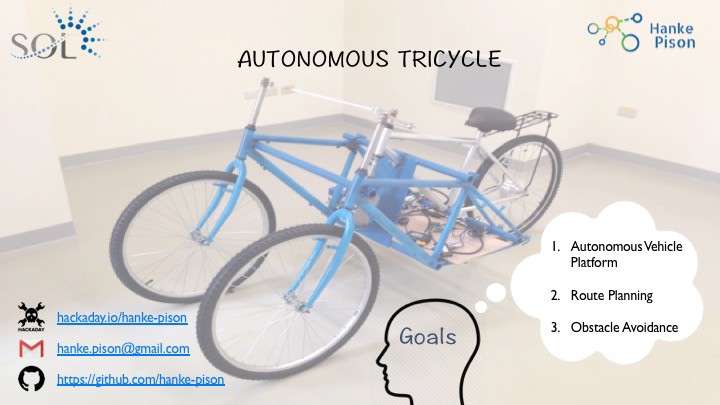 This is a review of what we have done last year. So as you guys can tell, the tricycle in the background is our final lovely baby and it is now passed on to the next follow up team who will make it better. 
The ideas that we have in mind are to 
build a simple platform that is designed to adapt to any autonomous system.
So the system should have the properties of

hardwares that are easily controlled
ability to carry various sensors
the platform it self should not be expensive to build
the platform it self should be easily reproduced

plan the route from point A to point B
avoid obstacles including human, cars and other in road objects
In fact, at the end of the project, we reached our first goal and changed our second and third goal to "lane tracking".
---
During the process, (we started this project from January, 2018 and ended it at June, 2018) we changed our goals multiple times but its our passion and our believing in ourselves that we can build an autonomous platform, so that we can keep working on this project in our spare time even though we all have our personal working job at weekdays. 
---
Back to the topic, the reason we chose to build a tricycle rather than a bicycle or a car is that tricycle is the simplest controlled vehicle platform that can also carry multivarious sensors on it. The bicycle is hard to balance on autonomous mode and a car is too hard (and too expense) to build. Therefore, a tricycle seems to be our best choice on the table.