Step 1
Pull the stepper motor out from the chassis housing (usually only held down by a few screws). Next we have to identify what type of motor we have. Stepper motors are classed as either bipolar or unipolar depending on the coils that make up the stator.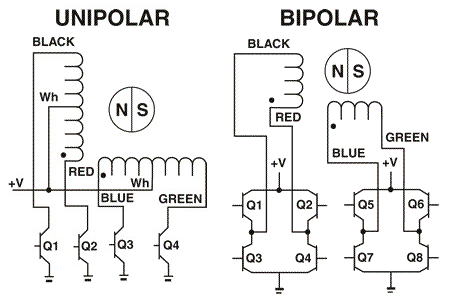 Unipolar configuration consists of 2 phases per winding with a common tap in each coil that can either be joined to both windings or separate. With the common tap connected to Vcc, by controlling whether the phase terminals can pass current or not will switch them on or off. Since current only flows in one direction through any of the phases (from center tap to ground), this is where the name uni-polar comes from. When the current flows through one side of a winding, the magnetic field will be opposite in polarity compared to when the current flows through the other side.
Bipolar configuration consists of single coils per phase with current flowing in both directions, hence the name bi-polar. Before with unipolar, the current direction didn't have to change to alternate the magnetic field, however in bipolar configuration the current must be alternated in order to alternate the polarity of the magnetic field.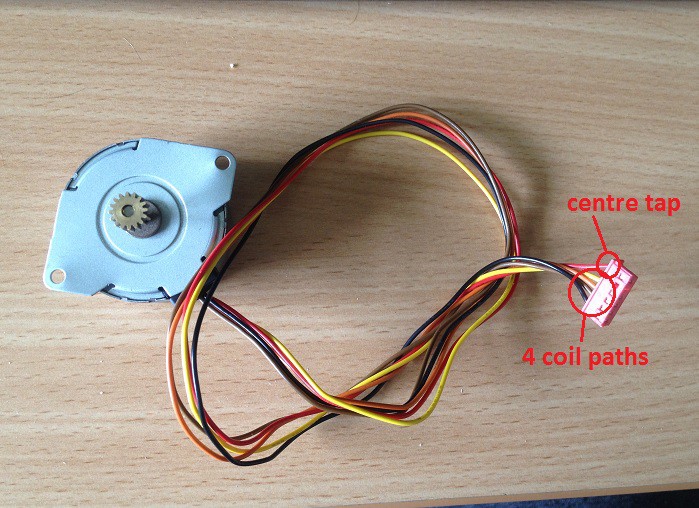 You can see that the first motor I found has 5 pins with the red one separated from the rest. The first step, as with any electronic device, is to check for product information on the component and hopefully find a data sheet. This motor in particular did have sufficient information to find a matching data sheet, but it's good practice to classify them using other techniques for instances where the exact model is unknown.
In order to determine the type of motor, I could take a guess and say that it is unipolar with 4 phases and a single common tap but it's worth checking our resistances to be sure. From the red wire to all the others is 34 Ohms while any combination of the 4 separate wires is 69 Ohms. With reference to the above diagram, it is clear that since 34 Ohms is smaller in resistance and occurs between the red wire and all others, that this is a common tap measuring resistance of half a winding. The 69 Ohms is from measuring across an entire winding which makes sense since 2 x 34 Ohm = 68 Ohm = approx. 69 Ohm. So from this test we conclude that this is indeed a 4 phase unipolar stepper motor.