Front Panel
The front panel did not go very smoothly despite the effort in setting it up. To ensure I did not waste my supply of Birch plywood I just made a prototype of the front panel with some fiberboard.
I forgot the LCD window on the first front panel!, even so it demonstrated that the Keyes rotary encoder was a bad choice. The encoder shaft collar has no thread and the two bolt holes on the PCB are on one side of the shaft. The encoder moves to the side when pressed. Other than gluing the encoder to the back of the front panel it is not going to work.
Made a second front panel (with an LCD window) for a bare rotary encoder. Made up a small strip board with legs for the rotary encoder to fit level with the LCD display :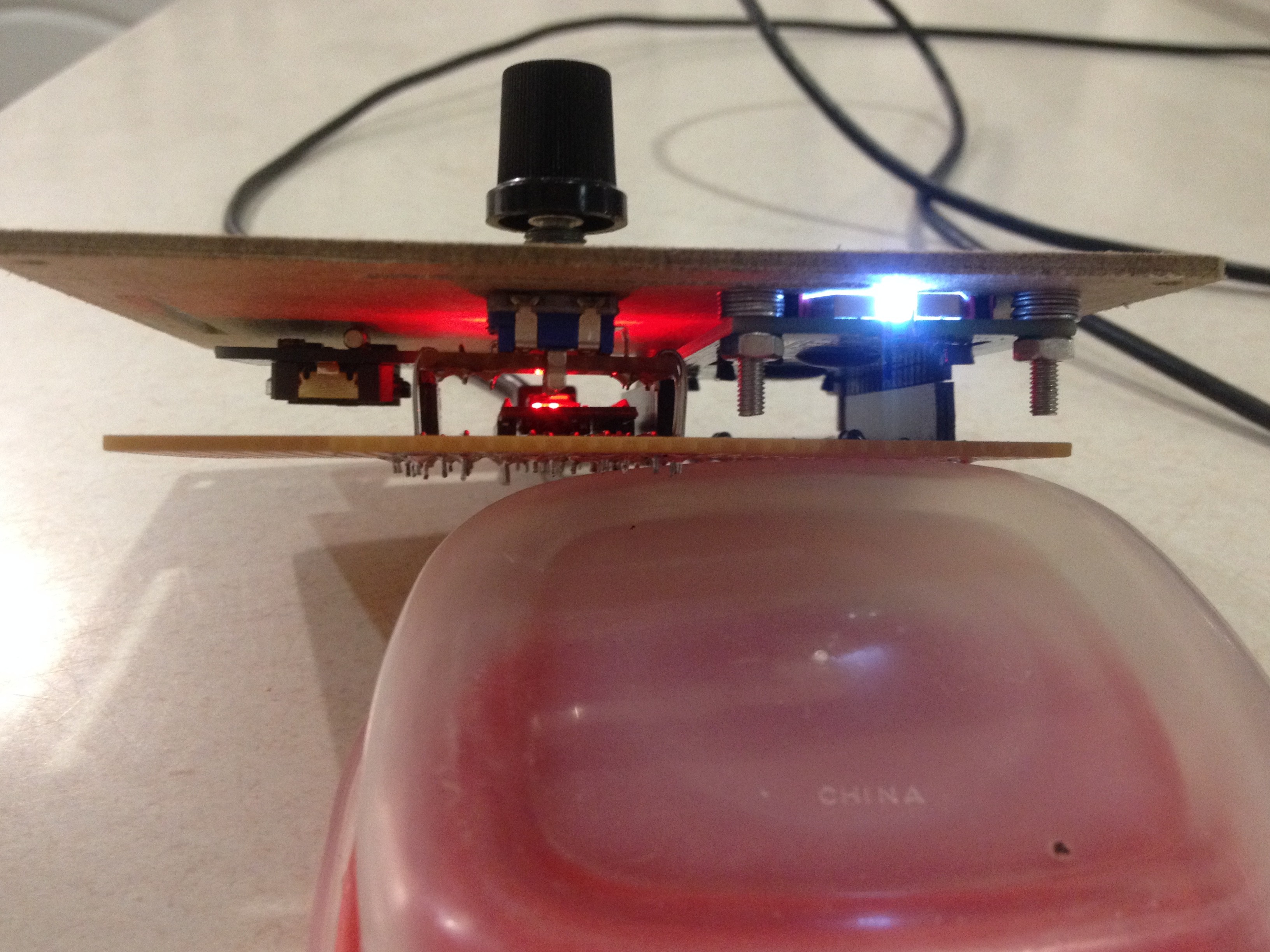 The Nano sockets were removed and the Nano was soldered directly to the stripboard as it was no going to fit (in the image above, the red led thing under the rotay switch).
The RTC sockets will need to go as well.
Testing
At first the rotation increment/decrement was the wrong way. No problem I have swapped the A and B pins on the rotatry encoder. I fixed it in software for now and will rewire it later.
The main problem was that the menu and setting increments and decrements in steps of two? This puzzled me for a while until I realised it could only be the rotary encoder. Sure enough if you rotate the encode 1/2 a detent if increments once and then again at the detent. It reliably does this so the double increment is by design! How stupid! To fix I added a flag to the polling routine to only update the second increment (at detent).
It now work fine, upon boot up: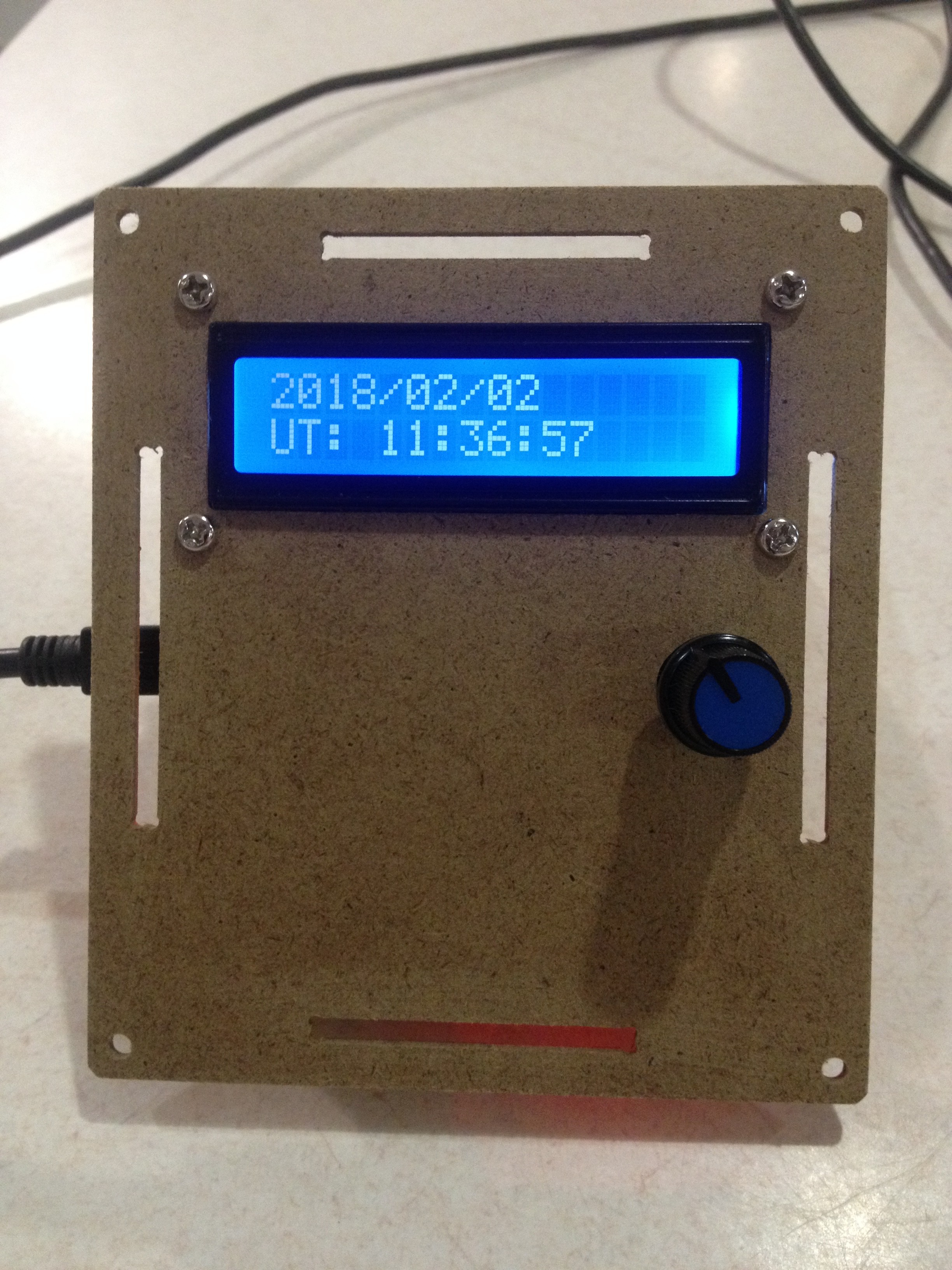 The menu (item) after one press (for about a second):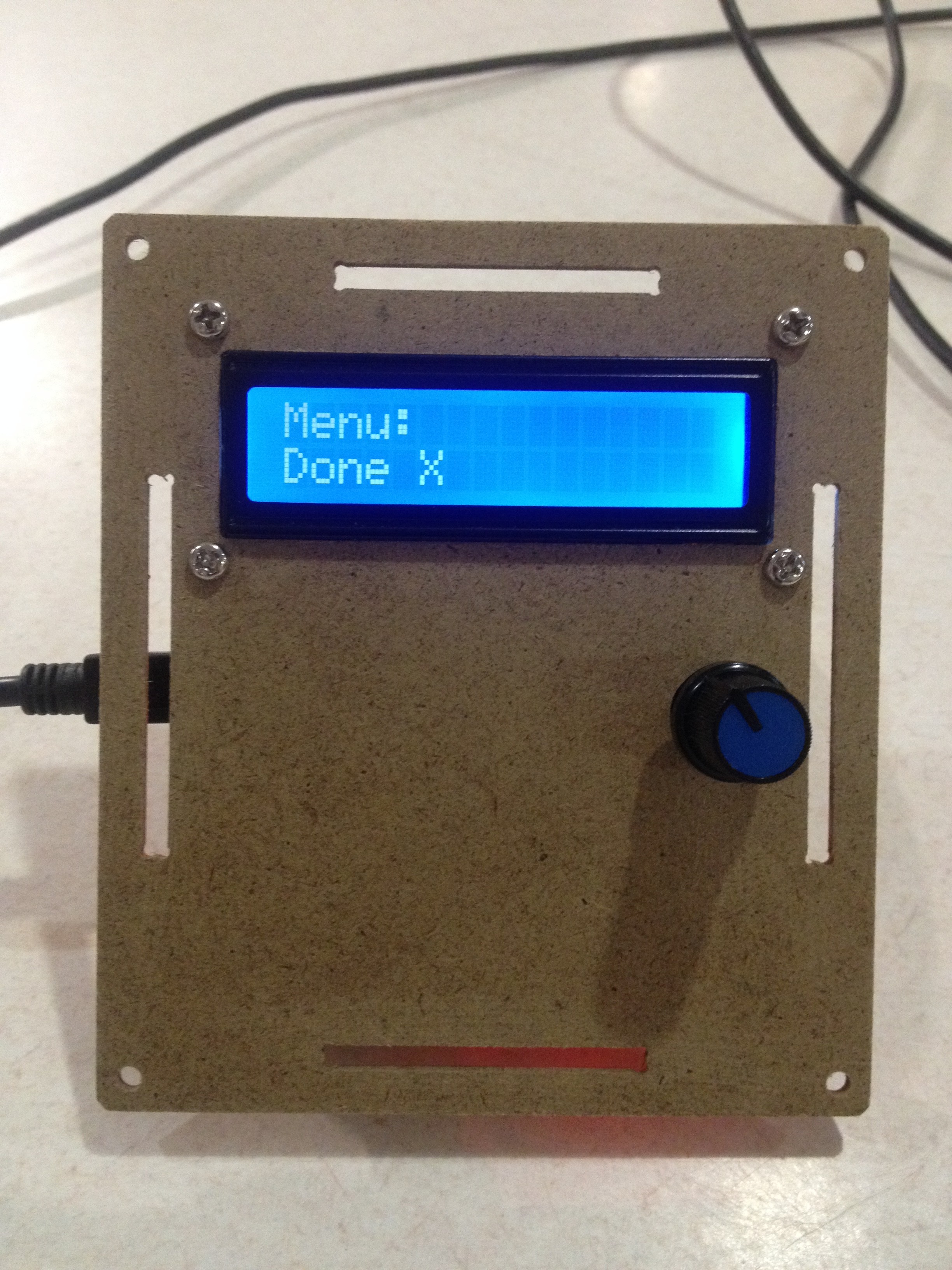 This is the Menu Item on the first line and the current setting on the second line (n.b. "X" means abort all changes while "Y" means accept and "N" means cancel this Menu Item.

Second press to change or set the menu item: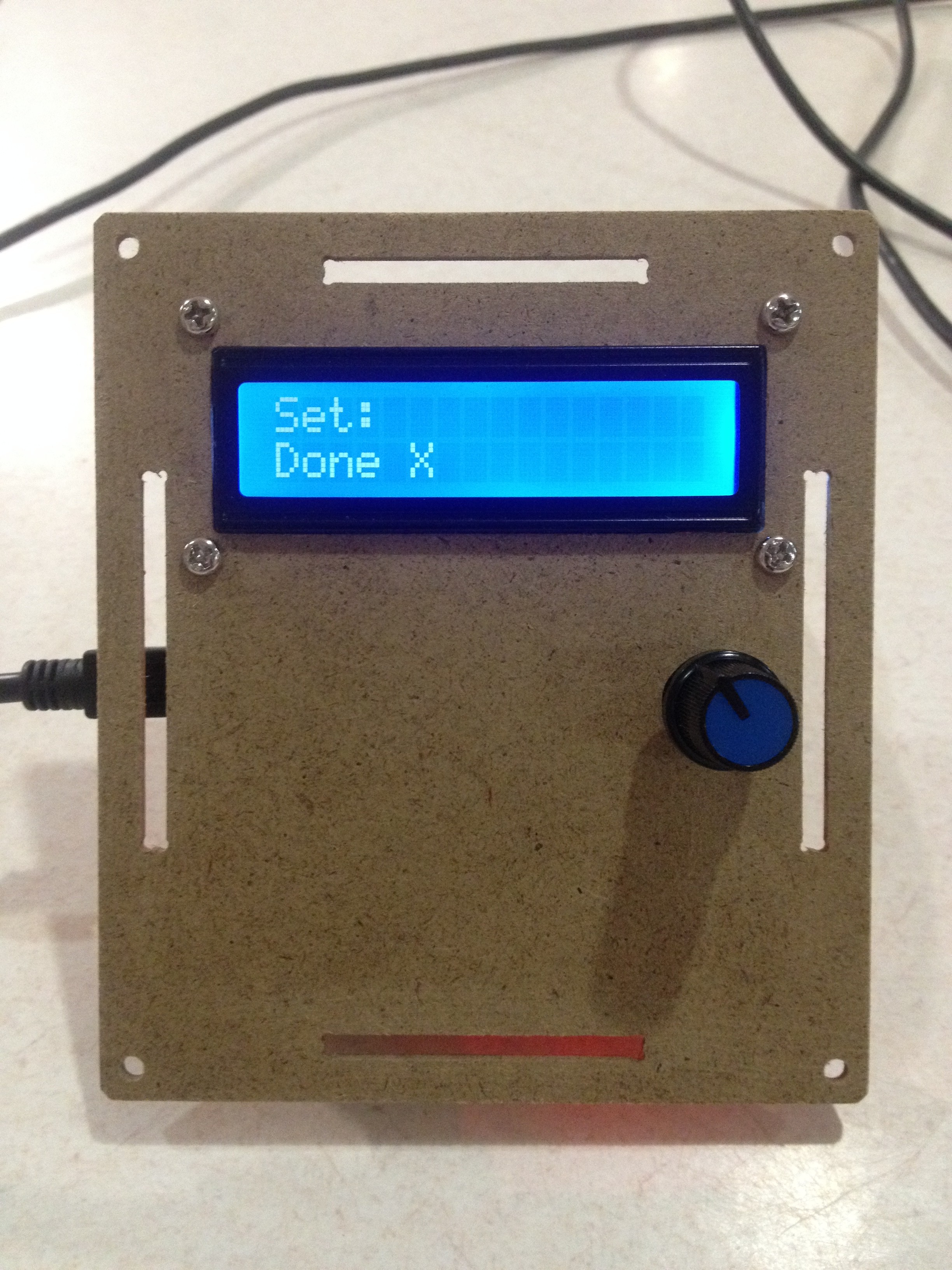 This Set Menu allows you to change a setting.

And a third press to accept the setting which in this case "X" will return you to the UT Clock (with no changes to the clock settings).

The location of the rotary encoder ideal for a right hander as it keeps your fingers from blocking your view of the LCD while rotating the knob.
Now the only problem I noticed was that the day number is wrong! Which means the timeSpan() does not like negative numbers. Fixed, don't use timeSpan()!
Updated Code
Here is the updated code. Note this code is configured for my stupid rotary encoder!
// Include RTC libraries and initialise




#include <Wire.h>




#include "RTClib.h"


RTC_DS1307 rtc;



// Include LCD library and initialise




#include <LiquidCrystal.h>




// Define Adruino pin numbers for LCD


#

define

 en   7
#

define

 rs   8
#

define

 d4   9
#

define

 d5  10
#

define

 d6  11
#

define

 d7  12
#

define

 led 13


// Set LCD


LiquidCrystal 

lcd

(rs,en,d4,d5,d6,d7)

;



/* ROTARY ENCODER AND PUSH BUTTON POLLING CODE */


#

define

 Clk 3
#

define

 DT  2
#

define

 SW  4


// Poll and debounces a Keyes rotary and push button switch




// Inputs:




//   Clk (Pin A without a pullup resistor)




//   DT  (Pin B without a pullup resistor)




//   SW  (Switch without a pullup resistor)




// Exports:




//   UpdateSwitch (bool)




//   Switch [LOW|HIGH]




//   EncoderPos (int)




volatile

 

bool

 UpdateSwitch=

false

;


volatile

 

byte

 Switch=HIGH;


volatile

 

int

 EncoderPos=

0

;


volatile

 

bool

 EncoderFlag=

true

;
ISR(TIMER0_COMPB_vect) {
  

static

 

byte

 testClk=(PIND>>Clk)&

1

;
  

static

 

byte

 testDT=(PIND>>DT)&

1

;
  

static

 

byte

 lastClk=LOW;
  

static

 

byte

 lastDT=LOW;
  

static

 

bool

 flagClk=

false

;
  

static

 

bool

 flagDT=

false

;
  

static

 

int

 encoderDir=

0

;
  

static

 

byte

 testSW=HIGH;
  

static

 

byte

 statusSW=HIGH;
  

static

 

byte

 cntSW=

0

;  
  
  
  

// Update Encoder Position


  lastClk=testClk;             

// Save Clk


  lastDT=testDT;               

// Save DT


  testClk=(PIND>>Clk)&

1

;       

// Get Clk


  testDT=(PIND>>DT)&

1

;         

// Get DT


  

if

 (testClk!=lastClk) {      

// Change in Clk?


    flagClk=

true

;              

// Flag Clk has changed


    encoderDir=-

1

;             

// Assume it is the last flag to change


  }
  

if

 (testDT!=lastDT) {        

// Change in DT?


    flagDT=

true

;               

// Flag DT has changed


    encoderDir=

1

;              

// Assume it is the last flag to change


  }
  

if

 (flagClk&&flagDT) {       

// Both flags have changed


    

// This rotary encoder updates twice per detent


    

if

 (EncoderFlag) {         

// First transition


      EncoderPos+=encoderDir;
    }
    EncoderFlag=(!EncoderFlag);    
    flagClk=

false

;             

// Reset Clk flag


    flagDT=

false

;              

// Reset DT flag


  }
  
  

// Update switch with 10ms debounce


  testSW=(PIND>>SW)&

1

;
  

if

 (testSW!=statusSW) {
    statusSW=testSW;
    cntSW=

10

;
  }
  

if

 (cntSW>

0

) {
    cntSW--;
    

if

 (cntSW==

0

) {
      Switch=statusSW;
      UpdateSwitch=

true

;
    }
  }
}




/* MENU SET UP */




char

* menuName[]={

"Done "

,

"Year "

,

"Month "

,

"Day "

,

"Hour "

,

"Minute "

,

"Second "

};


int

 menuSize=

sizeof

(menuName)/

sizeof

(

char

*);


int

 menuValue[]=   {  

1

,

2000

,  

1

,  

1

,  

0

,  

0

,  

0

};


char

 menuNumeric[]={

'N'

, 

'Y'

,

'Y'

,

'Y'

,

'Y'

,

'Y'

,

'Y'

};


int

 menuValueMin[]={  

0

,

2000

,  

1

,  

1

,  

0

,  

0

,  

0

};  

// Non-numeric values 'N','X' and 'Y'




int

 menuValueMax[]={  

2

,

2999

, 

12

, 

31

, 

23

, 

59

, 

59

};


int

 menuLevel=

0

;



void

 

setup

()

 {
  

// Initialise rotary encoder and push button


  pinMode(Clk,INPUT_PULLUP); 

// Rotary Clk


  pinMode(DT,INPUT_PULLUP);  

// Rotary DT


  pinMode(SW,INPUT_PULLUP);  

// Rotary SW



  

// Turn on polling ISR


  OCR0B=

0xA0

;
  TIMSK0|=

1

<<OCIE0B;

  

// Initialise LCD


  pinMode(led,OUTPUT);
  digitalWrite(led,HIGH);
  lcd.begin(

16

,

2

);

  

// Print a message to the LCD.


  lcd.setCursor(

0

,

0

);lcd.print(

"Universal Time"

);
  

// Check RTC


  

if

 (!rtc.begin()) {
    lcd.setCursor(

0

,

1

);lcd.print(

"RTC not found"

);
    

while

 (

true

);
  } 

else

 

if

 

(!rtc.isrunning()

) {
    lcd.setCursor(

0

,

1

);lcd.print(

"RTC not running"

);
  } 

else

 {
    lcd.setCursor(

0

,

1

);lcd.print(

"RTC found"

);
  }
  
  

// Set Universal Time based on Compile Time


  

int

 localTimeHour=-

8

; 

// Perth Western Australia


  

int

 localTimeMin=

0

;   

// Perth Western Australia


  

int

 uploadTimeSec=

7

;  

// For my computer



  rtc.adjust(DateTime(F(__DATE__),F(__TIME__)));
  DateTime now=rtc.now();
  rtc.adjust(DateTime(now+TimeSpan(

0

,localTimeHour,localTimeMin,uploadTimeSec)));
  
  

// Set menu to current time


  now=rtc.now();
  menuLevel=-

1

;              

// Don't enter menu on start up


  menuValue[

0

]=

'X'

;          

// Set "done" status to abort 


  menuValue[

1

]=now.year();
  menuValue[

2

]=now.month();
  menuValue[

3

]=now.day();
  menuValue[

4

]=now.hour();
  menuValue[

5

]=now.minute();
  menuValue[

6

]=now.second();
  
  delay(

1000

);
  lcd.clear();
  
}



bool

 

processMenu

(

void

) {
  

static

 

int

 lastPos=

0

;
  

static

 

int

 lastMenuLevel=-

1

;

  

// Pre-empt menu level display 


  

if

 (menuLevel!=lastMenuLevel) {
    lastMenuLevel=menuLevel;
    lcd.clear();
    lcd.setCursor(

0

,

0

);
    

if

 (menuLevel==

0

) {
      lcd.print(

"Menu:"

);
      lcd.setCursor(

0

,

1

);
      lcd.print(menuName[EncoderPos]);
      

if

 (menuNumeric[EncoderPos]==

'Y'

) {
        lcd.print(menuValue[EncoderPos]);
      } 

else

 {       
        

if

 (menuValue[EncoderPos]==

0

) {
          lcd.print(

"N"

);
        } 

else

 

if

 (menuValue[EncoderPos]==

1

) {
          lcd.print(

"X"

);      
        } 

else

 {
          lcd.print(

"Y"

);      
        }
      }          
    } 

else

 

if

 (menuLevel==

1

) {
      lcd.print(

"Set:"

);
      lcd.setCursor(

0

,

1

);
      lcd.print(menuName[lastPos]);
      

if

 (menuNumeric[lastPos]==

'Y'

) {
        lcd.print(menuValue[lastPos]);
      } 

else

 {       
        

if

 (menuValue[lastPos]==

0

) {
          lcd.print(

"N"

);
        } 

else

 

if

 (menuValue[lastPos]==

2

) {
          lcd.print(

"Y"

);      
        } 

else

 {
          lcd.print(

"X"

);      
        }
      }      
    } 

else

 {
      lcd.print(

"Rotary Encoder?"

);      
    }
  }
  
  

// If push button pushed toggle menuLevel


  

if

 (UpdateSwitch) {
    UpdateSwitch=

false

;
    

if

 (Switch==LOW) {
      

// Re-enter menu if button pushed (for long enough)


      

if

 (menuLevel==-

1

) {
        menuLevel=

0

;       

// Item menu


        lastPos=

1

;         

// Trigger menu update 


        EncoderPos=

0

;      

// Done


        EncoderFlag=

false

; 

// Detent


        menuValue[

0

]=

1

;    

// 'X'


      } 

else

 {
        

// Toggle menu level


        menuLevel=

1

-menuLevel;
        

if

 (menuLevel==

0

) {
          

// Save item menu position


          EncoderPos=lastPos;
          

// Exit menu if done!


          

if

 ((EncoderPos==

0

)&&(menuValue[EncoderPos]!=

0

)) menuLevel=-

1

;
          

// Any final work to be done? Set the time!


          

if

 (menuValue[EncoderPos]==

2

) {
            rtc.adjust(DateTime(menuValue[

1

],menuValue[

2

],menuValue[

3

],menuValue[

4

],menuValue[

5

],menuValue[

6

]));
          }
        } 

else

 {
          

// Set value for edit menu


          EncoderPos=menuValue[lastPos];
        }
      }
    }
  }
  
  

// If encoder turned


  

if

 (menuLevel==

0

) { 

// Select menu item


    

if

 (lastPos!=EncoderPos) {
      

if

 (EncoderPos>=menuSize) EncoderPos=

0

;
      

if

 (EncoderPos<

0

) EncoderPos=menuSize-

1

;
      lastPos=EncoderPos;
      
      lcd.clear();
      lcd.setCursor(

0

,

0

);
      lcd.print(

"Menu:"

);
      lcd.setCursor(

0

,

1

);
      lcd.print(menuName[EncoderPos]);
      

if

 (menuNumeric[EncoderPos]==

'Y'

) {
        lcd.print(menuValue[EncoderPos]);
      } 

else

 {       
        

if

 (menuValue[EncoderPos]==

0

) {
          lcd.print(

"N"

);
        } 

else

 

if

 (menuValue[EncoderPos]==

2

) {
          lcd.print(

"Y"

);      
        } 

else

 {
          lcd.print(

"X"

);      
        }
      }

    }
  } 

else

 

if

 (menuLevel==

1

) { 

// Edit menu item value


    

if

 (menuValue[lastPos]!=EncoderPos) {
      

if

 (EncoderPos>menuValueMax[lastPos]) EncoderPos=menuValueMin[lastPos];
      

if

 (EncoderPos<menuValueMin[lastPos]) EncoderPos=menuValueMax[lastPos];
      menuValue[lastPos]=EncoderPos;
      
      lcd.clear();
      lcd.setCursor(

0

,

0

);
      lcd.print(

"Set:"

);
      lcd.setCursor(

0

,

1

);
      lcd.print(menuName[lastPos]);
      

if

 (menuNumeric[lastPos]==

'Y'

) {
        lcd.print(menuValue[lastPos]);
      } 

else

 {       
        

if

 (menuValue[lastPos]==

0

) {
          lcd.print(

"N"

);
        } 

else

 

if

 (menuValue[lastPos]==

2

) {
          lcd.print(

"Y"

);      
        } 

else

 {
          lcd.print(

"X"

);      
        }
      }
      
    }
  }

  

return

 (menuLevel!=-

1

); 

// Return true if menu active


}



void

 

loop

()

 {

  

if

 (!processMenu()) { 

// Menu not active


    

// Present the results



    DateTime now=rtc.now();
    

// Print date on first line of LCD


    lcd.clear();
    lcd.setCursor(

0

,

0

);
      lcd.print(now.year());
      lcd.print(

'/'

);
      

if

 (now.month()<

10

) lcd.print(

0

);
      lcd.print(now.month());
      lcd.print(

'/'

);
      

if

 (now.day()<

10

) lcd.print(

0

);
      lcd.print(now.day());
    
    

// Print time on second line of LCD


    lcd.setCursor(

0

,

1

);lcd.print(

"UT: "

);
      

if

 (now.hour()<

10

) lcd.print(

0

);
      lcd.print(now.hour());
      lcd.print(

':'

);
      

if

 (now.minute()<

10

) lcd.print(

0

);
      lcd.print(now.minute());
      lcd.print(

':'

);
      

if

 (now.second()<

10

) lcd.print(

0

);
      lcd.print(now.second());
    
    delay(

1000

);
  }

}


Magic