This project has six systems that make up the cooling pack system.
Power Management:

Charger/Li-ion cell balancer.
Dual battery pack management.(implemented in later models)
Li-ion charger and DC/solar power input.
TI MSP430 microcontroller power control brain.

Thermal Management:

Heat Exchanger temperature monitoring.
Mini Compressor running temperature.
Coolant tubing temperature monitoring.
User body temperature monitoring.
Ambient temperature monitoring.

Pump, Compressor, Valve, and Fan Management:

Refrigeration compressor BLDC driver.
Coolant pump driver.
Servo valve controller.
Cooling fan driver.

Display and User Input:

TI CC3100 WIFI Radio to connect to Andriod or iOS devices

Mechanics:

Backpack.
Shirt tubing.
Electronics system PCB/wiring.
Cooling chamber and plumbing.
Insulation.

Brain/Main Control:

Microcontroller MSP430.
The way the cooling system works is as follows:
The system has three main parts: The power system which supplies 24 volts to the compressor and 12V, 3.3V, 5V volts to the fans, microcontrollers, and servo valves. The mini refrigeration system which uses R134A refrigerant to cool the liquid coolant. Lastly, the liquid coolant circulation and control system. This system circulates the coolant through the shirt, controls the servo valves, and monitors the temperatures.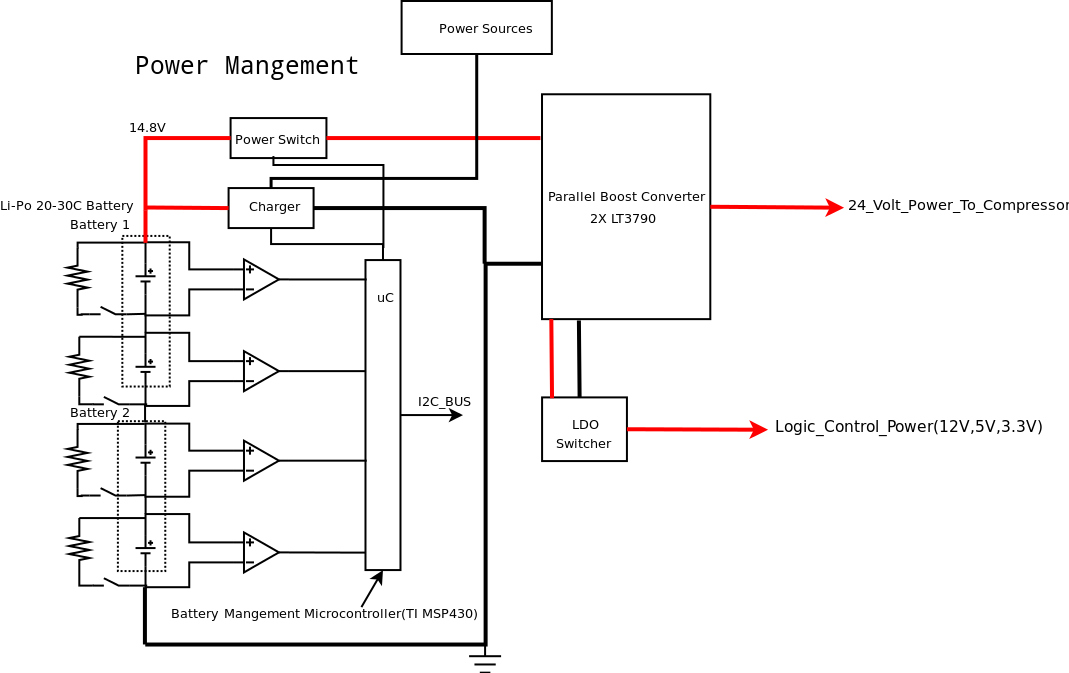 This is the refrigeration system block diagram shown below which has four main parts: the compressor, Condenser, Expansion valve, heat exchanger evaporator coil, and Accumulator. I am not going to discuss how a refrigeration system works in this project, since it is something easily researchable. This systems job is to cool the liquid coolant flowing into the heat exchanger to the desired cold temperature. The heart of the system is the Aspen Q-series low noise, miniature, rotarty BLDC compressor. This compressor runs of 24V, has a 360W cooling capacity, 40dBA noise level, and weighs 900g.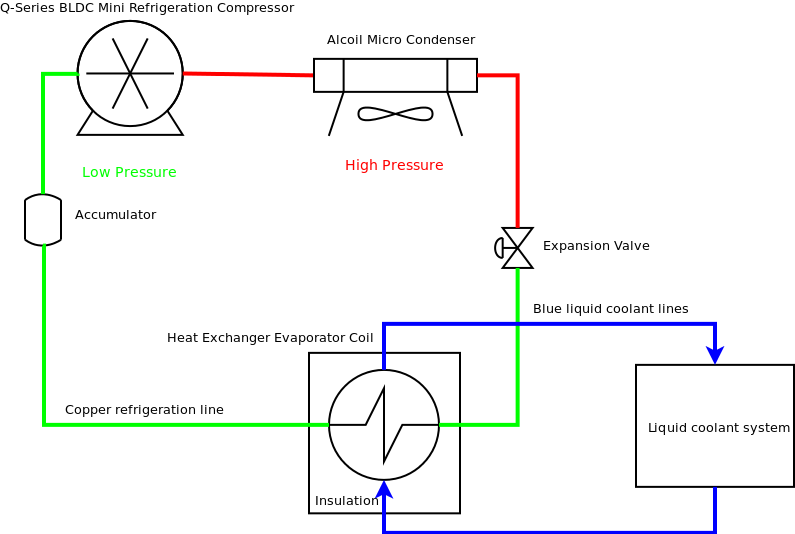 The cooling liquid, which will be an ethylene glycol and water mixture, will be pumped through 1/4" tubing. This tubing will be attached to a shirt that will fit snugly to the body. This cooling liquid will be cooled in a heat exchanger that houses the refrigeration evaporator copper coil. The heat exchanger chamber will allow the liquid coolant to flow around the evaporator coil allowing it to cool the liquid that is being pumped into the chamber. Then the coolant will be pump out via the servo valves to each cooling tube circuit. The pump and valves there then turn off to save power. At this point the cooling tubing circuits temperatures are monitored by the main microcontroller. As the coolant heats up, it passes a programmed threshold. The microcontroller will activate the pump and valves to pump the warm coolant out and new cool coolant into the tubes. This duty cycle-based system will save power and is projected to run 8 hours.
This project is being fully funded and endorsed by the National MS Society through the MS Entrepreneurs Grant. In June of this year, II was selected to receive the MS entrepreneurs grant to build this project.