I spent some quality time in KiCAD finishing TBD v0.2 over the last couple of weeks. I ordered boards, stencils, and parts which should take a couple of weeks to trickle in. Files in the Github link to the left. Here are the deltas from v0.1:
Surface mount 2x4 header mounted on the backside to reduce overall length
Rethought pinout brings out 6 pins that can be muxed between I2C, SPI, FlexIO (general purpose serial engine), and ADC
Option to use a micro USB jack instead of the USB-A board edge. Fits to the back side of the USB-A pads.
BOOT pin placed next to GND so a 2 pin jumper can be used to force ROM boot mode
0603 discretes for easier manual placement and less risk of tombstoning
Resistor in line with the LED
SWD_CLK moved to test pad to save 1 pin on the header. SWD_IO is shared with one of the I2C pins
Silk legends for pin GPIO names and main alternate function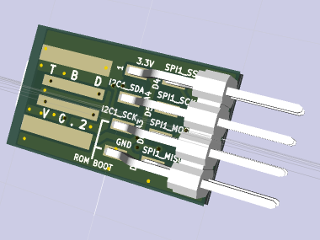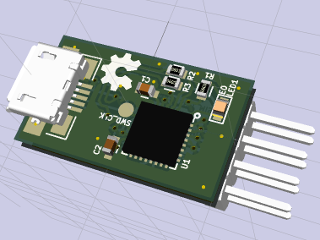 I also had some time to play with using a web browser to talk to the bootloader via HID. I started with the Sparkfun Firefox HID example as a base and ended up with a simple page that's able to reset the part and read memory as a proof-of-concept. Now that the board is in production, I can spend some more time on this part of the project.