I have finally finished hand soldering all the nodes up: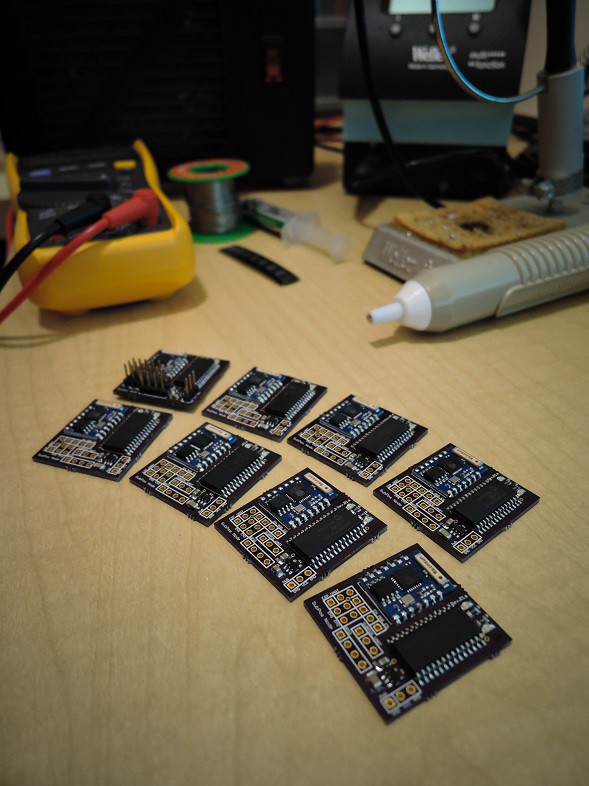 So where to from here?
I am still making the final feature polishes to the SubPos Node firmware for the PIC (the ESP module firmware for the Node is done). Once that's done I want to get some new performance numbers in controlled conditions and tweak the Android API further.
Having done all that, I will start looking at a revision 2 of the Node PCB as well as a new SubPos receiver device that can use multiple ESP modules for spatial diversity and can be embedded into devices such as drones and the like.
Also stay tuned for a bigger and better demo video shortly.
Edit: Frequency hopping now working in the SubPos Node firmware. The firmware is pretty much complete for the moment.
Edit 2: Rolling median and averaging filter now implemented in the Android API. Initial tests seem to be giving much better results on distances.
Edit 3: Nodes programmed, stands built to hold nodes off the ground. Ready to do some testing tomorrow in an underground carpark and gather some data. I will be testing 4 nodes in a square arrangement about 6 meters apart from each other with a receiver at .5m intervals. I will then test 8 nodes in an octagon shape. Each test will be performed with both single channel and frequency hopping.
I will post the raw RSSI data as well as the positional data for anyone interested.