So when we did the 48hr challenge we were under a time limit, so if we had to increase the size of the form factor to compensate for the challenge we did so. This lead to a package that was 14% bigger and 68% longer than what was originally intended. We decided to do something about that.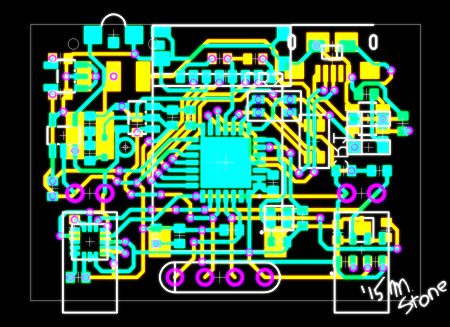 This PCB only measures only 33x23.4mm compared to 35x35mm. This means our case will be able to be shrunk down to a 1" cube. Yippee! It still has everything we've mentioned before, we didn't cut anything :)
We could probably make the design even smaller but it would be about $5 more expensive. Right now the chip speaker hogs a LOT of the PCB. When we were researching parts we were surprised to discover using the PCB mounted components was actually cheaper than using traditional wire-lead speakers and microphones.