One step back then two steps forward, I've captured the first one dimensional data from the detector array!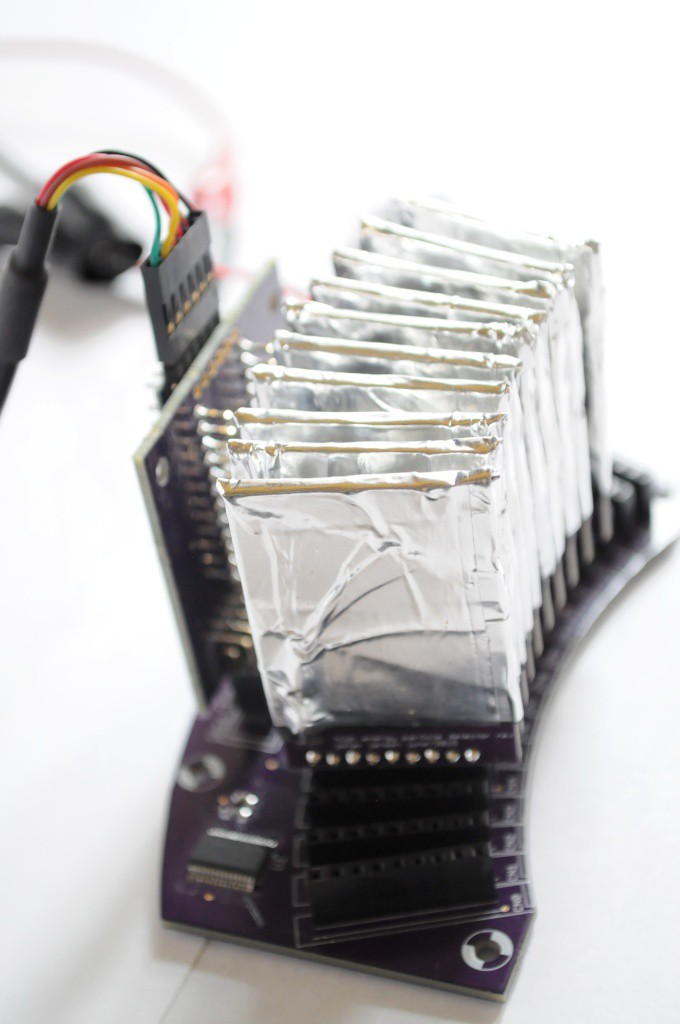 The new imaging array is now populated with 10 of the 16 total detectors, and this is very exciting. I tend to try and keep things positive, but sometimes things go well, and sometimes things happen that slow things down. It's always important to make your mistakes cheaply whenever possible, and this week several things happened -- and while they were not terribly expensive issues, they were preventable.
An incorrectly labelled footprint: The Arduino Pro Mini has exactly enough pins to monitor the output of the 16 detectors, and communicate to each detector's digipot (which calibrates that detector's sensitivity) using SPI. Because there are 16 detectors and 16 chip select (CS) lines for the digipots, the Imaging Array board also contains a Microchip MCP23017 16-bit I/O expander, connected to the Arduino Pro Mini using I2C. Exactly enough pins.
Unfortunately as it turns out, two pins on the Arduino Pro Mini (A6/A7) are not available to use as digital pins, and I discovered this only when two detector channels were silent. I revised the microcontroller board to include it's own I2C I/O expander for the extra two pins, but it turns out the open source footprint I used was incorrect, and when I powered the board the I/O expander caught fire. It was an easy mistake for whoever made the footprint to make -- and I try to make my own footprints to ensure that they're correct, but I was pressed for time. A few days later the part was swapped, and the board running again. This wasn't a big deal, but it did cost a few days of waiting for parts to arrive.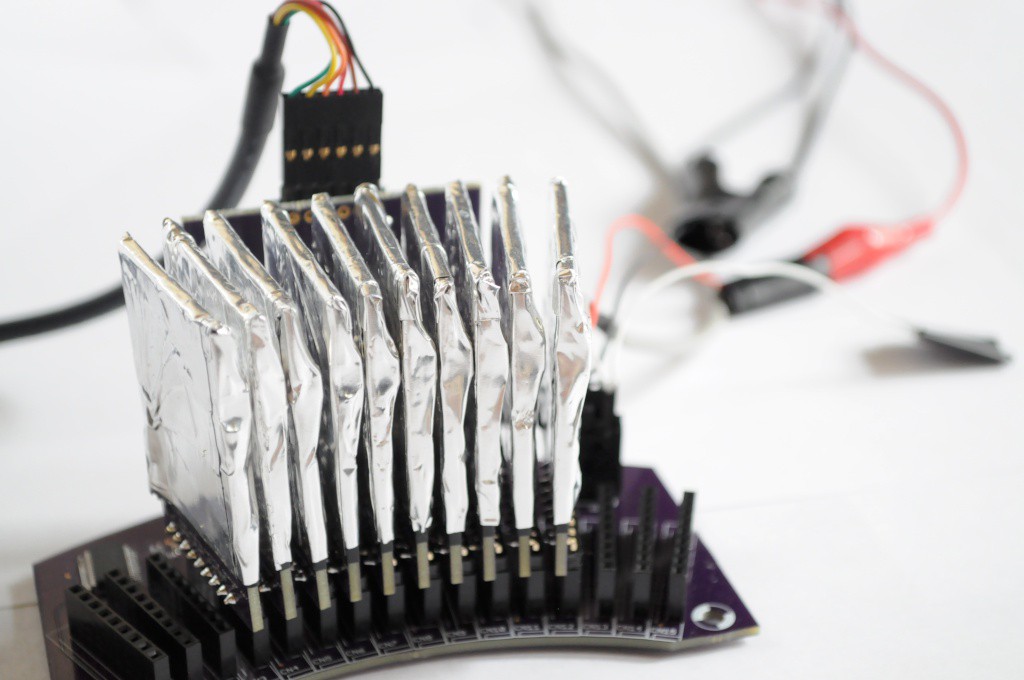 Bridging the 5V and 40V lines.
To make up the few days I lost waiting for parts to come in for the microcontroller board, I worked a little too quickly. The Imaging Array board has a polarized 4-pin power connector that connects to a power cable, and right now this cable is connected to two different supplies through alligator clips -- 5V for the analog bits on the detectors, and 40V for the photodiode bias. I usually place a little electrical tape over these alligator clips to prevent them from bridging, and while this tape was present, in my haste I didn't replace it, and kept on the older tape from a few days ago.
Unfortunately over about an hour of firmware debugging and detector testing the glue on the tape slowly let go and the tape on two alligator clips opened up, bridging the 5V and 40V lines. Nearly everything connected went up -- two detector modules, the freshly-soldered microcontroller board, and even the USB hub didn't enjoy 40V being placed through it. It's been years since I've blown anything up, and I blew up two things only a few days apart!
This was more expensive in time than anything else -- it takes about 2 hours to completely assemble and test a detector, and an hour for the microcontroller board. ("That's why I fuse everything!" -- my dad, an industrial engineer. Thanks dad -- I had planned on including a fuse on the power supply, but clearly I should have placed one on the imaging board itself!).
The laser cutter stopped working

Unfortunately our beautiful laser cutter at Xerocraft went through another tube a week ago, and at a very inconvenient time -- just as I was about to teach a laser cutter class. It'll likely be another week until a replacement is here, and I'm eagerly awaiting its arrival so that I can fabricate the mount that secures both the imaging array and Ba133 radioisotope source to the Z stage.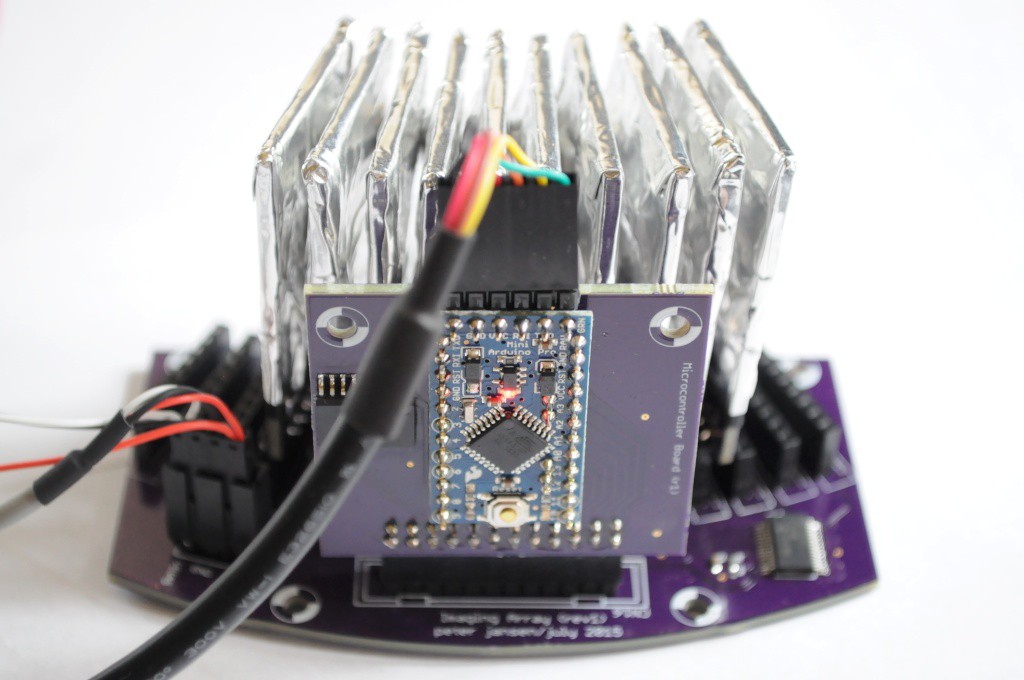 Assembling additional detectors
With only 6 detectors post explosions, and no laser cutter to build a mounting bracket, it was time to assemble more detectors. I have found that when hand assembling them, doing so in batches of 4 tends to maximize throughput -- it takes about 3 hours to go from 4 bare boards to pasted boards to populated boards to toaster-oven reflowed boards. After cooling down, it takes about another hour or so to wrap the boards in electrical tape, apply the aluminum shield tape, solder on the ground wires, and finally populate the 9-pin right angle connector on the bottom that allows each detector to plug into the imaging array.
With a total of 10 detectors currently populated, I snapped some pictures of the imaging array before capturing the first data. The picture above is one of my favorite from this project so far -- the crisp contrast of purples and whites/greys along with the coloured cables is really aesthetically pleasing.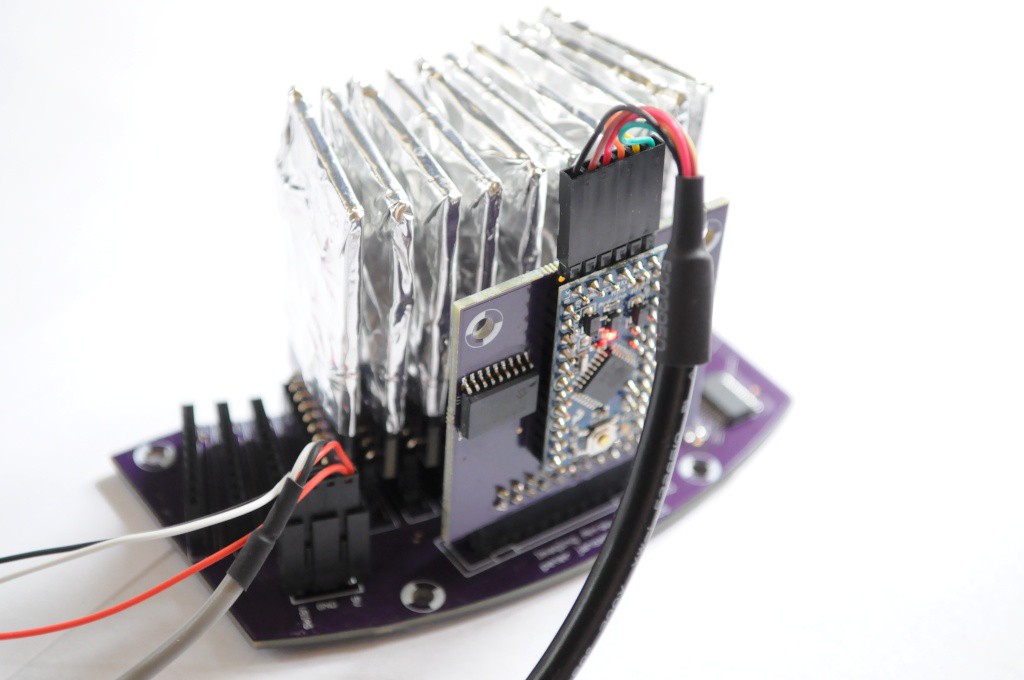 One of the most wild things to me is that this is a camera. Taking a step back, It's really incredible to think that high energy particles like x-rays and gamma rays just sail right through the aluminum tape to a highly charged detector that amplifies the signal of those single photons by about a million times so that they can be individually counted, and does this with an efficiency of about 1% for the Barium 133 radioisotope photons. Of course very similar modules have been inside CT scanners for about 30 years, and the ones in use today are incredible and far more sophisticated than this -- but it's still very exciting to me, and I'm not aware of anyone else having tried to develop their own highly-efficient imaging array for very low intensity sources, or such an inexpensive array for pedagogical purposes.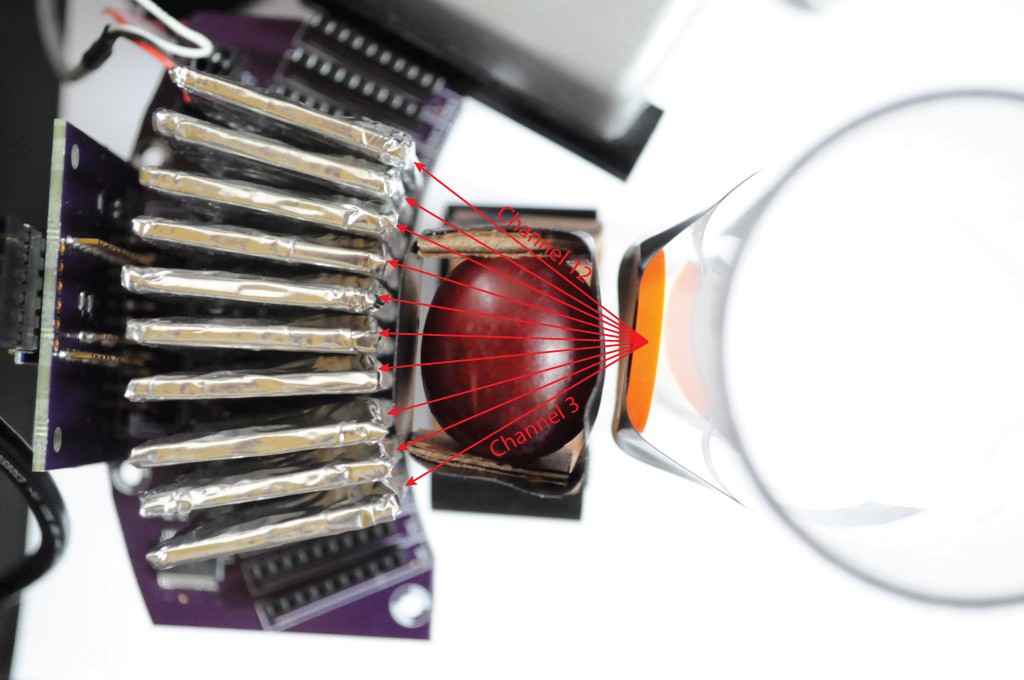 An Image of the Grape
I've been itching to collect real data off the array for a while, and with the laser cutter out of commission until the new tube arrives, actually mounting the array and source in the detector will have to wait for a week or two.
To get around this, I taped the Ba133 source to a plastic tube at the same height as the detectors, and taped a delicious grape in a mount between the source and imaging array. I chose the grape because it's mostly water, which is highly absorptive to high energy particles, and so it should provide a good amount of contrast.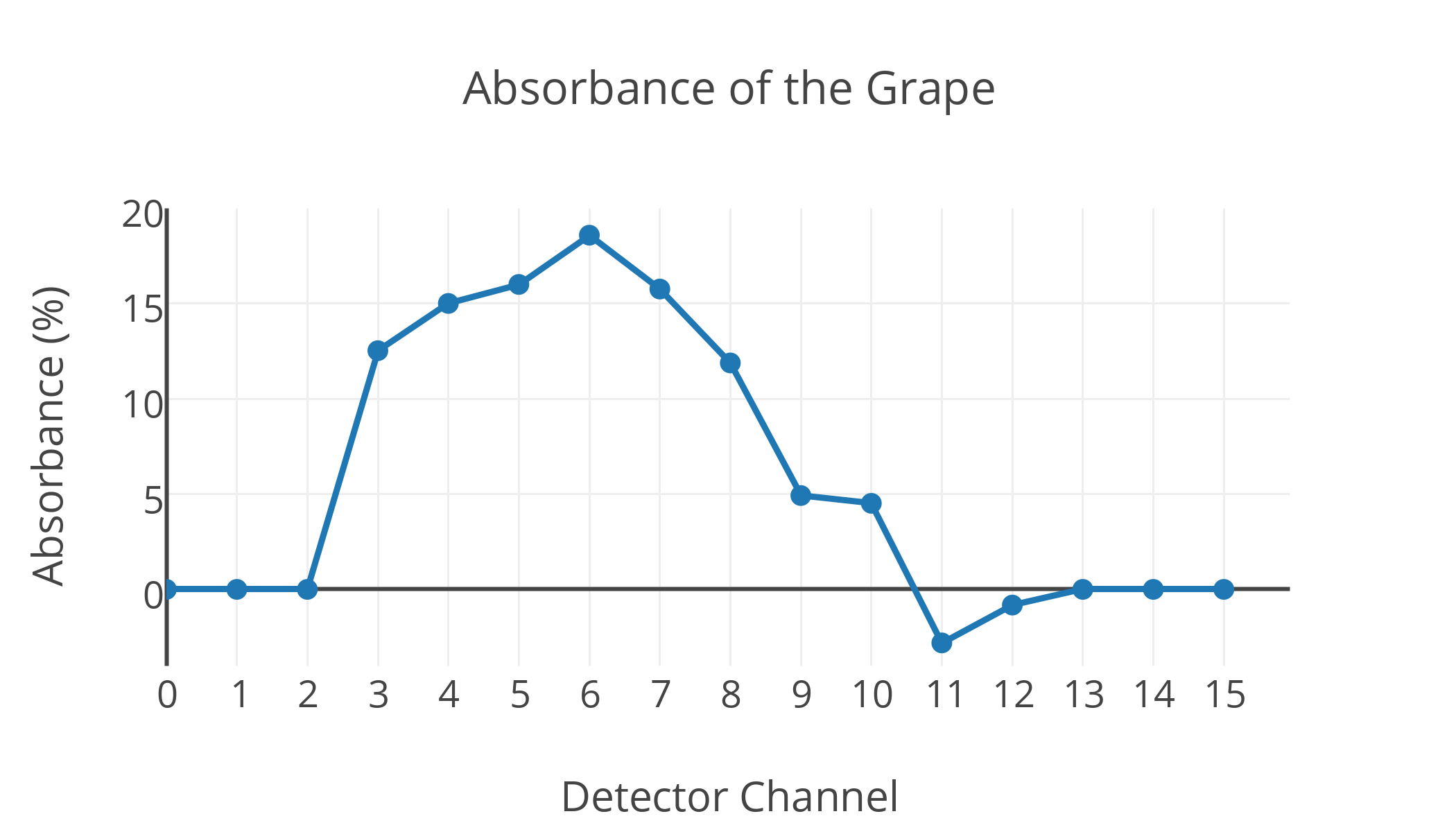 Above is a graph of the x-ray absorbance measured on each detector channel from the grape, with a sample time of a few minutes. The absorbance reflects the difference between sampling for a few minutes (without the grape) to get a baseline reading for each channel, and then sampling with the grape to measure the relative absorbance.
Lining up the absorbance values for each detector channel with the picture above, we can see there is clearly more absorbance on the channels that have to go through more grape. This peaks with nearly 20% absorbance at channel 6, which goes straight through the center of the grape, and is much smaller for channels 9-12, which just graze the edge and thus go through comparatively less grape. Here the variance is limited by the shot noise of the extremely low intensity radioisotope source, and decreases with increased integration time. This is why some channels with very low absorbance (like channel 11) can appear to have a negative absorbance relative to the baseline -- with this integration time there's likely to be a variance of about 4%, so an absorbance of -2% is well within the error.
Very exciting to see some first data -- with some luck I'll be able to populate the remaining detector channels shortly, mount the array to the tomographic platform, and begin to take some 2D images and tomographic slices in the next few weeks!
Thanks for reading!