A quick update today about power supplies. It's been an incredibly busy month in the lab, and I've had precious little time to work on OpenCT2 (and even less time to write a proper update).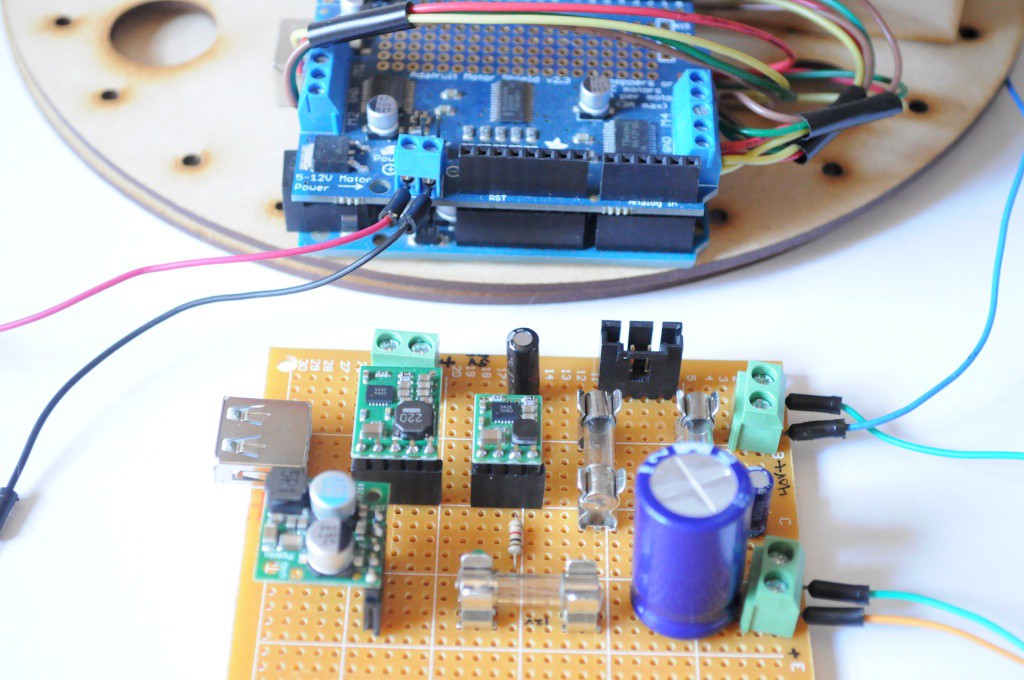 Essentially all of the critical pieces of the system have been designed, but right now the system takes up much of a bench when running -- the unit itself, plus several bench power supplies, a USB hub, a laptop, and a bunch of cabling. I'd like to get everything mounted into the unit, replacing (a) the bench supplies with an internal supply, and (b) the laptop with a Raspberry Pi mounted inside. This should make everything much more compact, self-contained, and allow me to easily do long calibration runs, and evaluate the system performance.
I've been focusing on prototyping the power supply, so that once I have a working design hammered out, I can send off a design to OSHPark and have a compact board that can be mounted inside the unit. The system requires four separate supplies, each with their own requirements:
Detector Analog Supply (5V): An ultra-low noise supply to power the detectors on the imaging array, and their extremely precise opamps that amplify the incredibly small current from individual x-ray photons to voltage signals detectable by a microcontroller. Right now I'm using a low-noise bench supply for this. The total draw for the entire array will be about 200ma.
Detector Photodiode Supply (40V): The reverse-bias voltage for the photodiodes on each detector in the imaging array. This also has to be ultra-low noise, and given it's very modest current requirements, I've been using a bank of 4 9V batteries to make sure it's a clean signal. Given the low draw the batteries seem to last quite a while, so I'm okay leaving this one battery powered for now, until an alternate supply can be found.
Stepper Motor Supply (5V): This powers the steppers for the linear (Z) and rotational (R) axes. The draw is well under an amp, but it generates an extremely large amount of noise. I'm keeping the steppers turned off during measurements, to reduce the noise.
Raspberry Pi USB Supply (5V):

The power supply for the Raspberry Pi, plus the USB devices connected to it (which includes a WiFi dongle, the Arduino Due, and the Arduino Pro Mini). The draw should be limited to 2A, but this line will likely have a lot of high frequency noise on it.
Because one of my main goals for this project is ease of repeatability -- that is, I'd like others to be able to build it without having to source difficult-to-find components or build difficult to assemble boards -- I'm hoping to find pre-made power modules that I can just plug in to an easy-to-solder through-hole board. I'm okay at many aspects of design, but low-noise supplies are one area that I'm not terribly experienced with, so this would help save me a good deal of effort, too.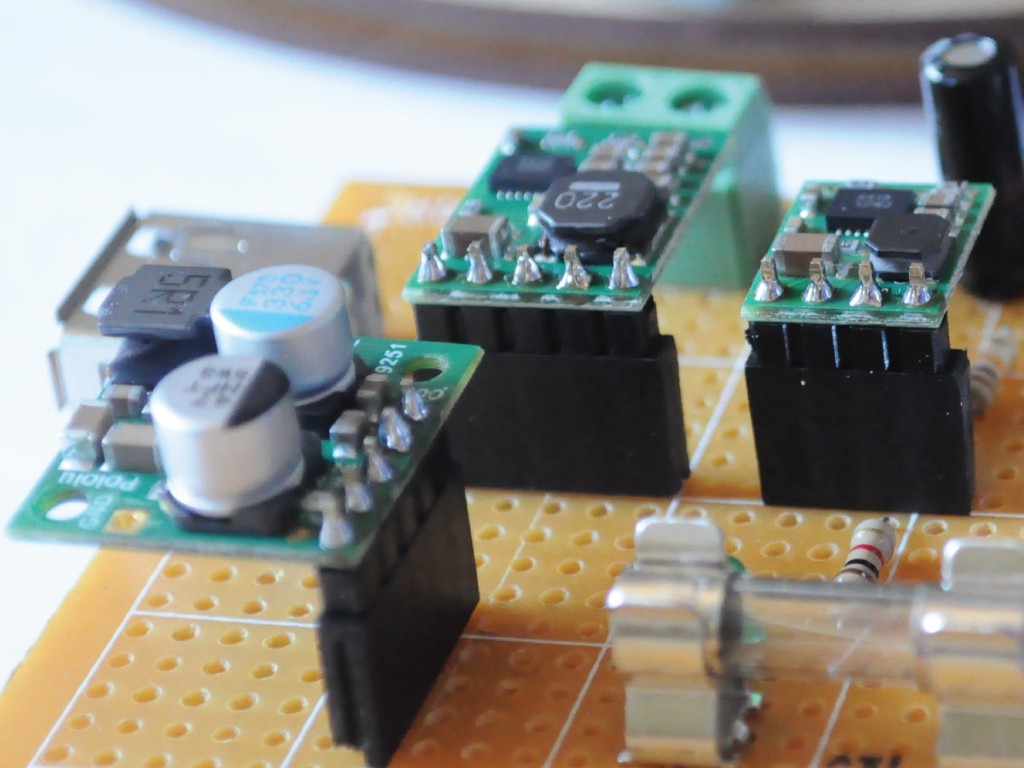 Having never sourced ultra-low noise supplies before, it's incredibly challenging to find economical pre-made modules. Pragmatically, it's also not entirely clear how ultra-low noise the detector supply has to be. In light of this, I decided to try three 5V modules from Pololu, a 2.5A for the Raspberry Pi, a 1A for the motor supply, and a 500ma for the detectors (pictured above). They're all switching supplies, so they will have plenty of ripple to them at the best of times, but I thought I'd give it a try.
It turns out the supplies are incredibly noisy, at least from the perspective of high-energy particle detectors with ultra-low noise requirements, and the detectors register thousands of false-positive counts per second with this supply. Even for the beautifully designed Radiation Watch Type 5 detector that I used in the original OpenCT, I had the most success with powering the detector from an isolated battery -- but I'm hoping that I can avoid that, given that the acquisition times are long, and the draw of an entire imaging array would make battery power impractical.
I then swapped out the switching regular for the detectors with a regular 7805 linear regulator. For all the bad press these get these days about efficiency, and the difficulty with dissipating heat over time, this $0.50 part outputs a relatively clean voltage, and successfully powers the detectors well.
I'd like to not have to relax my "easy-to-source" criterion, but I have found some supplies claiming to be ultra-low noise on eBay (here), based on the TI TPS7A4700. Unfortunately they're coming from the other side of the world, so it'll be a few weeks until I get to test them out. Still, with the results from this quick test, I'll likely end up putting together a design that uses a linear regular for the detector supply -- the supply that is most sensitive to noise -- and use the switching regulator modules for the higher-current and less noise-sensitive motor and raspberry pi supplies.
In other news, I had the chance to do another design revision for the shielded radioisotope source holder, and mount it to the carriage. It works great, and putting the source in or taking it out to store takes only a few seconds.
Thanks for reading!