I finally removed the red LED of the camera module. Scalpel is your friend! And gone the red halo is.
But I did not get more details of the night sky, only very bright stars leave a trail :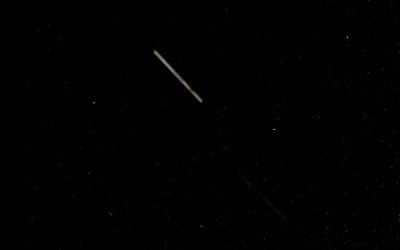 But I figured out that the RaspiSill program, even with the auto exposure option night (-ex night) takes picture with a maximum shutter speed of about 0.8 second and 400 iso (800 is the maximum).
RaspiStill could be configured manually to take up to 6 seconds exposition at 800 iso. That give nice results yet with a single picture, and could be even better with the stacking.
I asked on raspberry pi forum if the automatic gain control could push the settings up to 6 seconds. According 6by9 (thank you very much !) there is some things to try with the RaspiStill code. Lets try to learn how to compile the code first.