Hello there!
I bring to you some great news, I finished my ATS(Automatic transfer switch) last night! Well the 3rd prototype anyway haha.
So, I shall share some photos for you :) ... and maybe a video.
This is the actual switch unit.
The right contactor (top right) is for mains.
The left one is for generator.
(The bottom 2 are the 12v relays)
How the relay and contactors are wired:
LIVE - RELAY SWITCH - CONTACTOR IN
NEUTRAL - CONTACTOR IN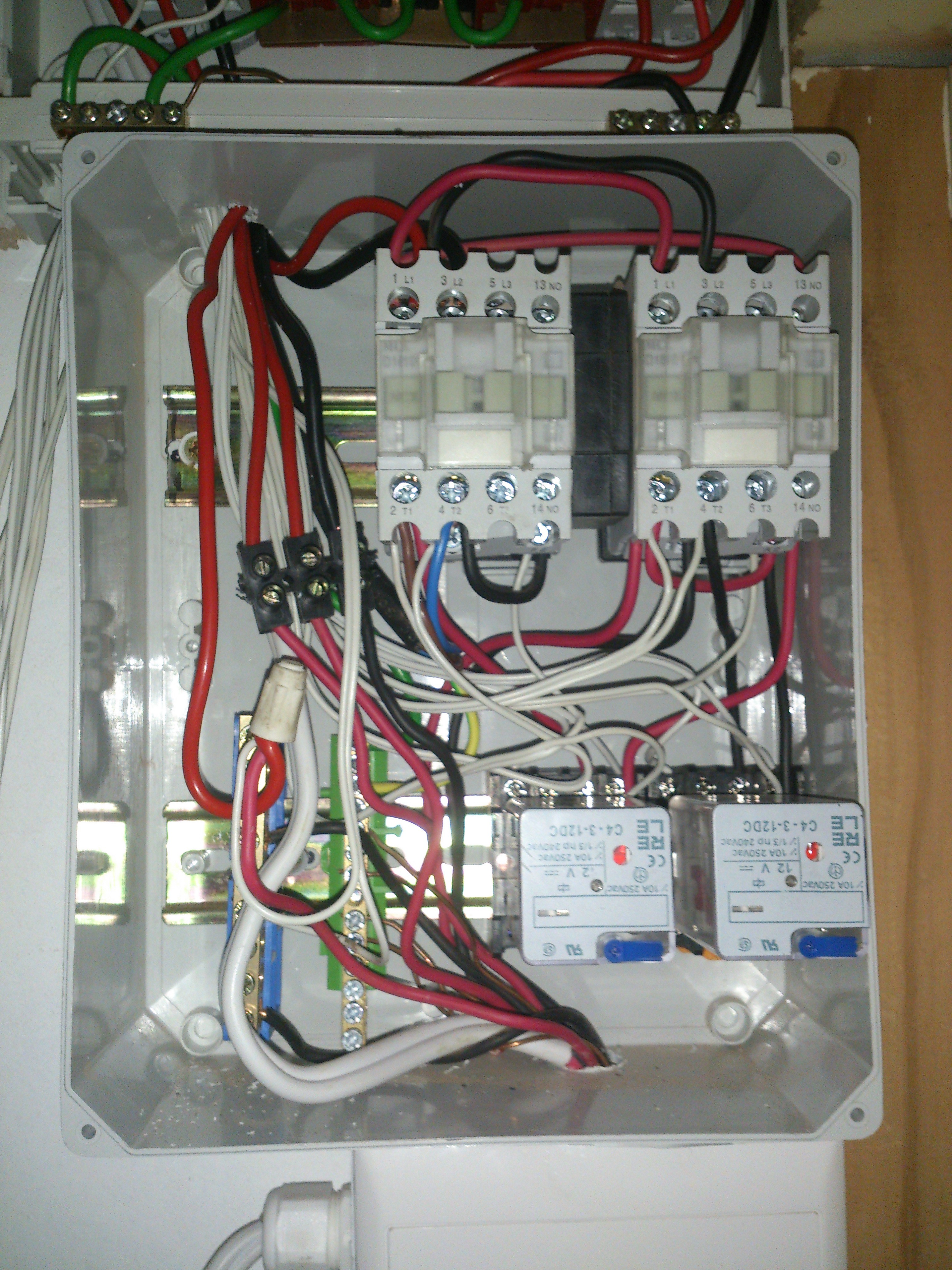 The DB board above the box:
Power from contactors go into the left isolator.
Next to it are 2 surge protectors (L+N)
In the middle (the black thing) is a wire polarity checker, if both lights aren't on, there is an issue with the power coming into the UPS.
Next is another set of surge protectors and the 2 output trip switches.
Left one for the servers and the right for the blue plugs in the house.
So Purdy <3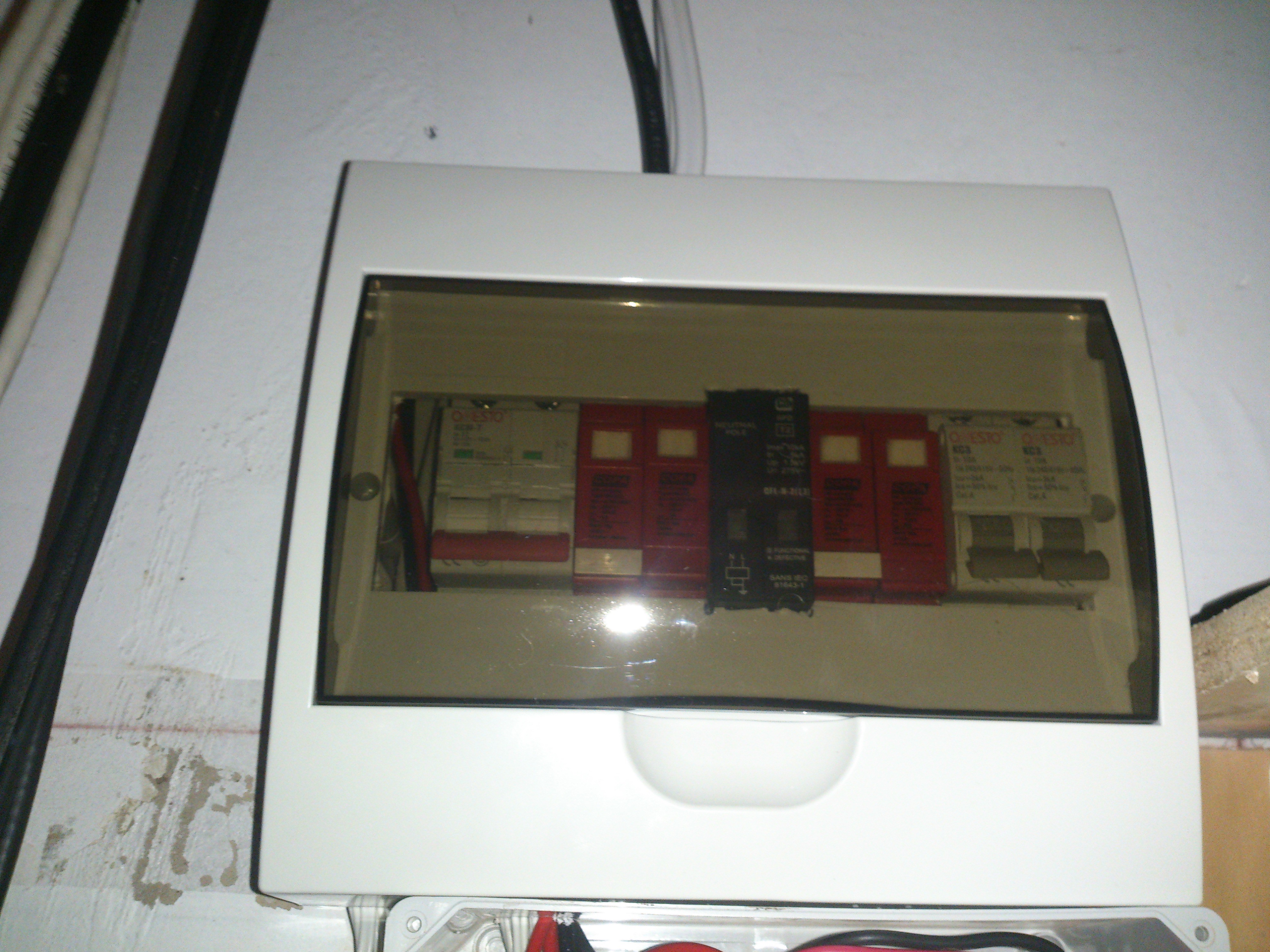 Here is my Arduino (breadboard for now) controlling the system:
The wires in the front with the blue connectors are outputs for the 2x (12v) relays you saw above.
The wires in the back with the green connectors (not the USB cable) are opto-isolated inputs from the power inputs.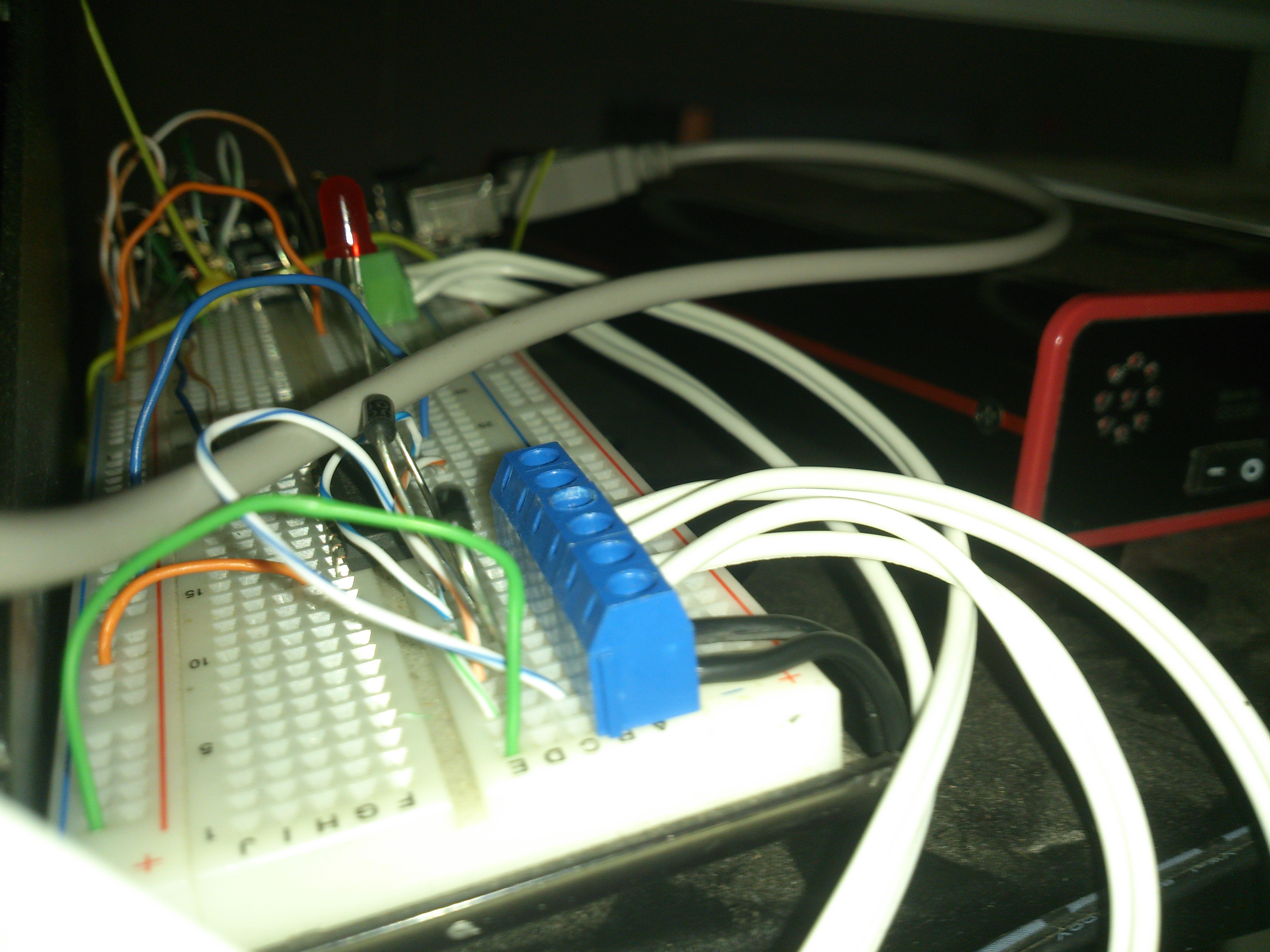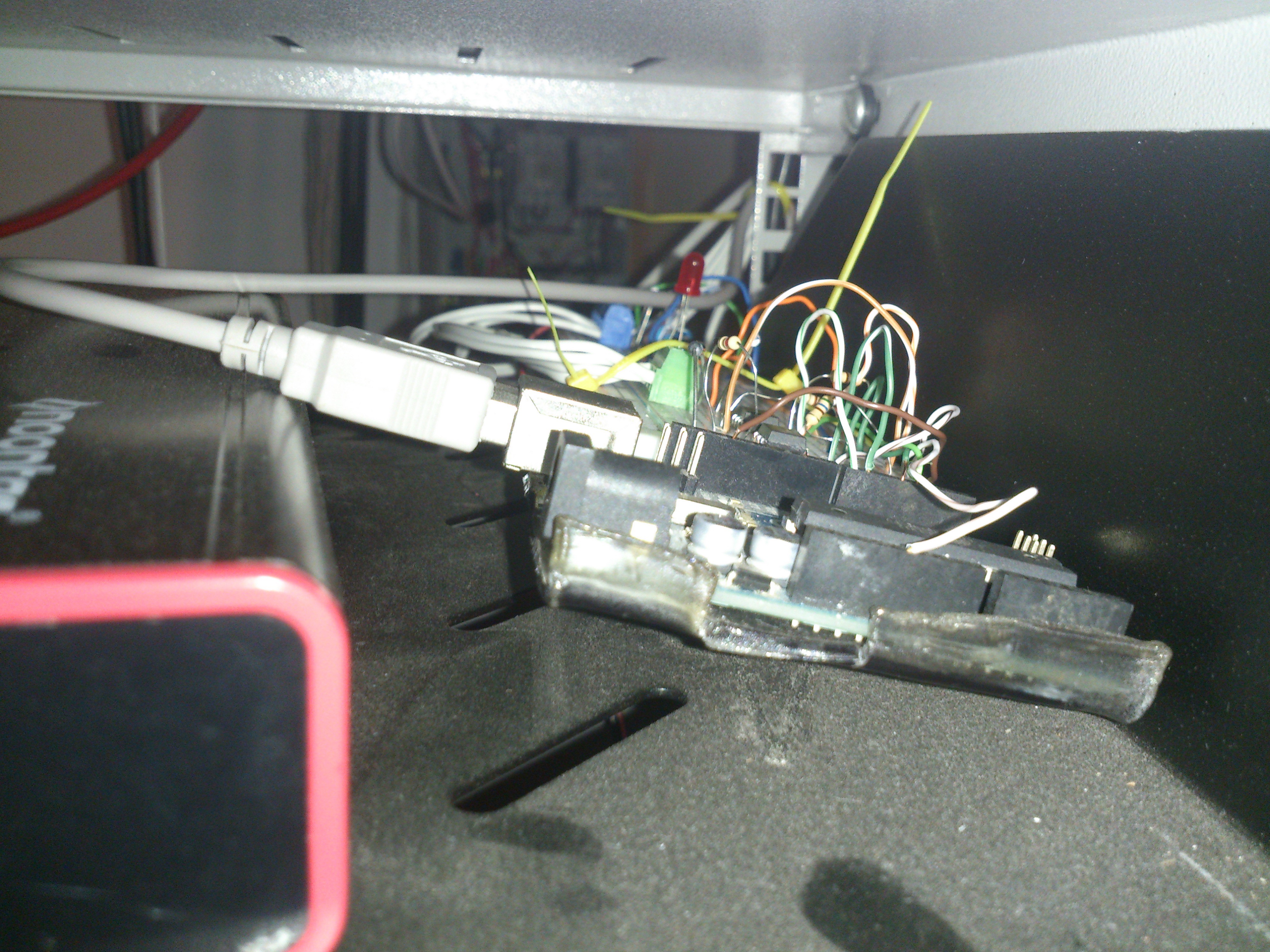 Here are 2x 240v relays that get powered by eksom (mains) or generator and are connected to the Arduino.
(This is how I can tell if there is power coming into the contactors)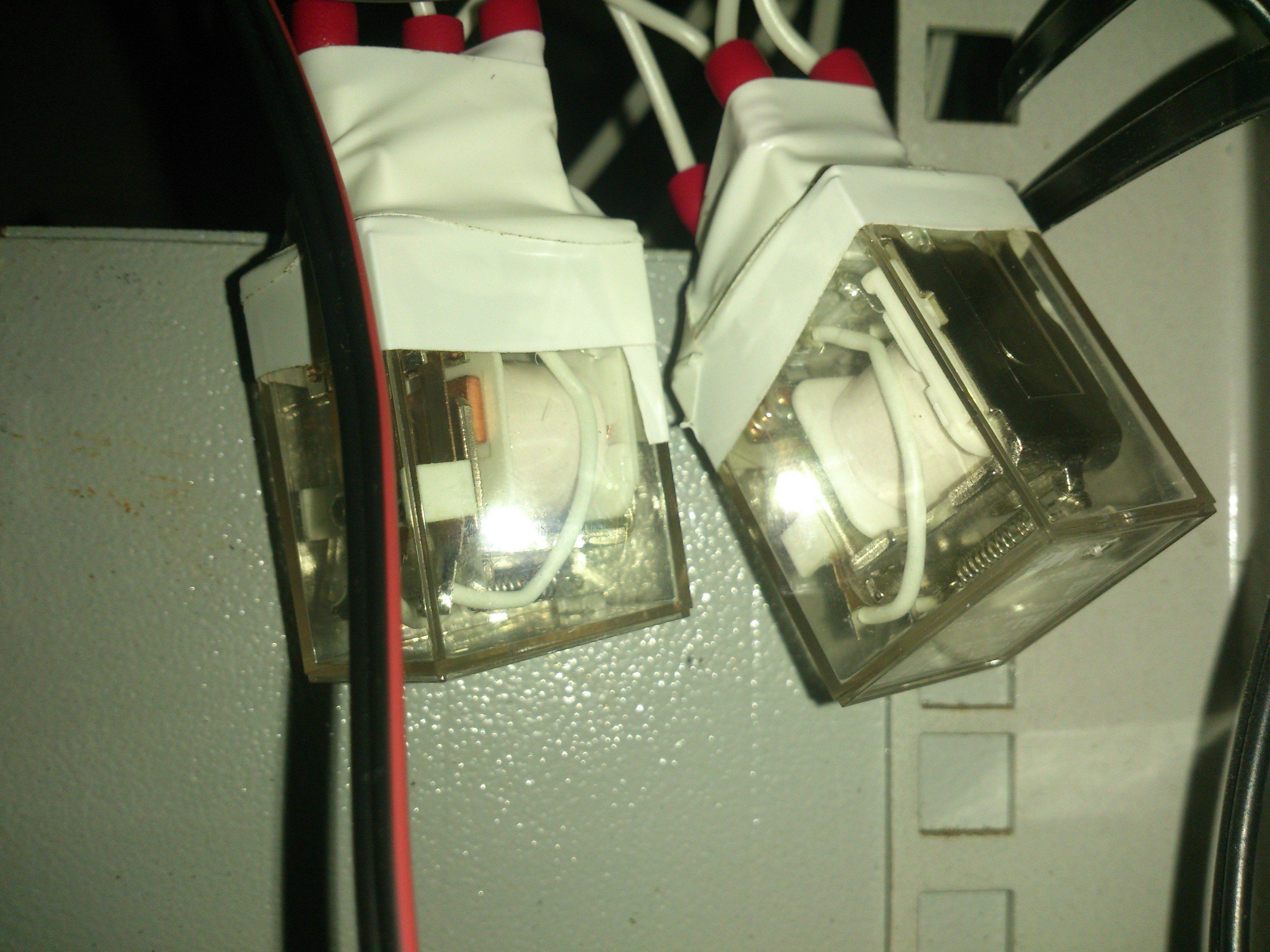 :) So that's about it for the hardware side.
I do intend to commit all the code to GitHub but for now, a quick snippet of this code: (Please excuse the lack of comments. It was a quickie)
//Filename: mrHAC-CustomGeneratorController.ino
// This work is licensed under the Creative Commons Attribution-NonCommercial-ShareAlike 

4.0

 International License. To view a copy of this license, visit http://creativecommons.org/licenses/by-nc-sa/

4.0

/ or send a letter to Creative Commons, PO Box 

1866

, Mountain View, CA 

94042

, USA.
// Copyright Mitchell Robert (M.R. Inc) 

2005

 - 

2015

. All Rights Reserved.
// Author: Mitchell Robert (M.R. Inc)
// Date: 

27

/

09

/

2015





#include "mrHAC-CustomGeneratorControllerPowerState.h";



bool EskomPower = 

false

;
bool GeneratorPower = 

false

;
CURRENTSWITCHSTATE CurrentSwitch = NONE;
char* GeneratorKey = "

$MYGENERATOR

=";
int EskomRelayP

in

 = 

3

;
int GeneratorRelayP

in

 = 

4

;
int EskomPowerP

in

 = 

6

;
int GeneratorPowerP

in

 = 

7

;

/*
 * WHEN THE INPUT IS OPEN, READ=HIGH
 *                 CLOSED, READ=LOW
 */

void 

setup

() {  
  pinMode (EskomRelayP

in

, OUTPUT);
  pinMode (GeneratorRelayP

in

, OUTPUT);
  pinMode (EskomPowerP

in

, INPUT);
  pinMode (GeneratorPowerP

in

, INPUT);
  
  Serial.begin(

9600

);
  
  // Force the system to recheck in case the power is currently off.
  EskomPower = !digitalRead(EskomPowerP

in

);
}

void 

loop

() {
  

if

 (digitalRead(EskomPowerP

in

) != (EskomPower)) {
    Serial.print("

$UNKNOWN

+MSG=ESKOM CHANGE TO: ");
    Serial.print(!EskomPower);
    Serial.println(

"$"

);
    delay(

3000

);    
    

if

 (digitalRead(EskomPowerP

in

) != (EskomPower)) {
      EskomPower = digitalRead(EskomPowerP

in

);
      Serial.print("

$UNKNOWN

+MSG=ESKOM CHANGED TO: ");
      Serial.print(EskomPower);
      Serial.println(

"$"

);
    }
    

else


      Serial.println("

$UNKNOWN

+MSG=SURGE$");
  }

  

if

 (digitalRead(GeneratorPowerP

in

) != (GeneratorPower)) {
    Serial.print("

$UNKNOWN

+MSG=GENERATOR CHANGE TO: ");
    Serial.print(!GeneratorPower);
    Serial.println(

"$"

);
    delay(

3000

);    
    

if

 (digitalRead(GeneratorPowerP

in

) != (GeneratorPower)) {
      GeneratorPower = digitalRead(GeneratorPowerP

in

);
      Serial.print("

$UNKNOWN

+MSG=GENERATOR CHANGED TO: ");
      Serial.print(GeneratorPower);
      Serial.println(

"$"

);
    }
    

else


      Serial.println("

$UNKNOWN

+MSG=SURGE$");
  }

  

if

 (!EskomPower && CurrentSwitch == ESKOM) {
    SwitchStateTo(GENERATOR);
  }
  

else

 

if

 (EskomPower && CurrentSwitch == GENERATOR) {
    SwitchStateTo(ESKOM);
  }
  
  

else

 

if

 (!EskomPower && CurrentSwitch == NONE) {
    SerialPrintData(

"0"

);
    delay(

10000

);
    SwitchStateTo(GENERATOR);
  }
  

else

 

if

 (EskomPower && CurrentSwitch == NONE) {
    delay(

10000

);
    SwitchStateTo(ESKOM);
  }
}

void SwitchStateTo(CURRENTSWITCHSTATE state) {
  Serial.print("

$UNKNOWN

+MSG=SWITCHING TO ");
  Serial.print(CURRENTSWITCHSTATE_STRING[state]);
  Serial.println(

"$"

);
  

if

 (state == GENERATOR) {
    digitalWrite(EskomRelayP

in

, LOW);
    digitalWrite(GeneratorRelayP

in

, LOW);
    CurrentSwitch = NONE;
    
    SerialPrintData(

"1"

);
    delay(

5000

);

    

if

 (digitalRead(GeneratorPowerP

in

) == HIGH) {
      Serial.println("

$UNKNOWN

+MSG=SUCCESS$");
      delay(

5000

);
      Serial.println("

$UNKNOWN

+MSG=SWITCHED");
      digitalWrite(GeneratorRelayP

in

, HIGH);
      CurrentSwitch = GENERATOR;
    }
    

else

 { 
      Serial.println("

$UNKNOWN

+MSG=FAIL-NO POWER - DELAYING for 5s$");
      delay(

5000

);
        
      

if

 (digitalRead(GeneratorPowerP

in

) == HIGH) {
        Serial.println("

$UNKNOWN

+MSG=SUCCESS$");
        delay(

5000

);
        Serial.println("

$UNKNOWN

+MSG=SWITCHED");
        digitalWrite(GeneratorRelayP

in

, HIGH);
        CurrentSwitch = GENERATOR;
      }
      

else

 
        Serial.println("

$UNKNOWN

+MSG=FAIL-NO POWER$");
    }
  }
  

else

 

if

 (state == ESKOM) {
    digitalWrite(EskomRelayP

in

, LOW);
    digitalWrite(GeneratorRelayP

in

, LOW);
    CurrentSwitch = NONE;
    
    SerialPrintData(

"0"

);
    delay(

1000

);

    

if

 (digitalRead(EskomPowerP

in

) == HIGH) {
      Serial.println("

$UNKNOWN

+MSG=SUCCESS$");
      digitalWrite(EskomRelayP

in

, HIGH);
      CurrentSwitch = ESKOM;
    }
    

else

 
      Serial.println("

$UNKNOWN

+MSG=FAIL-NO POWER$");
  }
}

void SerialPrintData(char* val) {
  Serial.print(GeneratorKey);
  Serial.print(val);
  Serial.println(

"$"

);
}
//Filename: mrHAC-CustomGeneratorControllerPowerState.h
// This work is licensed under the Creative Commons Attribution-NonCommercial-ShareAlike 4.0 International License. To view a copy of this license, visit http://creativecommons.org/licenses/by-nc-sa/4.0/ or send a letter to Creative Commons, PO Box 1866, Mountain View, CA 94042, USA.
// Copyright Mitchell Robert (M.R. Inc) 2005 - 2015. All Rights Reserved.
// Author: Mitchell Robert (M.R. Inc)
// Date: 27/09/2015

enum CURRENTSWITCHSTATE {
  GENERATOR,
  ESKOM,
  NONE
};
static const char *CURRENTSWITCHSTATE_STRING[] = {
    "GENERATOR", "ESKOM", "NONE"
};
[Video to be attached here.]