I recieved my first DSP Mixer board today from www.pcbway.com/b
its my first 4 layer board so I was a bit nervous I had done the layers properly. when I held it up to the light I could only see 2 trace layers so thought uh oh !!! but got the continuity tester onto it and all is fine so far :)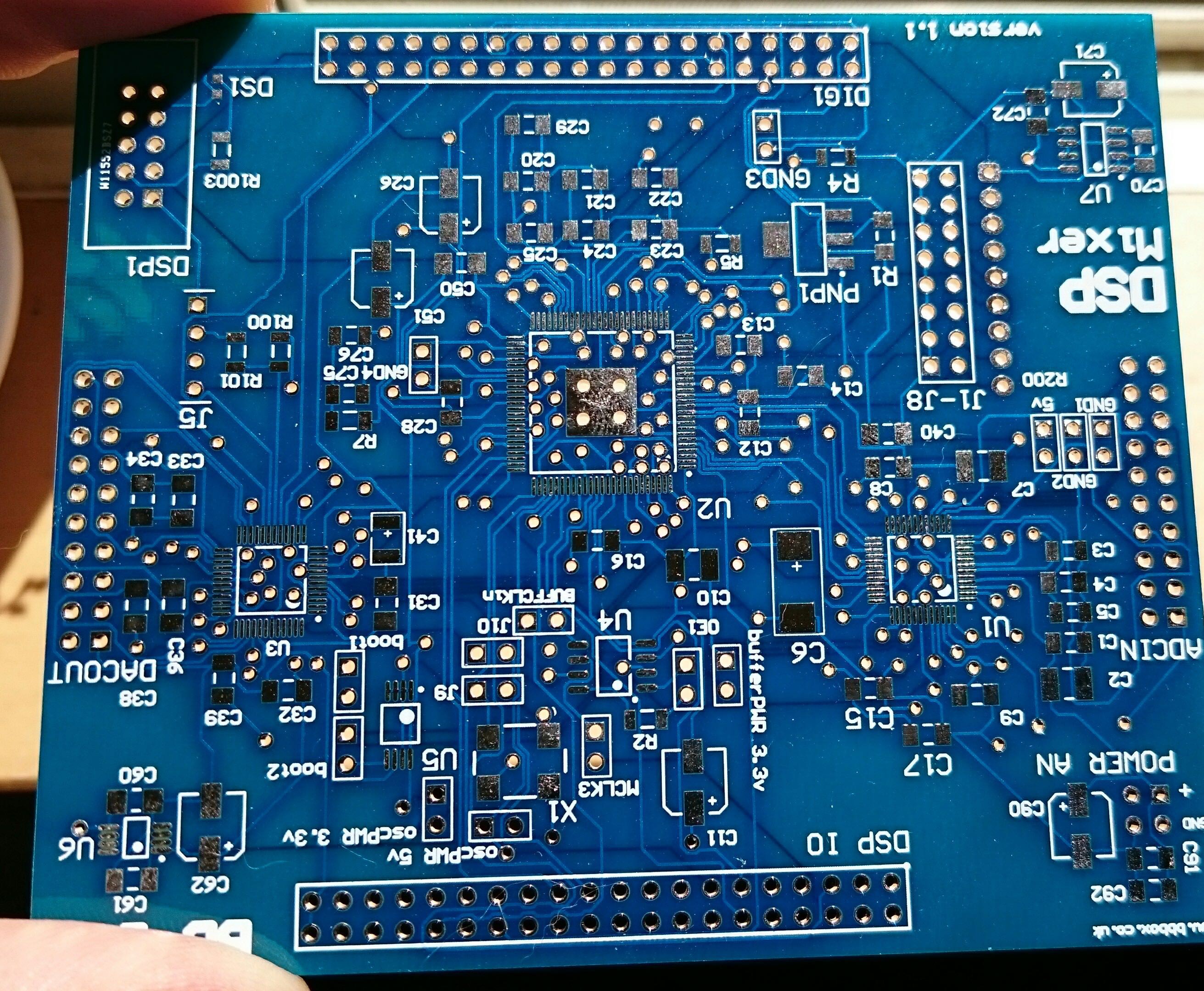 I can't say I spent too much time making the perfect routes on this board. I tried to keep the analuge stuff away from the Digital traces as much as possible. its more of a proof of concept board tham a finished design.
PCBWAY where the cheapest place I could find for a 4 layer board of this size. I had a ton of vias and pads and there was no penalty for it. next revision of this board i will use smaller vias as advised by people in the comments below :) I'll also try to use a power plane and ground plane of 3.3v.
However I think I will need to go up to 6 layers of I want to keep the boards 10x10 size. This seams to be PCBWAY's cheap prototype size.
if the 24.576 master clock with fan out buffer works fine between all the ADC DSP and DAC then and it works , then I will re-design the layout better.
I have a lot of vias very close together , and some things are down to 6mil ! Also I found in circuit maker I had to disable loop checking ( via's were randomly dissapearing from the design ! )
Anyway, the board looks for the price a decent quality. I find that if you keep a 4 layer board with 10cm x 10cm the price is ok.
I was going to go for a full mixer board with analouge and DSP mixer in one but decided to keep things sepperate for now and do more testing. mainly with RC filtering between the analouge driver between ADC and DAC. so there in no filtering with analouge IO on this board. Just naked IO pins from ADC and DAC !! living dangerously :)
I'll post some more pics here when I solder up the board and make a video of the thig working, if it ever does :) I did test a IDT fanout buffer before on vero board so hopefuly my traces are equall enough distances and not too far appart to not have problems with clock skew etc..