At this point, I had recovered, or rebuilt most of what was lost in February. Feeling (somewhat) better, I set out to design a low cost x-ray sensor to accompany the x-ray source. Film after all, is expensive, messy, and, very logistically troublesome for medical practices in places that have less infrastructure than the USA.
-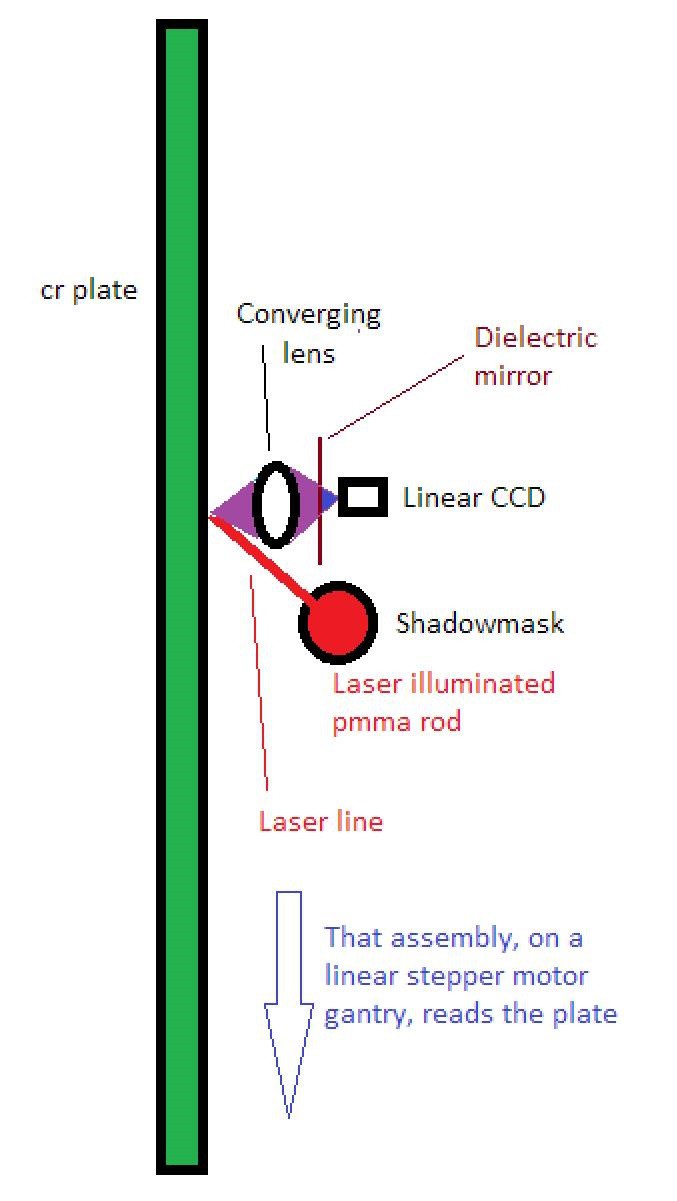 -
Silicon wafers are expensive, let's use less of them!
By using a photostimulable phosphor plate, (ie, a phosphor whose previously stored energy may be released by a low-energy photon), we
could in theory, capture a low-dose transmission x-ray, and there-after read it out using an array of 650nm laser diodes linearly focused onto the plate with a cylindrical lens, and a 1D array of CMOS photodiodes which sense the stimulated emission (blue light) via a1D-array of rod lenses and a dielectric, high-pass mirror.
The gantry containing these optics could be placed behind the plate and moved with a stepper motor much like a flatbed scanner, which would allow us to produce self-contained digital x-ray sensors of any size, at a fraction of the cost of using a 2D array of CMOS photodiodes as is done currently.
To build this, I used;
10 Laser Diodes
Europium-doped barium fluorobromide phosphor
A floppy disk drive
A logitech webcam
Plastic rods and optical cement
An MSP430 and stepper motor drivers
Dielectric mirrors from a projector
Solder
A cardboard box
An image intensifier (since the webcam is crappy)
And, built this assembly below:
-
-
Before an x-ray exposure, the laser diodes (on the board with the blue potentiometer) would illuminate and cast a line on the phosphor plate, which scans back and forth a few times to clear any cosmic ray noise that could have been there.
After an x-ray exposure, the laser diodes pulse briefly, and the phosphor emits a blue light that is reflected off a mirror, focused through two dielectric filters onto the image intensifier, and then finally digitized by the camera. This process repeats 130 times, and a collection of 1D images are recorded in a computer by a python script for later stitching.
-
For testing purposes, I built a small copper grille to take an image of.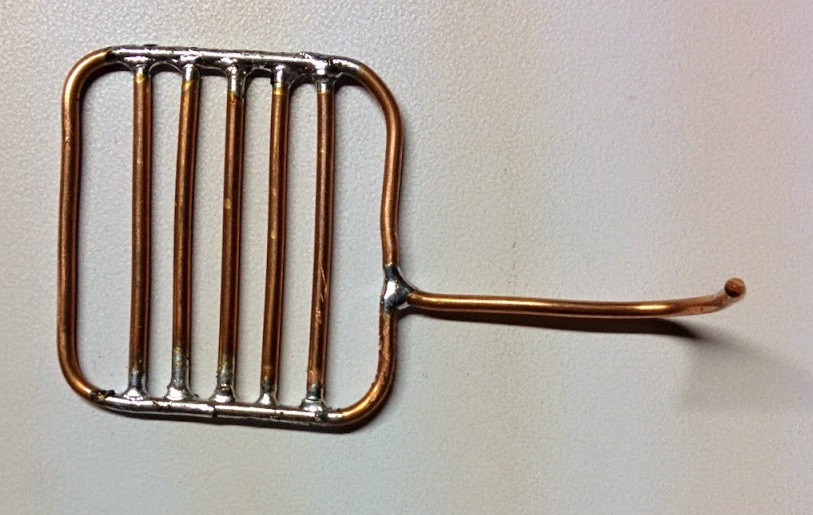 -
And, this was the result.
-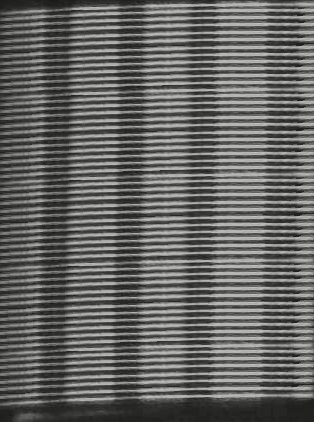 -
I wasn't too impressed. Never mind the limited lines / mm. That could be fixed.
What was unsettling, was the terrible dynamic range. Despite the two filters, ted light overpowered blue, To fix this, I would need very expensive, tuned laser diodes and a very narrow band filter to record *only* blue light. This would make the cost of a real sensor prohibitively high.