Finally, a kit is available for online purchase. Actually 2 kits. One is fully built and tested, like the ones we had at the SuperCon workshop. The other is just the special parts not sold separately by PJRC, so you won't have to make lots of separate orders to different sites (all with shipping costs) if you already have some of the parts and wish get the rest to build you own kit.
The fully built kit:

http://www.pjrc.com/store/audio_tutorial_kit.html
The extra parts, to build your own:

http://www.pjrc.com/store/audio_tutorial_diy_parts.html
Of course, you need to download the 31-page PDF for the workshop manual (now with this fancy preview image). Best to print on a color printer. Low-tech paper doesn't consume valuable screen real estate while running Arduino and a browser to draw the audio designs.
https://github.com/PaulStoffregen/AudioWorkshop2015/raw/master/workshop.pdf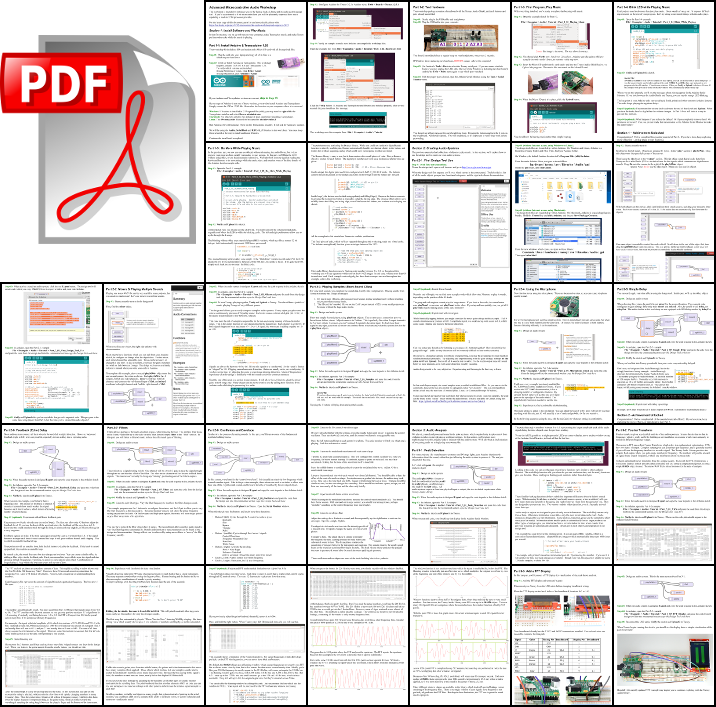 Alex Glow recently did the entire workshop in 4 virtual workshop videos. Unlike the scripted, rehearsed and edited video Alysia and I made, Alex's videos show what the workshop is really like when experienced for the first time.