If you are not familiar with the neon bulbs(Ne-2) here is a picture of one close up:
Note the long skinny package and leads exiting the base of the bulb.
It is important to note the dimensions of the bulb may vary a bit as to both length and girth The diameter is about 5.5 to 6mm.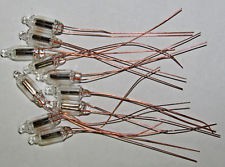 I made sure to account for this variance in the shell holder designs for the printing.
These lamps(or bulbs) are widely available on Ebay and other sources for about 10 cents each to, well, the skies the limit for some vendors. It is important to shop carefully.
The lamps require about 90-100 volts(AC or DC) to fire, but best brightness is at a higher voltage ranging from 125 volts to 175. A dropping resistor is needed to limit the current in these lamps or they will self destruct quickly.. I use them in my projects at 160 volts or so and use a 47kohm resistor.
There are several color that these bulbs can be obtained, the glass shells are coated to produce a variety of colors. I prefer the orange glow myself, but you can select any color you please.
A great feature of this display system is that if a bulb burns out you can replace it instead of scrapping the whole display. These bulbs have a very long life but if one should fail you can simply replace it and the display is as good as new.