For this year's Hackaday Prize I wanted to try something that has been little researched by the open source robotics community and, at the same time, that is related to my favorite field of robotics, wearable robotics, and has to do with what I think is one of the most amazing part of our body: the hand.
There are plenty of open source robotic hands and hand prostheses out there (heck, even I designed my own :D) and some of them are truly outstanding. But, what about open source exoskeletons? To this day, exoskeletons are still mostly confined to research laboratories and some cutting-edge companies, but there are not so many examples of open source exoskeletons. Perhaps it is because these are complex devices that must be carefully designed from a mechanical and control point of view in order not to damage the user. Maybe it is because they are devices that have to be able to withstand high loads and exert great forces, especially in the case of arm and leg exoskeletons, so 3D printing is out of the question and other more expensive or not so easily available manufacturing methods have to be used.

I think that these limitations apply to the devices that come to mind when we come across the word exoskeleton: those bulky and heavy power suits, built as chains of rigid links with powerful actuators that augment the force of their users. But there is a relatively new concept in robotics that, applied to the design of wearable robots, I believe has a huge potential for the emergence of a multitude of DIY exoskeleton projects: soft robotics.
Essentially, soft robotics is based on the use of flexible, soft and compliant materials that replace the traditionally rigid bodies and actuators of robots, usually following a bio-inspired approach. This, when applied to the design of an exoskeleton, means that the complex and heavy rigid structure is no longer necessary, and materials such as textiles, polymers or other synthetic elements are used as the interface that transmits the motion of the actuators to those limbs that are mobilized by the device.
Bio-inspired design also applies to the actuation system of a soft exoskeleton. If DC motors are used, these are not longer placed directly over the joints of the user's body. Instead, they are placed away from them, for example inside a backpack, and their motion is transmitted by a cables, mimicking the way muscles and tendons work. In addition, there are new actuators designed following the soft robotics approach: pneumatic artificial muscles, soft pressurizable elastomeric actuators, granular jamming actuators...
All in all, I think soft exoskeletons are easier to design, as they don't involve complex mechanisms and a lot less moving parts are needed. Basically, you just need some kind of interface to transmit the motion of the actuators to the part of the body you want to mobilize. There is no need for a mechanical structure made of links and joints; the mechanical structure is your own skeleton. This, of course, is a drawback if you want to design a force augmentation device, but in the case of assistive or rehabilitation (and maybe also haptic) devices, I think this is a path worth exploring.
That's why I've embarked on designing a soft hand exoskeleton. I chose the hand because, as I said, hands are amazing tools, and also because the requirements for moving the fingers and generating a grasping force similar to the natural one are easier to meet than in the case of the arms or legs. In addition, the required parts are smaller, making them easier to print. So I got down to business and started designing the pieces of the exoskeleton structure, testing with flexible materials for 3D printing. Below, you can see one of the first parts, an interface to connect the output of the motors with the palm of the hand: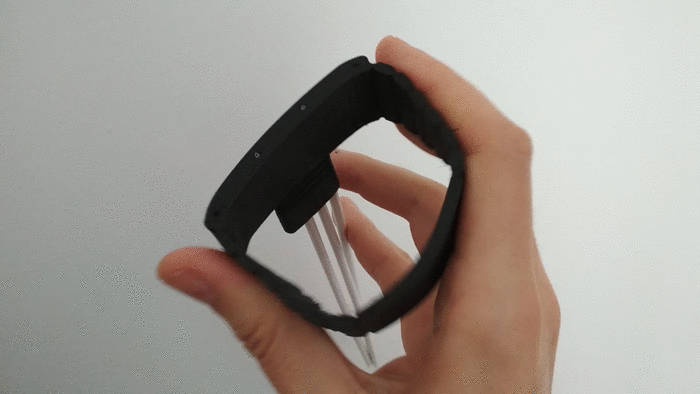 I think this will be a really challenging project, as it involves not only the design of the soft hand exoskeleton itself, but also the actuation system (for which I already have some ideas) and most importantly, the control, which I think will be the hardest bone to crack.
Let's do this!