irstly you need to catch up by reading these papers. This is in theory the most energy dense storage device. All it is, a conventional electrolytic capacitor using a super dielectric. I have had major issues getting the layers thin enough and will probably need to airbrush them and use copper flake as the current collectors.
Generation Zero Al2O3 Boric Acid
http://arxiv.org/ftp/arxiv/papers/1403/1403.6862.pdf

Generation One Al2O3 NaCl
http://arxiv.org/ftp/arxiv/papers/1404/1404.7537.pdf

Future supercapacitor plants would actually grow specific diatoms to make higher capacity devices and at the same time release oxygen into the atmosphere, they will essentially have a negative carbon footprint.

Voltage should be around 1.8 with over 2000 amp hours per gram and an energy density of at least 2,500 Wh/liter.
I am not sure if graphene will help, it should on the anode providing a higher surface area to store electrons, however it remains to be tested and seen.
Early results show small charge storage on par with the gen 0 and gen 1 tests in the papers above. Massive potential is below .3v, however, making this dubious at best. Using an electrolyte with a much higher breakdown voltage than water should help alleviate the low voltage problems. However all attempts up to this point have been met with failure so a series configuration will be attempted next.
The next build will look like this with each layer sprayed as thin as possible, if this is a legitimate super-dielectric then each layer of graphene oxide should add .3 volts of capacity when constructed in series as such.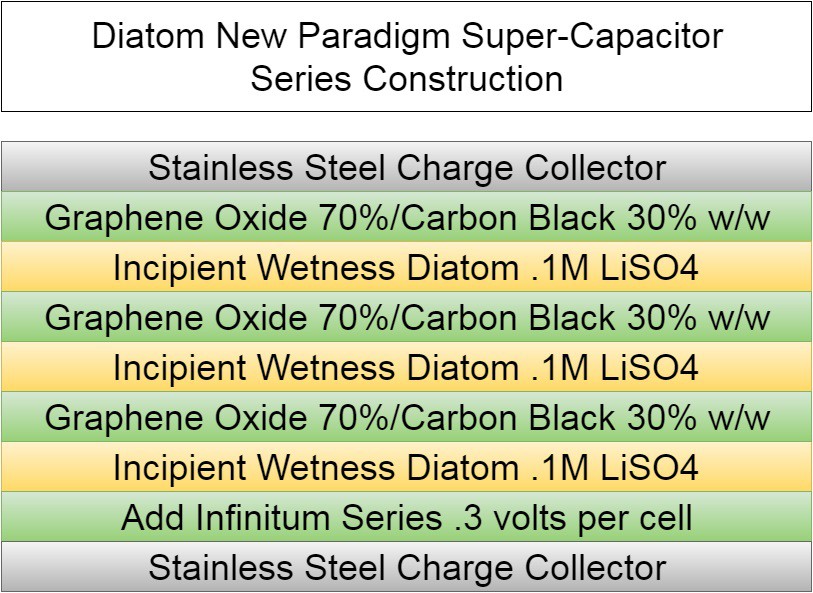 Diatom in pictures CC 2.0 Jovita Yesilyurt
This documentation describes Open Hardware and is licensed under the CERN OHL v. 1.2. You may redistribute and modify this documentation under the terms of the CERN OHL v.1.2. (http://ohwr.org/cernohl). This documentation is distributed WITHOUT ANY EXPRESS OR IMPLIED WARRANTY, INCLUDING OF MERCHANTABILITY, SATISFACTORY QUALITY AND FITNESS FOR A PARTICULAR PURPOSE. Please see the CERN OHL v.1.2 for applicable conditions