We really wanted shoulder rocket pods- in a big bad way. We just thought it would be so cool to see them open up and unfold like in the movie. The trouble was there was no way they could ever fit in there and perform in a similar fashion- the suit simply didn't have the necessary internal volume. There is about one inch of usable depth in the shoulder area. Those darn visual effects again...
Once I began taking measurements with Greg in the suit I wasn't so sure it could be done. I think I probably sketched a couple hundred designs trying to figure out a way to have the pod raise up and fold over. This was a key feature I really, really wanted. I didn't want to have a pod that opened like one of those flip up car headlamps. I knew I couldn't have it perform like in the film with the entire shoulder section moving but I felt I could get something that looked really cool. 
I finally settled on having a section of the shoulder split into two panels- one rotating forward and one rotating backward. This would give a decent sized opening for a proper size rocket pod. The big trick was making the pod an open box so the servo could hide inside it- without that there was no way it would ever fit in the shoulder cavity.
The pod is constructed of birch plywood and pivots are fabricated from brass tube and music wire. As the servo arm rotates the rear of the rocket pod is pushed away from the servo. The pod servo is mounted to an Aluminum plate that is attached to the forward shoulder panel servo. The rear panel servo has a similar Aluminum plate attached to it. The plates have threaded holes in them for attaching the shoulder panels to them with small brass angle brackets. The holes in the brass angle brackets are slightly slotted to allow for a small range of height adjustment of the shoulder panel.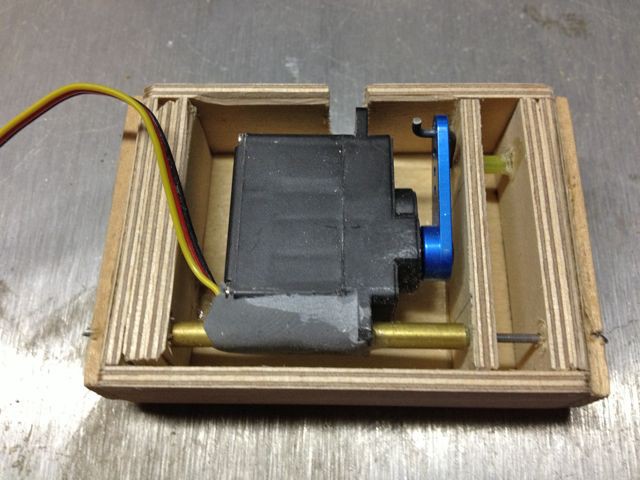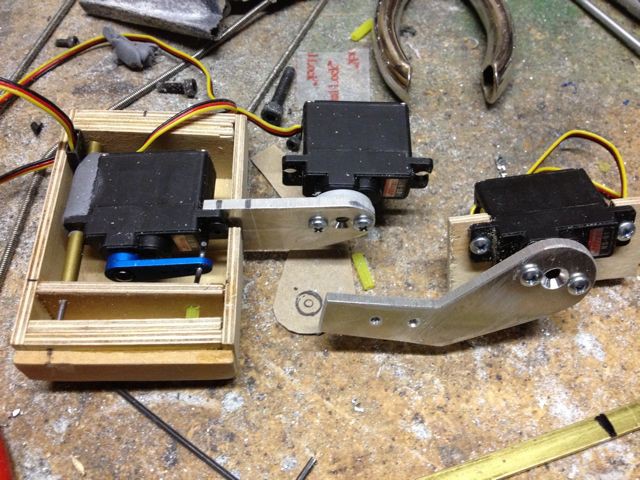 There was an enormous amount of trial and error fitting as once the shoulder was cut out of the fiberglass suit there would be no turning back- we had to be right on the money the first time. The panel openings were taped off and cut out with a Dremel tool and then the servos were mounted inside the shoulder area using plywood mounts epoxied into place. Getting the panels to fit just right was a real challenge!