If you look through my projects you'll probably see that I've got a lot of *plans* for CNC systems, but nothing actually built, yet...
There's:
... huh, I thought there were more...
Well, there's the hanging pen-plotter system I made years ago from legos...
Oh yeah, there's the groovy microscope-slide mechanism I meant to automate...
There's also several systems I've written software for, but were *built* by/for others.
It's time for me to build my own CNC system, dagnabbit!
A couple months back I got completely fixated on it and assembled the first axis from stuff sitting in my stockpiles.
The first necessity: a "drill-press." Those rails are 1/2in in diameter, so I needed to drill 1/2in holes in the particleboard end-plates. Doing it with a hand-held drill would be difficult. Drilling both plates at the same time would assure the holes' alignment, so the rails would be parallel, but drilling perfectly vertically would require a jig, what better jig than a drill-press? Additionally, my hand-held drills don't have chucks large enough for a 1/2in drill bit, so...
#rotary-tool-drill-press to Drill-Press conversion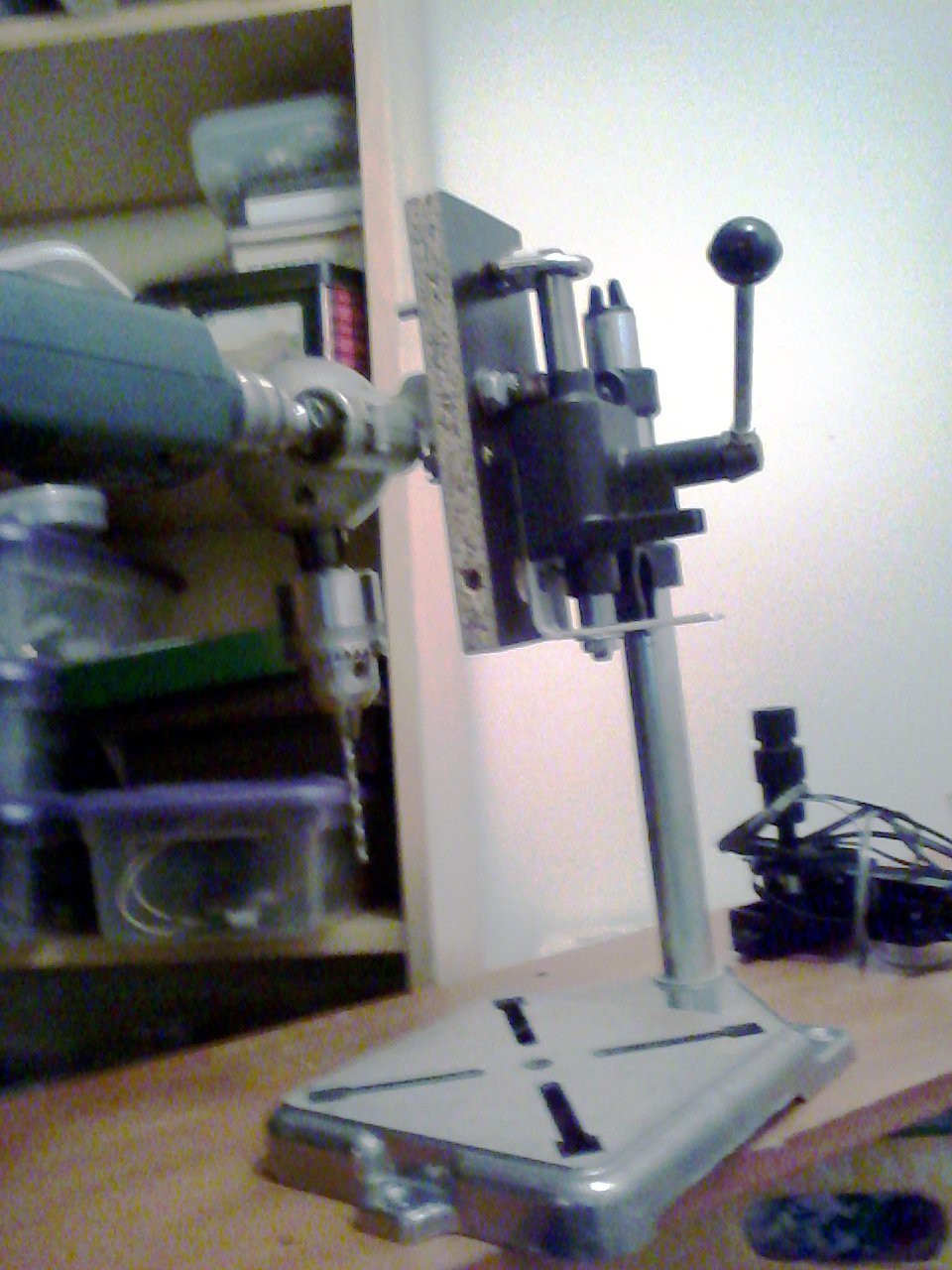 Back to the first axis of this "Big Ol' CNC":

The "carriage" is from an old dot-matrix printer. It came with its own leadscrew, but it was something like 1in per turn, much too high for my intentions. It also came with rails, but I have no idea where they wound-up. The black rails are nothing more than pipe... not sure where they came from. They are a little bit tight and you can feel differing amounts of drag at different positions, but it seems OK, for a first-go.
The leadscrew is just a piece of threaded-rod I had laying around that was about the right length. I think it's 10-32. It's a little short, so I found a metal stand-off that was long enough but 6/32, so drilled it out and rethreaded it. Then I butted the threaded-rod against a long bolt of the same threading.
Below is the home-made tap, from a bolt, a little filing while spinning in a drill, and a cut-off-wheel.

(TODO: Better notes on making a tap! Or just link to the part in the drill-press conversion project).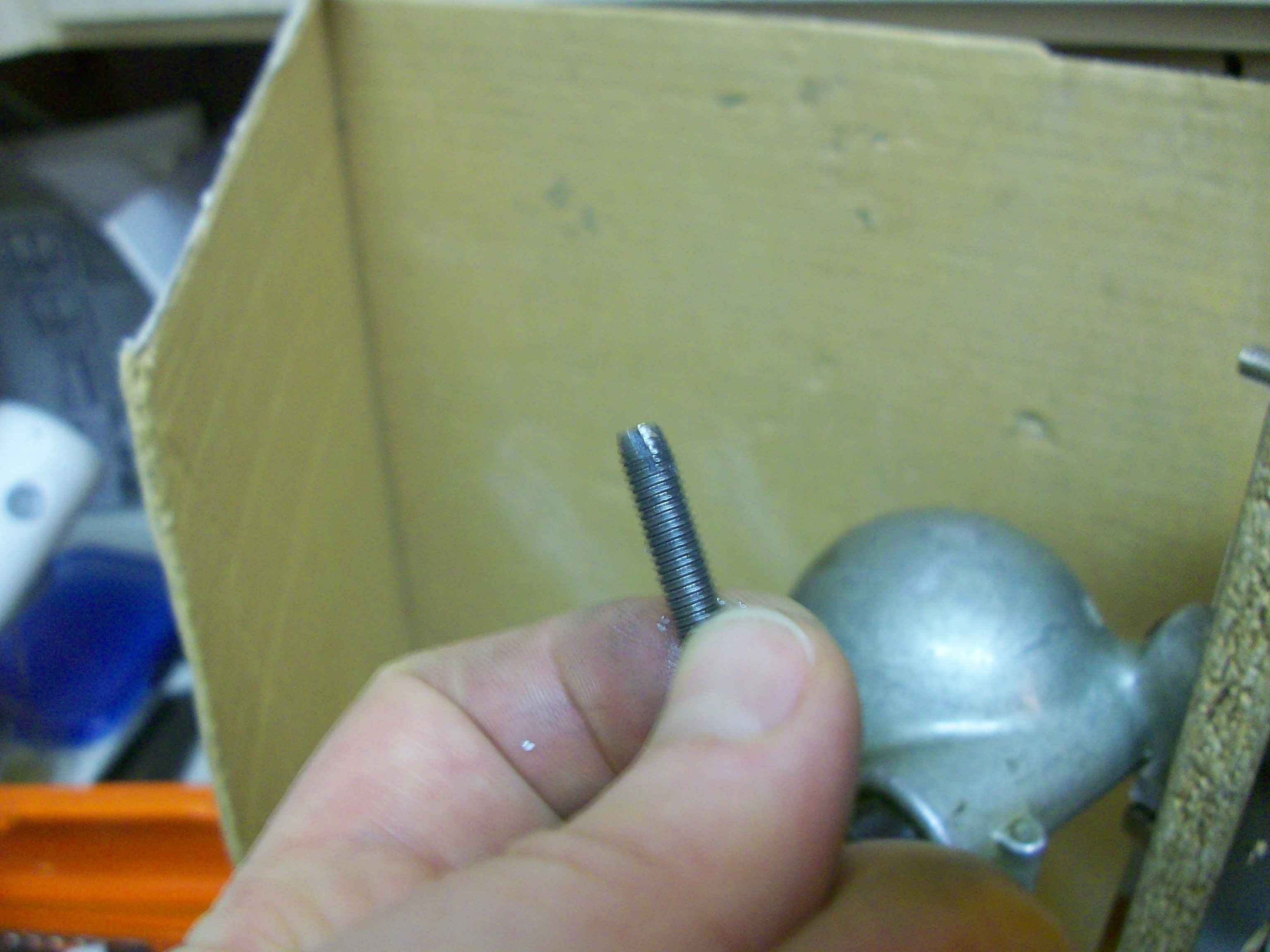 The bearings at either end (not visible in the first picture) are much too large inner-diameter for the threaded-rod, but I just happened to luck-out that some of the nuts in my possession had rounded edges, so when tightened against the bearing cause the rod to center darn-near perfectly. Two nuts on either side lock them in place.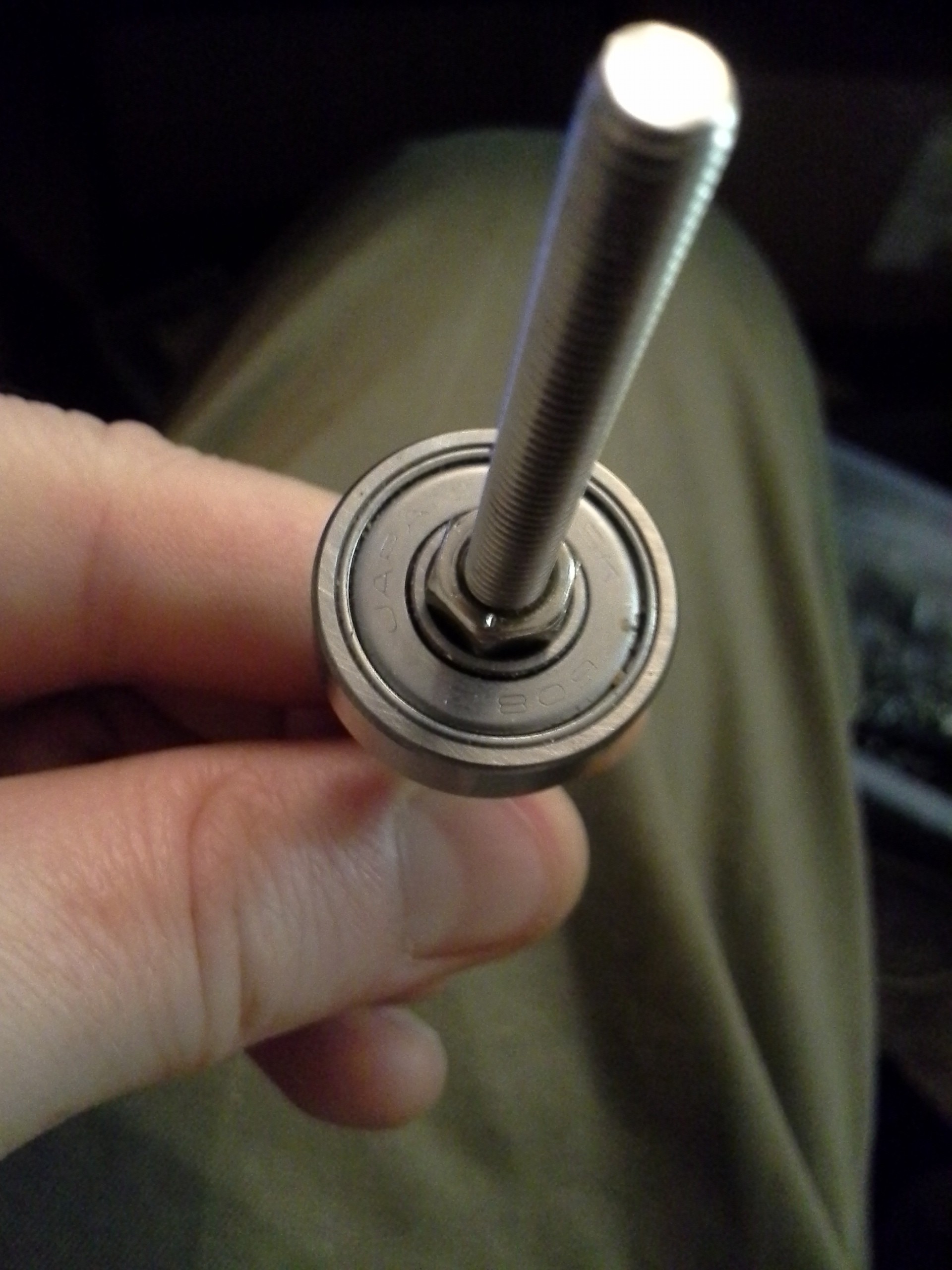 The bearing on the motor-end is held in place with three large-headed screws. The bearing on the "knob" end is held in place merely by friction and tension (wow!).
Friction/tension wouldn't work for the motor-end, since the belt needs to be pulled tight. I tried to make a nice calibrating mount with a ring (again from a hard-drive) and three screws facing inward, but that's where I wound-up breaking my small tap.
You can also see, quite clearly in this photo, just how accurately my electric saw cuts... Believe it or not, I mounted (and followed) a guide to cut a straight line, the blade managed to wander despite the guide. Wee! I've tried several attempts, several techniques... I'm pretty sure it's play in the saw. But it's good 'nough, eh?

-----------------

In the first picture you can see foam-core board at either end of the axis. (Thanks #Travelling Hacker Box! I never guessed how handy this stuff'd be!). I used it to find the center of the threaded-rod, once mounted in the carriage. I unscrewed the threaded-rod until it *just* protruded from the carriage, then slammed the carriage against the end-plate/foam-core. This put a nice divot in the foam-core. Then I poked through that with a pen-tip or something, and used that hole and the foam-core as a temporary bracket to hold the threaded-rod in position on both sides as I positioned the bearings, tightened nuts, etc.
The threaded-rod is attached to the carriage via a plate I made by hacksawing a triangular piece of aluminum...
Read more »