The first version of my Gateway PCB Arrived and has been tested. Here's the analysis, I added this to hackaday.io after doing these tests. Any developments from now on will be documented here.
The PCBs and components all arrived for my first attempt at creating this Ultimate Backplane PCB.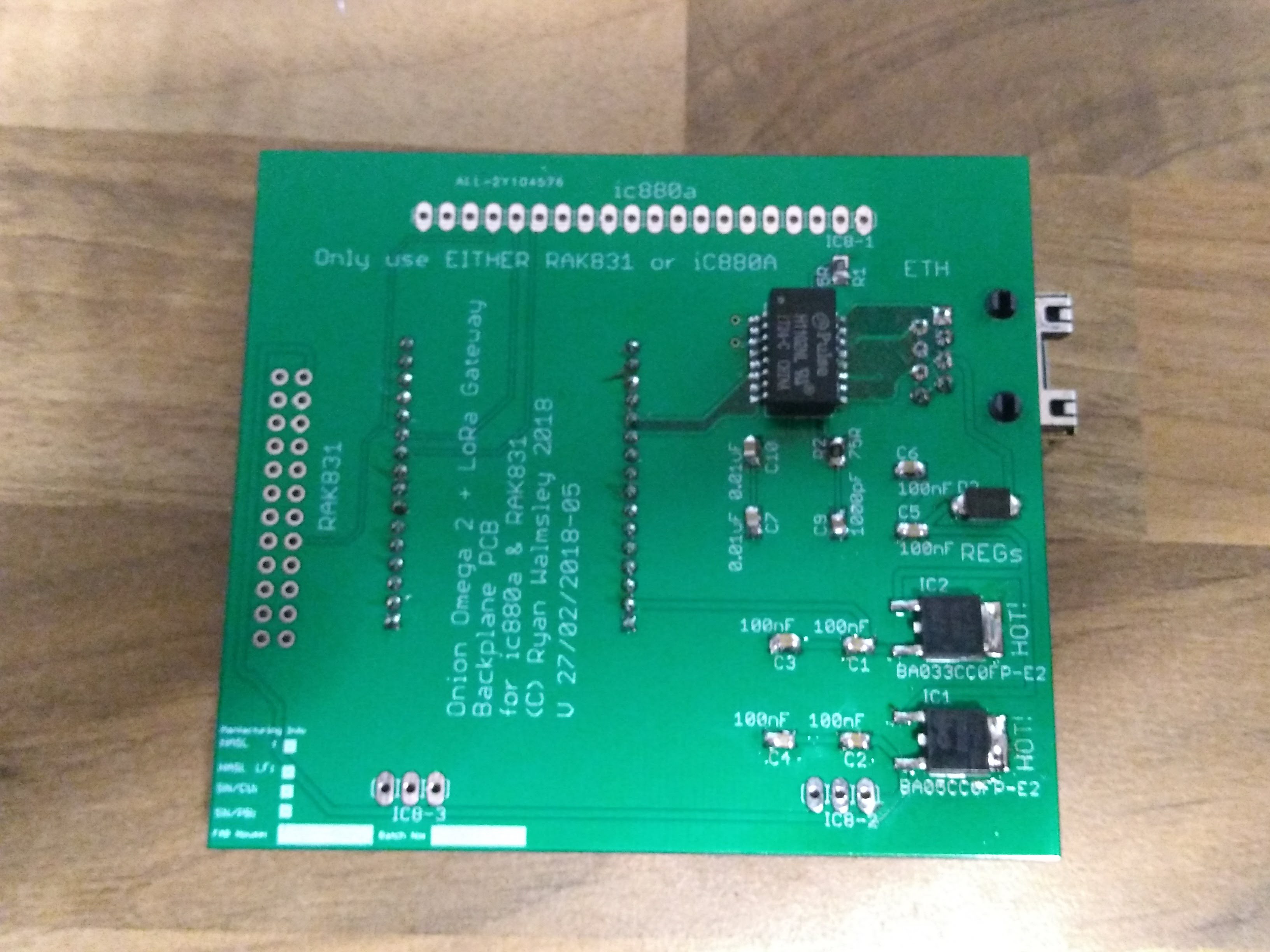 I chose to use the Onion Omega 2+ as the brains of my backplane due to the fact it had a built in Ethernet phy and an SPI Bus required for the LoRa Concentrator.
For power I chose to use passive POE. This method uses two pairs of the Ethernet cable to carry the voltage, for this as the runs of ethernet cable may get quite long I chose to use 9-12V Passively injected POE. This doesn't require any fancy components except for a voltage regulator on the board. I used two regulators as the Onion Omega requires 3v3 and the lora concentrator 5V. Both were rated at 1A with each device only requiring a max of 0.5A
When it arrived I soldered it all up, I wasn't sure if it was going to work as it was the first time I've done any ethernet wiring including magnetics. I plugged it in without the Onion or Concentrator plugged in and poof, magic smoke came out of the regulators.
As the supplier was out of stock of the regulator I designed it for I chose a cheaper alternative, however didn't realise that the alternative had the pinout different. So I ordered the correct regulators and plugged it in and everything seemed fine.
I then chose to plug the onion omega in and set it up and the ethernet port worked! Excellent for first time.
After ensuring everything was fine to plug my concentrator in I took it out of my current RPi powered box and put it on. Ran the software and.....
Well after a bit of debugging and searching around it seems the Onion Omega's SPI implementation isn't up to standard which makes it unsuitable for use. Meaning this revision is a failure.
Version 2 Specs

I plan to create a version 2 very soon, either using a Raspberry Pi Zero with SPI Ethernet or a Nano Pi Duo with ethernet like the Onion Omega but better SPI Support (as it uses the same chip as the Orange Pi Zero which I've tested SPI on.
That's it for this revision. V2 will be designed and sent to fab next week.